German farmer puts nappies on cows in bizarre non-dirty EU protest
Johann Huber expresses his anger at an European 'nitrates directive' forbidding manure on steep mountain slopes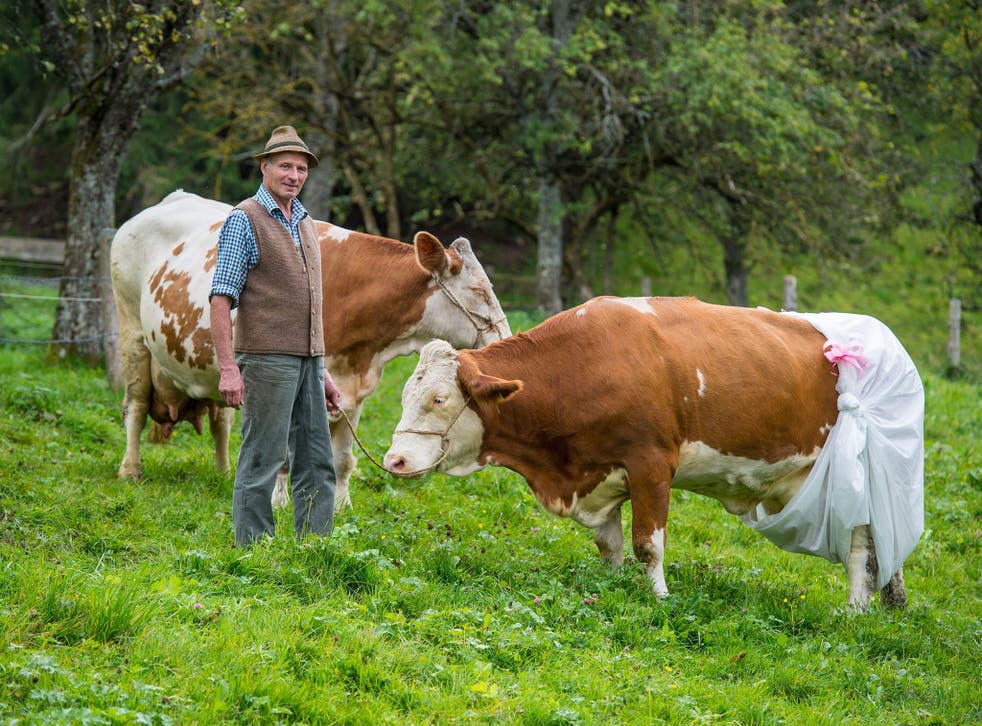 A German cow farmer has staged the opposite of a dirty protest after being told that EU directives mean he cannot use manure on his steep Alpine land.
Using white bedsheets and pink ribbons, Johann Huber has begun putting "nappies" on his 18 prized dairy cows, and claims this is the only way to keep EU legislators happy.
Germany is struggling to enforce the pan-European directive, banning the use of fertilisers on slopes with a gradient of more than 15 per cent. It is designed to prevent chemicals leaching into water sources.
In Bavaria, the farm union has said this would effectively apply to half of all farmland – and has hit out at Brussels for what it says is an unworkable restriction on where German cows can leave manure.
Doris the cow "behaved well" when she was fitted with her nappy, Mr Huber told the Telegraph.
"We have no standard nappies, they have not been developed commercially yet."
Another farmer, Niklas Saenger, told the Star that the nitrates directive was "ridiculous" and "not practical". He said farmers were "expected to go along with a shovel and clear up" after their cows.
Mr Huber and Mr Saenger may be exaggerating the extent to which Germany is expected to apply the EU rules. A spokesperson for the European Commission said it "does not foresee a ban on grazing animals on sloping land".
Farmers who fail to comply with the directive face losing European subsidies, while the Telegraph reported that the commission is taking legal action against Germany for failure to enforce the fertiliser ban.
The farm union's Upper Bavaria president Anton Kreitmair said the directive threatened the very nature of German Alpine culture. "This could be the end of smaller farms with livestock, the image of the foothill of the Alps and the mountain regions they characterise," he told the German publication Wochenblatt.
"We demand that the ban is stopped in Germany," he said.
Register for free to continue reading
Registration is a free and easy way to support our truly independent journalism
By registering, you will also enjoy limited access to Premium articles, exclusive newsletters, commenting, and virtual events with our leading journalists
Already have an account? sign in
Register for free to continue reading
Registration is a free and easy way to support our truly independent journalism
By registering, you will also enjoy limited access to Premium articles, exclusive newsletters, commenting, and virtual events with our leading journalists
Already have an account? sign in
Join our new commenting forum
Join thought-provoking conversations, follow other Independent readers and see their replies