German mayoral candidate Henriette Reker stabbed in neck by man 'shouting about refugees' in Cologne
The 58-year-old was attacked as she campaigned at a market in Cologne ahead of Sunday's planned elections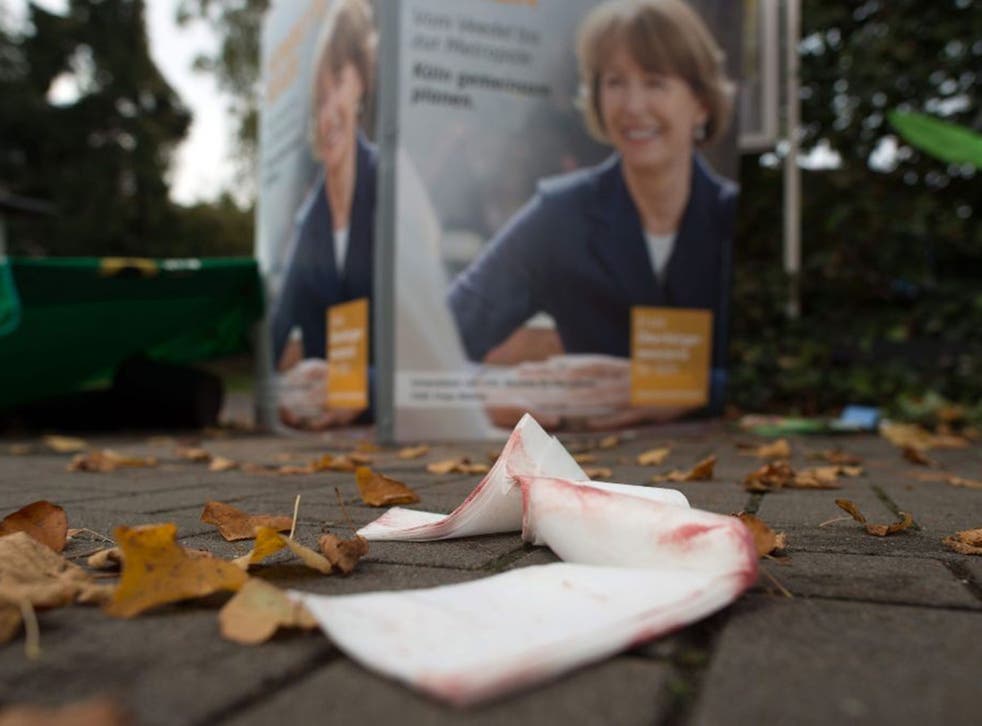 A leading mayoral candidate in Germany has been stabbed in the attack by a man allegedly motivated by his hatred of refugees.
Henriette Reker, Cologne's head of social affairs, integration and environment, was campaigning in a market when her attacker approached on Saturday morning.
As her supporters handed out flowers to potential voters, the man asked for a rose before stabbing her with two knives in the neck and stomach, witnesses told the Kölnische Rundschau newspaper.
He reportedly shouted about an "influx of refugees" immediately before the attack and called out: "I am the Messiah. I'm doing it for you all."
Anette von Waldow, a liberal politician, was also seriously injured and three other politicians and aides were hurt during the man's rampage.
It stopped when market traders and campaign workers wrestled two knives from his hands, at which point he reportedly sat down and was arrested with no resistance.
Ms Reker, 58, underwent emergency surgery and police described her condition as "stable" on Saturday afternoon.
Wolfgang Albers, the head of Cologne Police, said a 44-year-old suspect had been arrested and was in custody.
The man, who lives in Cologne has been unemployed for several years, "confessed to having xenophobic motives", he added.
Photos taken by police showed the man's weapons – a small flick knife and a large hunting knife.
Prosecutor Ulf Willuhn said officials will now carry out a psychiatric examination to investigate whether that was the man's primary motive or whether his health played a role. There was no evidence of accomplices.
Refugees settle in Germany

Show all 12
Ms Reker is responsible for refugee housing and integration in Cologne, which has seen thousands of people march in months of demonstrations both in support of and against welcoming more asylum seekers to Germany.
She had been campaigning ahead of tomorrow's mayoral elections, which officials say will go ahead as planned, and was considered a leading contender.
Ms Reker is running as an independent candidate but is being supported by Angela Merkel's conservatives (CDU) and two other parties.
The Kölner Stadt-Anzeiger reported that the German Chancellor phoned the deputy leader of Cologne's CDU party, Gisela Manderla, to offer her condolences.
Ms Manderla said the Chancellor was "deeply saddened by this vile attack" and urged people to vote and show that "extremists and lunatics don't stand a chance in Cologne".
Cologne protesters march against anti-immigration group
Germany was reeling with news of the attack on Saturday, with hundreds of thousands of people taking to Twitter to offer their best wishes to Ms Reker and condemn the assailant and his motives.
Hannelore Kraft, the minister of North Rhine-Westphalia, called it an "attack on all (of Germany)".
Attacks on politicians are rare in Germany, but there have been prominent cases.
Wolfgang Schaeuble, was shot while campaigning as Interior Minister in October 1990, leaving him using a wheelchair, and months earlier a mentally disturbed woman had stabbed Oskar Lafontaine, then a prominent member of Germany's main opposition party, also in Cologne.
Additional reporting by AP
Register for free to continue reading
Registration is a free and easy way to support our truly independent journalism
By registering, you will also enjoy limited access to Premium articles, exclusive newsletters, commenting, and virtual events with our leading journalists
Already have an account? sign in
Register for free to continue reading
Registration is a free and easy way to support our truly independent journalism
By registering, you will also enjoy limited access to Premium articles, exclusive newsletters, commenting, and virtual events with our leading journalists
Already have an account? sign in
Join our new commenting forum
Join thought-provoking conversations, follow other Independent readers and see their replies