German neo-Nazis 'threaten to behead MP after arson attack at refugee centre' in Troglitz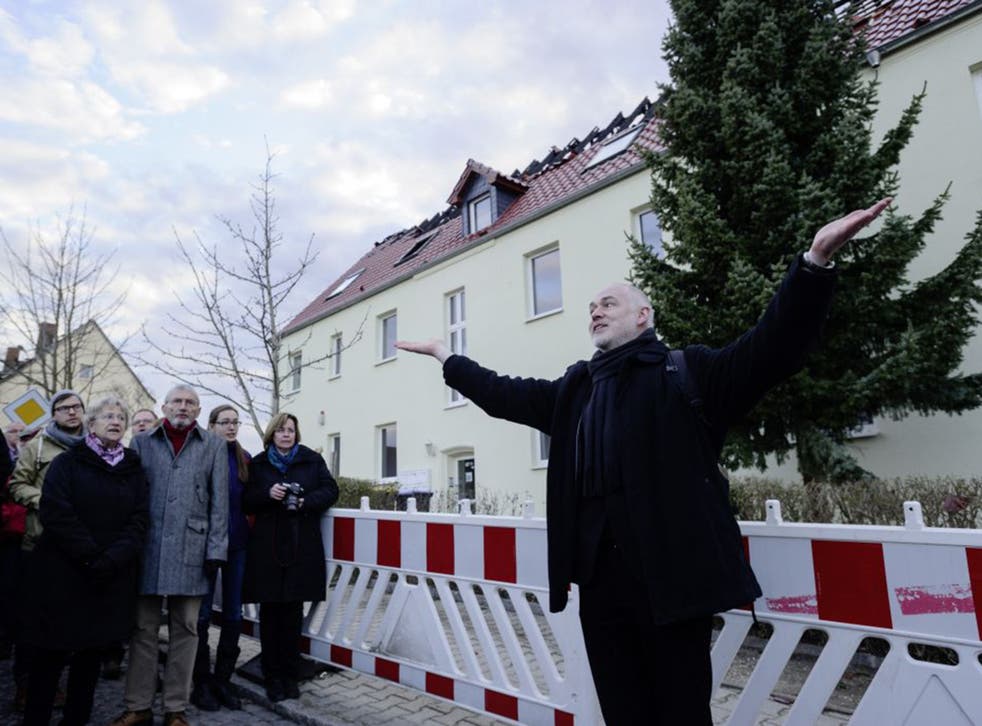 German neo-Nazis were suspected of being behind threats to "behead" a conservative politician for continuing to back a controversial refugee housing project today, less than 48 hours after a village building earmarked for the scheme was set ablaze by unknown assailants.
Christian Democrat politician Götz Ulrich, from the east German state of Saxony Anhalt, said that suspected neo-Nazis had threatened to behead him for supporting plans for a 40-bed refugee hostel in Tröglitz, a village in his constituency which is notorious for neo-Nazi activity.
"The threats are of an unpleasant nature," he told Germany's N-TV news channel yesterday. "They are going so far as to threaten methods used during the French revolution." Police said they were taking the threats seriously and were giving Mr Ulrich 24-hour protection .
The development was the latest case of overt neo-Nazi intimidation to blight Tröglitz, a village of 2,700 inhabitants and the focus of far right opposition to the liberal asylum policies of Chancellor Angela Merkel's coalition.
In pictures: Extremists in the EU

Show all 6
Far-right protests against the planned asylum hostel were thought to have peaked last month, after the village mayor, Markus Nierth, stepped down in the wake of threats by the neo-Nazi National Democratic Party (NPD) to stage protest rallies in front of the 46-year-old mayor's home.
On Saturday, however, shocked Tröglitz residents awoke to find the roof of the new – and as yet empty – refugee hostel had been destroyed by fire. Officials said one or more people broke in and started the blaze at 2am. "Everything in this case points to deliberate arson," said Germany's Interior Minister, Thomas de Maizière.
The NPD remains legal in Germany despite government attempts to ban the organisation and has seats in two state parliaments in east Germany. It stands accused of deliberately bussing in its adherents to Tröglitz to foment unrest.
Mr Nierth, who resigned to draw attention to the fact that he had not been given sufficient police protection and felt his family was threatened, insisted: "We can't let the Nazis win in our town." He said he was shattered by the apparent arson attack: "I am stunned, sad and furious at the same time, Tröglitz will never recover from this."
After his resignation, the hostel was overseen by Mr Ulrich, MP in the Saxony Anhalt state government, who received threats to behead him after insisting, despite the fire, the project would go ahead.
Register for free to continue reading
Registration is a free and easy way to support our truly independent journalism
By registering, you will also enjoy limited access to Premium articles, exclusive newsletters, commenting, and virtual events with our leading journalists
Already have an account? sign in
Register for free to continue reading
Registration is a free and easy way to support our truly independent journalism
By registering, you will also enjoy limited access to Premium articles, exclusive newsletters, commenting, and virtual events with our leading journalists
Already have an account? sign in
Join our new commenting forum
Join thought-provoking conversations, follow other Independent readers and see their replies