Germanwings crash: Shocked passengers stared silently at empty arrivals gate
At the two airport terminals involved, families and friends were coming to terms with their grief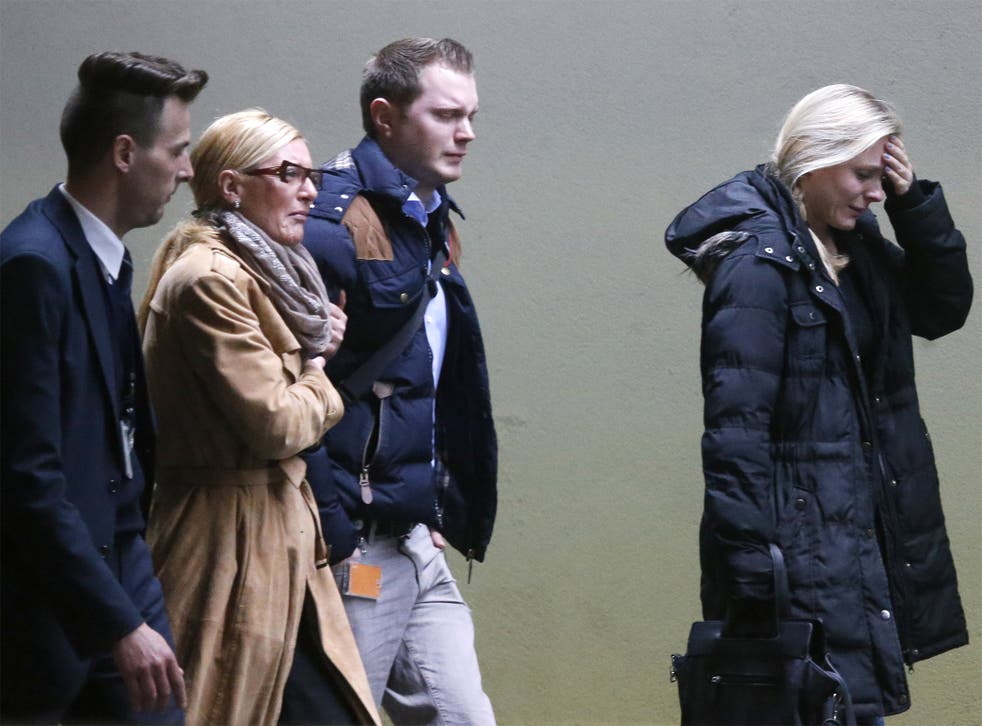 Grief and disbelief permeated homes and workplaces as far away as Kazakhstan and Australia on Monday night as stories of the 150 victims began to emerge.
The epicentre of the tragedy was the Joseph-Koenig-Gymnasium in the small German town of Haltern. Sixteen students and two teachers from the school had been on their way home after a week-long Spanish exchange programme with a school in the village of Llinars del Valles, near Barcelona.
As word spread about reports that a plane from Barcelona had gone missing many students began researching online. "And then when the plane didn't land and they were unable to make contact with their friends and classmates by cell phone, that's when they assumed the worst had happened," said Haltern am See mayor Bodo Klimpel, fighting off tears. "The students were informed that there was a sufficient probability that the plane would not be landing in Düsseldorf. Classes were then called off."
In pictures: Germanwings Airbus A320 plane crash

Show all 66

Like many of his classmates Soufjan Ibrhaim, 15, posted a message on his Facebook site. "I am so dead sad," he wrote. "They were all in my year and a good girlfriend of mine was one of them."
Though sent home, many pupils returned in the afternoon with candles and tears to mourn with their friends. "It's the darkest day in this town's history," said Mr Klimpel, who added some parents nevertheless drove to the airport and some to the school. "We're in a state of shock. It's the worst thing ever imaginable."
Two opera singers were also among the dead. Contralto Maria Radner, who had performed all over the world including the Metropolitan Opera in New York and theatres in Milan and Buenos Aires, was on the plane with her husband and baby. She had just finished performing in the Richard Wagner opera Siegfried at Barcelona's Liceu. Fellow performer Oleg Bryjak from Kazakhstan, who interprets Alberich in the opera, is also thought to have perished.
Two Australians – a woman and her adult son from Victoria – were also on the plane. "Our thoughts and prayers are with the families of the victims of this shocking tragedy," Australia's Foreign Minister, Julie Bishop, said.
Last night the Foreign Secretary, Phillip Hammond, said it was "likely" that at least one British national had been on board.
Marina Bandres Lopez-Belio, from the Pyrenees city of Jaca in Huesca, travelling with her seven-month-old baby and Polish husband was also on the flight. Local paper El Periodico de Aragon said the 37-year-old woman lives in Manchester but had returned to Spain for her uncle's funeral.
Forty-five of the other passengers were Spanish, including two babies. They included a father-of-four, and three generations from the same family – a schoolgirl, her mother and her grandmother – who lived in Sant Cugat near Barcelona.
One person each from the Netherlands, Turkey, and Denmark were among the victims, their governments said, while the Mexican government was still trying to confirm whether one of its nationals was on board.
At Barcelona's El Prat airport the families were taken away from the main terminal to be briefed. They spent last night at local hotels and may visit the crash site in France today.
At Düsseldorf airport, where the Airbus 320 had been due to land at lunchtime, grieving family members were being shielded from the press in a VIP lounge where they were offered trauma counselling. Shocked passengers at the airy glass-domed Düsseldorf airport stared at the empty arrivals gate where the passengers from Barcelona had been due to arrive.
"This is awful, this sort of thing is not meant to happen to German planes, I feel for the families," said Karen Netthausen, a retired teacher who was returning from holiday in Turkey.
In Barcelona, passengers catching another Germanwings service, to Cologne, were checking-in baggage ahead of their trip yesterday afternoon. Marcel Hemmeldr said he felt "very strange" to check in for Germanwings' evening flight to Düsseldorf.
"The people were standing at the same place where we're standing now ... now they're not there any more. So it's a strange feeling, a really strange feeling," he said. "I feel sorry for everybody in Germany. All the people there who have lost some family members."
At El Prat international the departure and arrival boards were full again last night.
Register for free to continue reading
Registration is a free and easy way to support our truly independent journalism
By registering, you will also enjoy limited access to Premium articles, exclusive newsletters, commenting, and virtual events with our leading journalists
Already have an account? sign in
Register for free to continue reading
Registration is a free and easy way to support our truly independent journalism
By registering, you will also enjoy limited access to Premium articles, exclusive newsletters, commenting, and virtual events with our leading journalists
Already have an account? sign in
Join our new commenting forum
Join thought-provoking conversations, follow other Independent readers and see their replies