Germanwings plane crash: Transcript reveals passengers 'screamed for over five minutes' before plane crashed into mountain
Screams are final sound heard as the Airbus A320's wing scrapes a mountain
Heather Saul
Monday 30 March 2015 10:24 Comments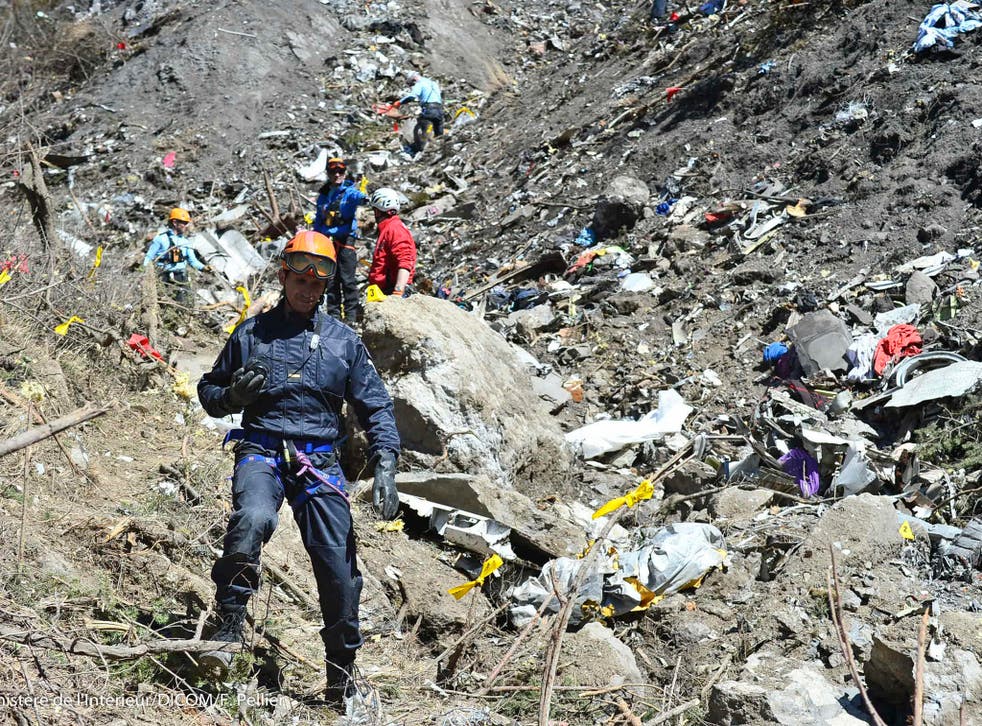 A transcript of the sounds recorded by the doomed Germanwings' Airbus A320 cockpit voice recorder shows passengers began screaming over five minutes before the plane crashed into the French Alps.
The German newspaper Bild reports that 1.5 hours of audio was obtained from the black box and shows the plane reaching a cruising altitude of 38,000 at 10.27am local time.
According to a translation of Bild's report obtained by The Independent, the plane's radar picked up that the aircraft was starting to descend at 10.29am.
In pictures: Germanwings Airbus A320 plane crash

Show all 66
At 10.35am, a "loud metallic bang" on the door can be heard as the captain desperately tried to gain entry. Ninety seconds later the warning "terrain pull up" went off. At 10.37am, the pilot was heard shouting "open the damn door". He met by silence.
At 10.40am, screams from passengers were audible one last time as the plane's right wing scraped a mountain top.
Reports of the transcript also suggest Lubitz repeatedly encouraged Sondheimer to go to the toilet, telling him that he is ready to take over control of the aircraft "at any time".
When Sondheimer did leave the flightdeck, Lubitz apparently locked the door and changed the autopilot from 38,000ft to 100ft, causing it to crash into the French Alps.
Register for free to continue reading
Registration is a free and easy way to support our truly independent journalism
By registering, you will also enjoy limited access to Premium articles, exclusive newsletters, commenting, and virtual events with our leading journalists
Already have an account? sign in
Join our new commenting forum
Join thought-provoking conversations, follow other Independent readers and see their replies