Germany anti-Islam protests: 17,000 march on Dresden against 'Islamification of the West'
Support for Pegida, a group dubbed 'Nazis in pinstripes', is rising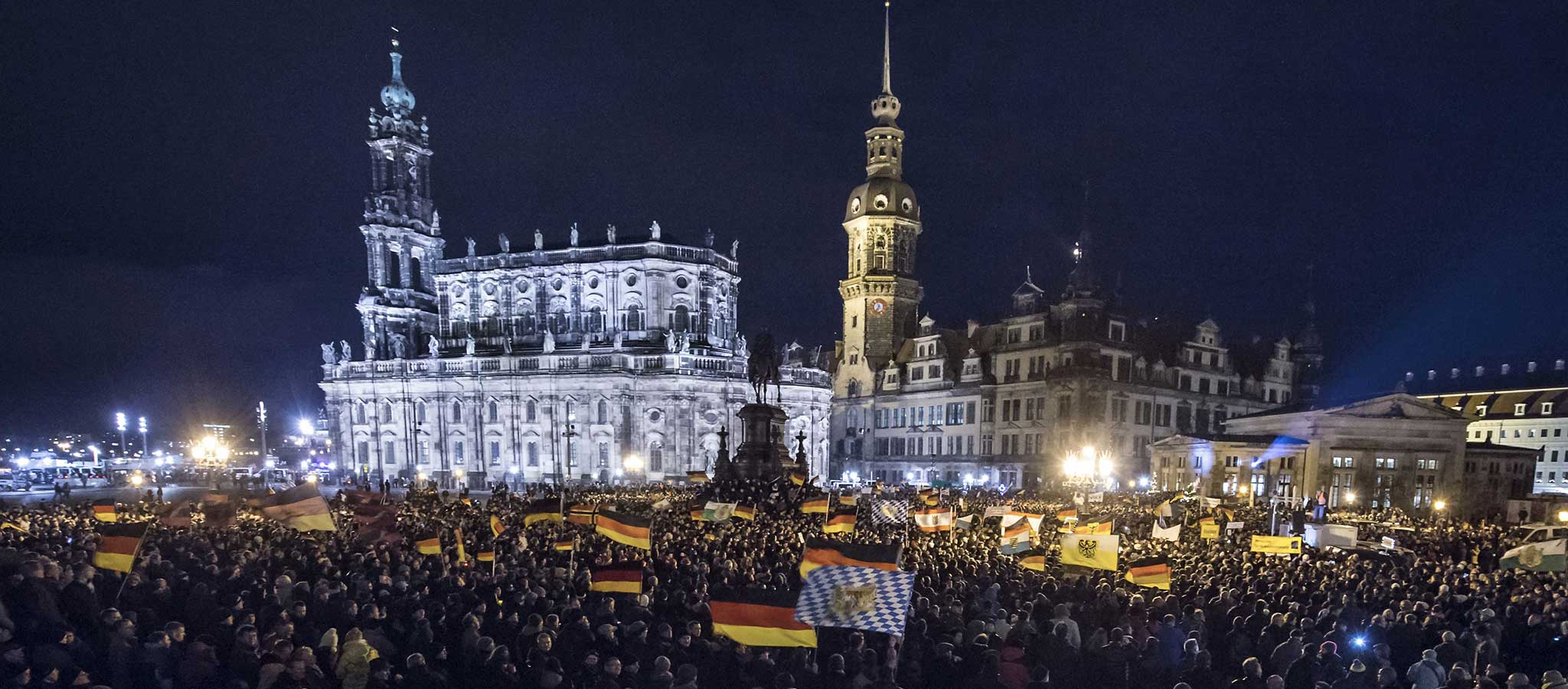 More than 17,000 people have marched on the German city of Dresden protesting the "Islamification of Europe" as a wave of xenophobia sweeps the country.
Supports of Pegida – a growing group calling itself the "Patriotic Europeans against the Islamification of the West" – filled the city's historic square singing Christmas carols and waving German flags on Monday.
Its leaders have been dismissed as "Nazis in pinstripes" and the group's rise has coincided with arson attacks on refugee hostels and the daubing of swastikas on city walls, but the controversy has not dissuaded supporters.
"We are the people," a post on the group's Facebook page proclaimed after Monday's protest, claiming a record attendance of more than 20,000 people.
Thousands of people have joined counter demonstrations that saw 15,000 anti-fascist protesters take to the streets in Munich and chanting "no Nazis here" in Cologne.
Pegida insists it is opposing only against extremism and not against immigrants or Islam itself, but the demonstrations have received support from far-right and Neo-Nazi groups, prompting concerns that xenophobic sentiment might be rising.
The slogan "wir sind das Volk" (we are the people) is back in vogue – harking back to the protests before the fall of the Berlin Wall but still retaining uncomfortable Nazi-era associations.
What has startled politicians, though, is that many Pegida supporters are not extremists or neo-Nazis but middle-class office workers, parents and pensioners.
The movement's apparent appeal – going from marches numbering the hundreds in October to tens of thousands today – has forced Germany's leading politicians to respond.
Chancellor Angela Merkel warned about misinformation spread by Pegida and other groups to further their stance on immigration.
"There's freedom of assembly in Germany, but there's no place for incitement and lies about people who come to us from other countries,'' she said.
"Everyone [at Pegida marches] needs to be careful that they are not taken advantage of by the people who organise such events."
Immigration has a topic of hot debate in Germany this year following a surge in the numbers of asylum seekers, fuelled by the wars in Syria and Iraq. Germany takes in more asylum seekers than any other EU country and expects 200,000 claims for 2014, up from 127,000 in 2013.
Pegida is calling for the immediate deportation of asylum seekers with criminal convictions but claims to support the admission of refugees fleeing war or political and religious persecution – provided all other EU member states "shoulder the burden" equally.
Its manifesto lists policies including integration, "sexual self-determination" and stopping the "almost obsessive" movement against gendered German language.
But its main focus is the preservation of "Judeo-Christian Western culture" against what they claim is the rise of "radicalism" and "parallel societies with Sharia police".
The group sprung out of a Facebook group started by Lutz Bachmann, 41, a chef-turned-graphic designer.
He insists that he is not racist but has admitted to past criminal convictions, including for drug dealing, resulting in two years imprisonment.
The movement has so far centred on Dresden, the capital of Saxony, which has around 100,000 foreign-born residents according to government statistics – 2.5 per cent of the population.
Muslims number only 0.1 per cent but many Pegida supporters refuse to believe the official figures, convinced that the public are being misled by the "mainstream media" and politicians.
Volker Kauder, a member of Ms Merkel's party often described as her "right hand", told Die Welt that the group's ideology is based on misinformation and must be addressed with awareness campaigns.
"I do not know what the (Pegida) organisers associate with the term 'the West'," he said. "But people already believe that Salafists are on their way to recruit people for the war in Syria and Iraq, for example.
"We must follow these trends carefully. The government needs to make it clear that hate cannot be spread in Germany and young people cannot be led into terrorism."
Thousands rally in Dresden, Germany
Show all 10
Germany's most senior police officer, Holger Münch, has noted "a visible rise in xenophobic crime countrywide" directed at refugees, Muslims, Jews and people of Turkish origin that make up the country's largest ethnic minority group.
The rise of Pegida and other far-right German groups including the National Democratic Party, coincides with the victory of groups including France's Front National and Greece's Golden Dawn in the European elections, beginning to legitimise parties once seen as extreme.
Der Spiegel noted that protesters joining anti-Islam movements appear to share a misplaced nostalgia for the "good old days".
But the question is "which good old days?" it asks. "Those after 1933, when Dresden, displaying the Nazi swastika, drove out its Jewish residents? Or those after 1945, when the East German Communist Party transformed an entire region into one that was virtually cut off from the Western world?"
As support for Pegida grows in Germany, so does opposition to it, championed by the anti-Nazi slogan "nie wieda" – never again.
Join our commenting forum
Join thought-provoking conversations, follow other Independent readers and see their replies