Germany could scrap asylum pledge from constitution, says leading candidate to replace Merkel
Friedrich Merz questions whether constitutional principle enshrined after Second World War 'can continue in this form'
Adam Forrest
Friday 23 November 2018 12:54 Comments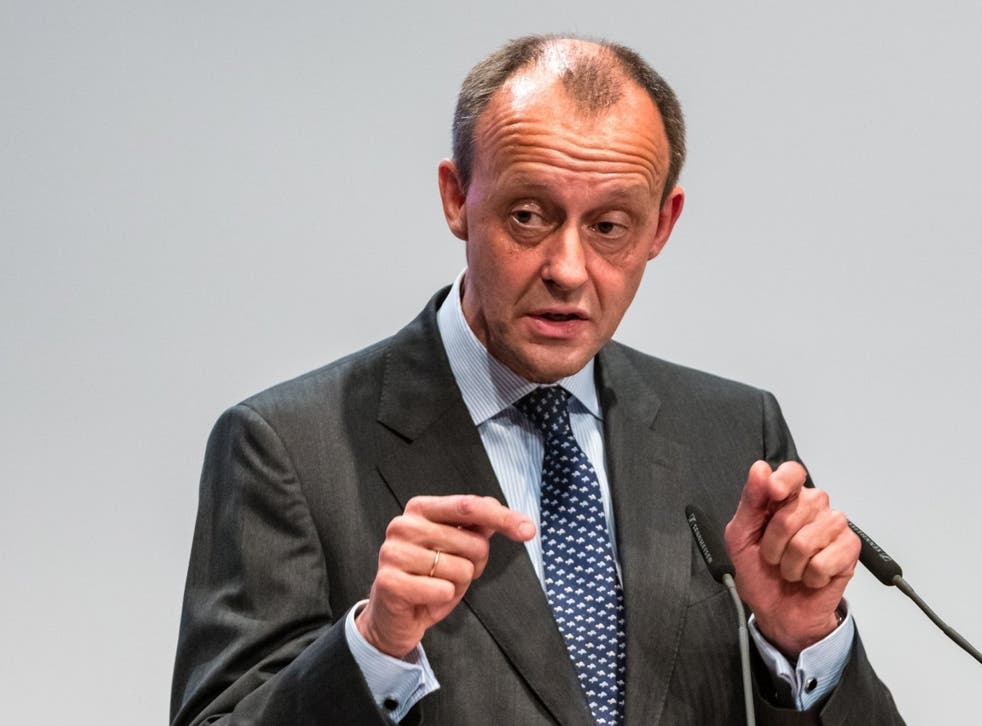 One of the leading candidates to succeed Angela Merkel as the head of Germany's Christian Democrat party has questioned the fundamental right to asylum enshrined in the country's constitution.
Friedrich Merz said there should be a discussion about whether the constitutional principle "can continue in this form if we seriously want a European immigration and refugee policy".
The veteran politician said his country's "individual right to asylum" was unique, before suggesting that a new "legal reservation" could be built into the constitution stating that refugees' rights would be subject to European rules.
Drawn up after the end of the Second World War, the German constitution states that "persons persecuted on political grounds shall have the right of asylum."
Mr Merz's comments provoked criticism from the Christian Democrats' partners in coalition government.
Foreign minister Heiko Maas, of the centre-left Social Democrats, tweeted that "our fundamental right to asylum is a historic achievement. There is nothing to change."
He argued the German constitution already makes sure there is no conflict with European law.
In response, Mr Merz told German news agency dpa that he was not questioning the basic right to asylum and stands by a policy based on "Christian responsibility and the background of German history."
World news in pictures

Show all 50
A former leader of the Christian Democrats' parliamentary group, Mr Merz left the Christian Democrats in 2009.
As a corporate lawyer, he went on to take up a number of positions on company boards, becoming a millionaire in the process.
He is now seeking a comeback after a decade away from front-line politics.
He stands for a more right-wing approach to immigration than Ms Merkel, as does another leadership contender - health minister Jens Spahn.
The party is seeking to dent the appeal of the far-right Alternative for Germany (AfD), which has capitalised on discontent over immigration.
Support free-thinking journalism and attend Independent events
But Mr Merz's remarks on asylum was condemned by his rival Mr Spahn.
"The constitutional right to asylum for political refugees is a great virtue of our constitution, created against the background of two world wars, great suffering and vast displacements," he wrote on Twitter.
Mr Merz and the Christian Democrats' general secretary Annegret Kramp-Karrenbauer - who appears more in tune with Merkel's centrist approach - are viewed as the front-runners.
Whoever succeeds in becoming the new party leader on 7 December will be the favourite to become the conservative candidate for chancellor at Germany's next national election.
Additional reporting by agencies
Register for free to continue reading
Registration is a free and easy way to support our truly independent journalism
By registering, you will also enjoy limited access to Premium articles, exclusive newsletters, commenting, and virtual events with our leading journalists
Already have an account? sign in
Join our new commenting forum
Join thought-provoking conversations, follow other Independent readers and see their replies