Germany launches almost 200 police raids as Islamist group linked to more than 140 Isis fighters banned
Minister says group used Quran distribution campaign to 'spread messages of hate'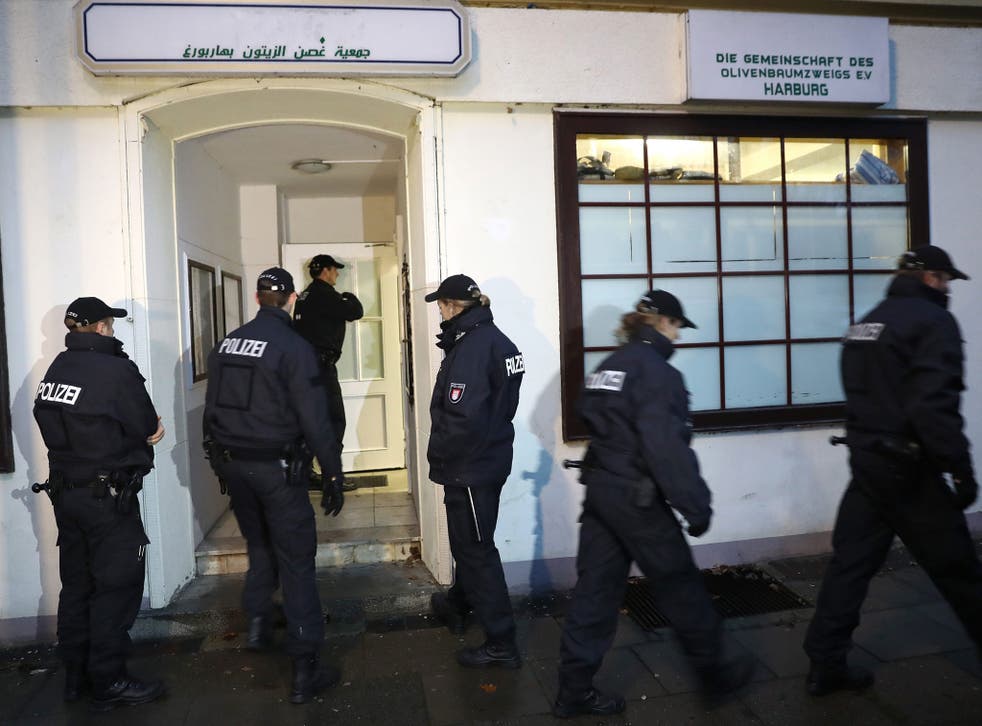 Almost 200 police raids have been carried out at mosques, offices and homes across Germany after the government banned an Islamist group linked to more than 140 Isis fighters.
Die Wahre Religion (DWR), meaning "The True Religion", started in 2005 and claims to spread Islam in Germany "in a modern form and with the help of new media".
The Salafist group gained prominence with a Quran distribution campaign called Lies!, meaning "Read!", which has since spread to countries including the UK, France, Bahrain and Brazil.
Europe: Germany and France to beef up security
But officials said the initiative was "bringing jihadi Islamists together across the nation under the pretext of preaching Islam".
Thomas de Maiziere, the German interior minister, said: "With a translated Quran in hand, messages of hate and anti-constitutional messages are being spread, seeing young people radicalised with conspiracy theories.
"So far more than 140 young people have journeyed to Syria and Iraq to fight for terrorist groups after being involved in Lies! activities."
Mr de Maiziere said Germany would defend its core values from being undermined, while balancing freedom of religion and in accordance with national law.
He emphasised that the prohibition of DWR and its activities did not seek to prevent the promotion of the Islamic faith or the Quran, but the "abuse of a religion by people, who under the pretext of spreading Islam are propagating extremist ideologies and supporting terrorist organisations".
Police carried out more than 190 searches and raids early on Tuesday morning in 10 cities and states including Berlin, Hamburg, Bremen, Bavaria and North Rhein-Westphalia. There was no immediate information on the number of arrests.
Analysts say the Quran translation distributed by DWR is a particularly hardline interpretation of the original text.
"The message to the radical Islamist scene is clear: We do not tolerate fanatics who try to radicalise young people and send them to wage jihad," said Peter Beuth, the interior minister for Hesse state, where the raids also took place.
"By banning this organisation, a major source of radicalisation has been eradicated nationwide," he added.
"Those who spread hate messages can't hide behind freedom of religion."
The group's founder is Ibrahim Abou Nagie , a hate preacher previously investigated on allegations of disturbing the peace, encouraging criminal acts and incitement to murder.
Abou Nagie has called for gay people to be executed to "protect Muslims", as well as saying "disbelievers" will burn in hell, according to Die Tageszeitung.
The 52-year-old is currently believed to be in Malaysia preparing for the launch of Lies! latest branch in the country.
DWR has been declared "unconstitutional" under the same law that bans neo-Nazi organisations and symbols in Germany, forbidding its existence, campaigns and online videos and materials.
A spokesperson for the German interior ministry said the ban was part of government counter-terror efforts that have also seen extremist groups including Millatu Ibrahim, Dawa FFM, Tauhid Germany and Isis itself outlawed.
The group released a message in German to members on Tuesday morning, falsely claiming the Quran "has been forbidden" in Germany.
Terrorism in 2016: Terror attacks in Europe claimed by Isis

Show all 9
It added: "We have relayed Allah's message to all. Allahu Akbar."
Tuesday's raids came a week after another terror network radicalising young Muslims and sending them to fight for Isis in Syria was dismantled by authorities.
Police arrested a hate preacher known as "Abu Walaa" and four accomplices linked to a group based in Hildesheim.
Germany has been on high alert since it was hit by two terror attacks carried out by Isis supporters in July.
Jaber al-Bakr, a suspected Isis supporter detained on suspicion of plotting to attack a Berlin airport with homemade explosives, killed himself in prison days after being arrested last month.
According to figures released in May by intelligence services, 820 jihadis have left Germany for Syria and Iraq, with a third known to have returned, 140 killed and 420 remaining abroad.
Join our new commenting forum
Join thought-provoking conversations, follow other Independent readers and see their replies