Crime rate in Germany at lowest level in 30 years, but antisemitism is on the rise
But almost half of Germans are more fearful of crime than they were a few years ago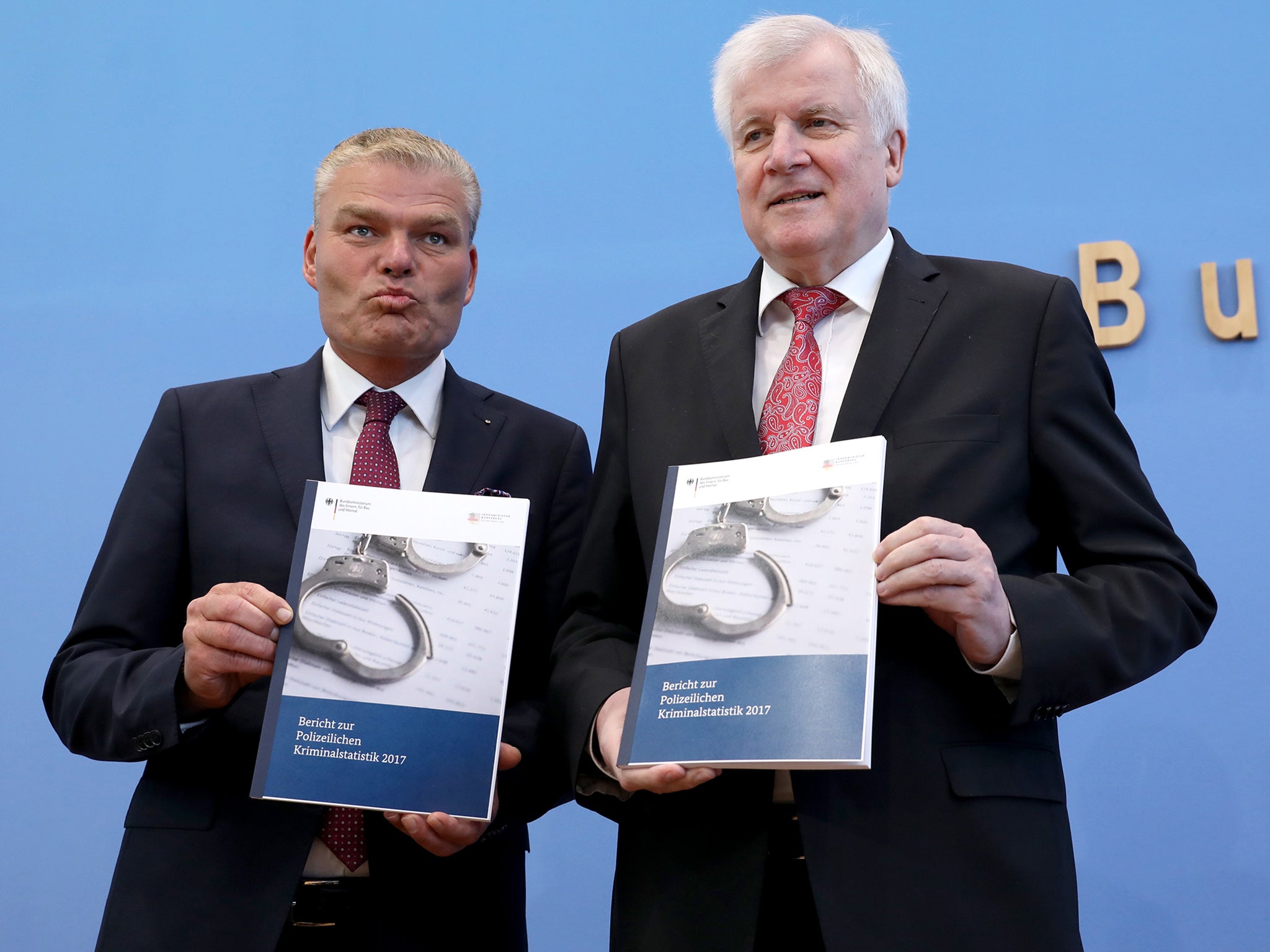 The German crime rate has fallen by five per cent since last year, hitting its lowest rate since 1992.
The new government figures show that 5.76 million crimes were reported in 2017. As a percentage of the population, crime is now at its lowest level for 30 years.
"Germany has become safer," Interior Minister Horst Seehofer said on Tuesday, as the figures were released, but he warned "much remains to be done," as 44 per cent of Germans said they felt less secure in Germany than they did a few years ago.
The statistics also listed the number of crimes by non-German nationals, which have also significantly declined, falling by 23 per cent since last year, from 950,000 to just over 700,000.
Last month it was reported that the number of migrants in Germany had reached a record high, with 10.6 million people with foreign citizenship living there.
Mr Seehofer acknowledged the trend for increased public wariness in Germany, which has also seen a rise in terrorist incidents.
"There is no reason to sound the all-clear and much remains to be done," he said, adding that the rule of law must be upheld and Germany protected against all forms of extremism and terrorism.
According to Deutsche Welle, Germany's international broadcaster, Andre Schulz, the head of the Federation of German Police Officers, described the differentiation between German public sentiment and actual safety as "a paradox," adding that the two had no bearing on one another.
Despite the significant overall fall in crime, the figures also revealed a rise in antisemitic attacks, which have gone up by 2.5 per cent with a total of 1,504 incidents in 2017. Mr Seehofer said this was partly attributable to "imported antisemitism", referring to attacks carried out by foreigners, however, this portion was vastly outweighed by attacks on Jews by far-right German nationals, which accounted for 94 per cent of antisemitic attacks.
The report says that politically motivated crimes fell for the first time in four years, going down by 4.9 per cent and making up 0.7 per cent of all crimes.
However, within this category, the number of incidents motivated by right-wing ideology fell by 12.9 per cent while those connected to the left rose by 3.9 per cent.
The overall numbers of crimes associated with the political right – 20,520 in 2017 – was more than twice the number connected to the left, at 9,752.
World news in pictures
Show all 50
Mr Seehofer said it was "shameful" Germany's left-wing politicians had not made greater efforts to distance themselves from violence. He called for local authorities to take "decisive action" against "left-wing violent criminals."
Overall attacks on asylum and refugee shelters fell by 69 per cent to just over 300 incidents. Though the figures reveal a positive downward trend which saw less violence, Mr Seehofer said every reported incident was one too many.
Join our commenting forum
Join thought-provoking conversations, follow other Independent readers and see their replies