Angela Merkel stands by her guns on refugee crisis - but admits her solution is hurting Germany
The German Chancellor is adamant only a common European solution can solve the crisis, despite disastrous results for her party in regional elections
Loulla-Mae Eleftheriou-Smith
Monday 14 March 2016 11:55 Comments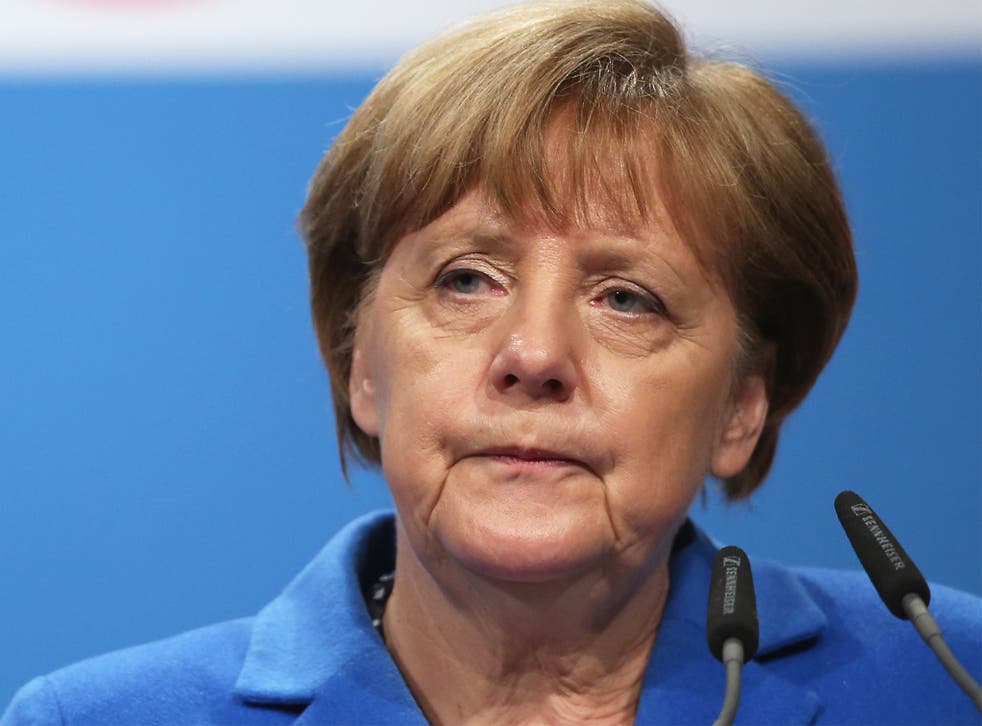 Angela Merkel has admitted that her approach to the refugee crisis is hurting Germany in the short term, after a set of disastrous election results which some have interpreted as a critique of her immigration policy.
Speaking the day after her ruling conservatives suffered embarrassing losses to the anti-immigrant Alternative for Germany party, AfD, the Chancellor nonetheless confirmed she would be standing by her refugee strategy.
Ms Merkel conceded that it would be better for her country if the western Balkan nations refused to allow asylum-seekers to travel deeper into the European Union.
But in a renewed appeal to voters to see the bigger picture of the refugee crisis, she insisted a common European agreement was the only long-term solution.
"It is unquestionable that Germany benefits [from the migrant route closure], but we can see from pictures out of Greece that that is not a sustainable solution," she told reporters.
"I am firmly convinced, and that wasn't questioned today, that we need a European solution and that this solution needs time," she said.
The anti-immigrant and openly xenophobic AfD party now has seats in half of Germany's 16 state legislatures, as well as the European Parliament.
The party has campaigned against Ms Merkel's open-borders approach and managed to both steal votes from established parties and attract people who had previously not voted.
Despite this and the failure of Ms Merkel's Christian Democratic Union (CDU) party to win back two states lost to centre-left incumbents, many have called the Chancellor's overall performance in the elections a sign of support for her policies.
Refugee crisis - in pictures

Show all 27
Gero Neugebauer, a political scientist at Berlin's Free University said the CDU's refugee policy was "supported by the majority of voters," even if they voted for other parties, and that Ms Merkel will not back down from her plan to find a solution to Europe's refugee crisis.
While Bavarian governor Horst Seehofer continued to criticise Ms Merkel's refugee policy following her election results, the CDU's general secretary said the polls instead showed the Chancellor's popularity is rebounding.
Peter Tauber told ZDF Television "it is good the CDU sticks to this course, saying that we need time to master this big challenge".
He said: "One thing is very clear: our supporters want to know where they are," he said, "and if the impression arises that the CDU is not united, that the [conservative bloc] is not united, then it is difficult or more difficult to convince people."
Government spokesman Steffen Seibert said Germany will continue to "pursue its refugee policy at home and abroad."
More than 1.1 million refugees entered Germany last year. In February the German cabinet approved a package of measures to speed up the process of those entering the country and seeking asylum.
Additional reporting by AP
Register for free to continue reading
Registration is a free and easy way to support our truly independent journalism
By registering, you will also enjoy limited access to Premium articles, exclusive newsletters, commenting, and virtual events with our leading journalists
Already have an account? sign in
Join our new commenting forum
Join thought-provoking conversations, follow other Independent readers and see their replies