German Mayor stabbed in anti-immigration attack vows to continue helping refugees integrate
'It was the right thing to do, I'd do the same thing tomorrow'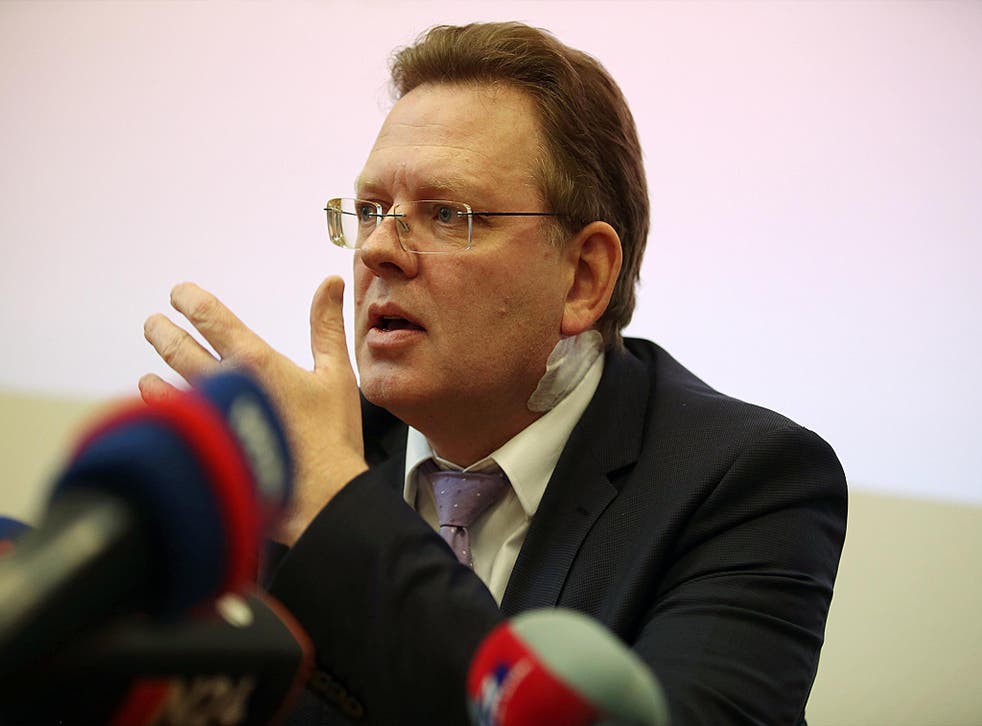 Moments before the would-be assassin tried to kill the mayor of this small and picturesque riverside town in the Sauerland hills of western Germany, he told him why.
He was thirsty, he said, as he pressed a foot-long butcher's knife to the mayor's throat. But rather than help his fellow German, the mayor had taken in hundreds of refugees.
Two weeks later, the gash in Mayor Andreas Hollstein's neck has largely healed. But the sense of profound shock in this tight-knit community remains. And the debate over his decision to make this economically precarious town a German model for the acceptance and integration of asylum seekers has only escalated.
Since the attack, Hollstein – who credits the quick response of the immigrant family that runs the kebab shop where he was ambushed with saving his life – has been defiant.
Some people may not like his humanitarian-based approach, he said while sitting in his office overlooking the town's imposing 12th-century castle, and a few on the extreme right may be angry enough to try to kill him.
But Hollstein said he had no regrets about taking in 450 asylum seekers, 100 more than was required under German rules for distributing the influx of more than 1 million people in 2015 and 2016.
"It was the right thing to do," said the blond, bespectacled and youthful-looking 54-year-old, a scar forming beneath his left ear where the blade pressed in. "I'd do the same thing tomorrow."
That puts Hollstein, a member of Chancellor Angela Merkel's centre-right Christian Democratic Union, sharply at odds with the political moment in Europe.
World news in pictures

Show all 50
Across the continent, politicians wary of a voter backlash against those seeking a haven from war or persecution have sharply toughened both their rhetoric and their policies. Just this week, European Council President Donald Tusk proposed giving up on forcing countries to take in refugees after two years of largely failed efforts.
Yet if Hollstein is out of step with the political mood, the attack on him is in keeping with the times.
Two years ago, the leading candidate for mayor of the western German city of Cologne, Henriette Reker, was stabbed in the neck as she campaigned in an election she would win days later while recovering in the hospital. Police said her assailant was motivated by opposition to her pro-refugee politics.
Last year in Britain, Jo Cox, a 41-year-old member of Parliament and passionate advocate for Syrian refugees, was shot and stabbed to death in her northern English district. A right-wing extremist who shouted "Britain first!" during the attack was convicted of her murder.
And on Tuesday, German federal prosecutors charged a soldier with plotting to assassinate top politicians, including the justice minister, and to frame refugees for the crimes.
The growing trend toward violence comes amid a public discourse that has become far more poisonous and accepting of extreme measures against refugees and their supporters, said Dierk Borstel, an expert on the far right at Dortmund University of Applied Sciences and Arts.
"It's a big problem for security services. The police used to know about the people who could be violent. There was tight observation," said Borstel, whose university is a short drive from Altena. "But now the circle has expanded, and people who haven't been previously suspected are committing these acts. So it's very hard to control."
Police have said little about the man charged with the attempted murder of Hollstein beyond his first name, Werner. But locals in Altena described him as a middle-aged town resident who largely kept to himself and had fallen on hard times.
On the night of the attack, Hollstein had stopped for dinner at City Doener, a favourite neighbourhood gathering spot where native-born Germans, Turkish immigrants, Arab refugees and many others feast on sizzling kebab sandwiches piled high with veggies and hot sauce.
He had just placed his order when a man approached and asked if he was the mayor.
"Yes, I am," Hollstein said he responded. "Why?"
With that, the man pulled out his knife and lunged, while berating the mayor for having taken in "foreigners."
In a flash, Ahmet Demir, 27, was out from behind the counter where he had been making kebabs, and was trying to wrest the knife away.
"I was just shocked," said Demir, who has lived in the area since his family immigrated to Germany from Turkey when he was two and who has long worked with his parents at the family restaurant. "There's never been anything like this in Altena. No crime. No fighting. It's quiet here. It's safe."
Demir's father, Abdullah, joined him within seconds. His mother, Hayriye, dashed to the police station down the road. An officer's gun fixed on the perpetrator, it took several minutes of commands to drop the knife before he complied and let the mayor go.
"In my mind, I knew it was a life-or-death situation," Hollstein said. "I was lucky that (the Demirs) were there to help me. Without them, there was no chance."
The next morning, his three-inch neck wound wrapped in bandages, Hollstein was back at town hall insisting he would not be intimidated. He would continue to do his job without police protection, he said, and to pursue a high-octane strategy for integrating refugees that has won the town a national award.
Hundreds of residents gathered for a candlelight march that evening. Merkel condemned the attack and called Hollstein to express her hopes for a fast recovery. Cards and emails poured in from thousands of well-wishers around the world, including the mayors of Barcelona, Milan and New York.
But mixed in with the mail were more than 100 letters of the sort Hollstein has grown accustomed to in the past several years.
"I'm sorry this man wasn't successful in killing you," said one. "Now we will kill you."
Klaus Laatsch, a local spokesman for the far right Alternative for Germany party (AfD), said the attack on Hollstein was "a really bad thing." But he can understand the anger.
"If you drive around Altena, it's a very sad place," said Laatsch, whose party this fall became the first from the far right to enter the German Parliament in more than half a century. "And the mayor's the one who's responsible for a lot of the problems."
Like many small and once-mighty industrial towns in Germany, Altena has suffered as factories have moved away. A population of 32,000 decades ago has dwindled to just over 17,000 today.
When asylum seekers from the Middle East, Africa and Asia began making their way to Europe in large numbers several years ago, Hollstein saw an opportunity: The town had surplus housing that would otherwise be knocked down. It had schools on the verge of being shuttered because of under-enrolment. It had employers looking for young workers to train.
Hollstein, whose grandmother fled to Altena from her home in Kaliningrad as Soviet troops advanced during World War II, said he also thought the town had a humanitarian imperative to act.
"We can't solve everyone's problems here in Europe," he said. "But we can do what we can do. And it was very clear to me that we could do more."
Beyond taking a higher share of refugees than required, Altena has stood out for its aggressive efforts to integrate the newcomers. At the town hall, a team of four helps to connect asylum seekers with jobs, guides them through the German bureaucracy and coordinates the work of an unusually large cadre of volunteers.
But these days, the refugees need a lot less help than they used to.
"They're independent. They're self-sufficient," said Esther Szafranski, a 50-year-old Altena resident and volunteer. "The kids all speak German very well, and the adults are catching up."
Among them is Nazeer Mohseni, a 29-year-old Afghan who fled a conflict zone more than two years ago and travelled six months to reach Germany. He now speaks the language, has a German girlfriend and walks the steep streets of Altena delivering mail as a postal trainee.
"When I leave at 9 a.m. for my rounds with my letters and packages, everyone greets me with a smile and says, 'Guten morgen,' "said Mohseni, who bears the scars of a bomb blast he survived five years ago. "I feel very good here. There's security.
"But when I saw what happened to the mayor, I said to myself: 'How can this happen in Germany?'"
The Washington Post
Register for free to continue reading
Registration is a free and easy way to support our truly independent journalism
By registering, you will also enjoy limited access to Premium articles, exclusive newsletters, commenting, and virtual events with our leading journalists
Already have an account? sign in
Register for free to continue reading
Registration is a free and easy way to support our truly independent journalism
By registering, you will also enjoy limited access to Premium articles, exclusive newsletters, commenting, and virtual events with our leading journalists
Already have an account? sign in
Join our new commenting forum
Join thought-provoking conversations, follow other Independent readers and see their replies