Angela Merkel's coalition government in chaos as minister threatens resignation
Germany's interior minister threatens to quit over immigration policies
Oliver Wheaton
Monday 02 July 2018 13:46 Comments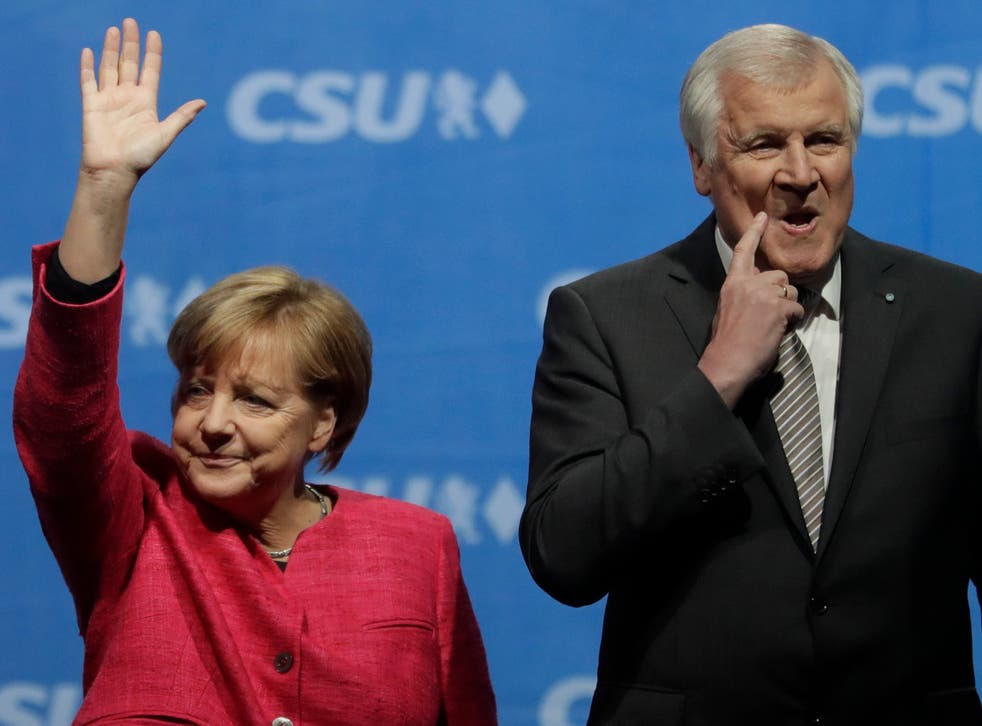 Germany's immigration row is threatening to tear apart Chancellor Angela Merkel's coalition government, with a key member of the government threatening to quit over the dispute.
Horst Seehofer, Germany's interior minister, has previously said police should turn away migrants at the borders of Bavaria, a state in south-east Germany, if they have sought asylum elsewhere, in contrast to the EU-wide deal Ms Merkel is pushing.
Mr Seehofer, who heads Bavaria's Christian Social Union (CSU), will now take part in crisis talks with Ms Merkel today in an attempt to resolve the issue.
The interior minister's offer to resign from his post followed the passing of a resolution by Ms Merkel's Christian Democratic Union (CDU) party which supported her position on immigration.
He said the meeting to discuss the resolution and an EU-wide deal on migration was a "conversation with no effect".
Mr Seehofer added that he agreed to Monday's final crisis talks as a "concession" to the coalition and the country.
Ms Merkel's coalition government relies on the support of the CSU to maintain power, meaning that if Mr Seehofer and his support leave the coalition there could be dire consequences for the German government.
The iron Frau: Angela Merkel

Show all 11
The potential fracture in German politics comes as the country's far-right party, Alternative for Germany (AfD), are growing in power, largely on the back of their anti-immigration stance.
Last year the AfD won 94 seats, making it the first time the party had ever sat in the German parliament.
The party won these gains by attacking Ms Merkel's decision to allow more than a million asylum seekers into Germany following the mass exodus of refugees from the Syrian War.
Ms Merkel managed to secure a deal with Greece and Spain which stipulated that the countries must take back asylum seekers stopped at the Austria-Bavaria border that can be proven to have entered their countries first.
Despite this agreement, Mr Seehofer was apparently still not happy with the deal and made the threat late last night.
Register for free to continue reading
Registration is a free and easy way to support our truly independent journalism
By registering, you will also enjoy limited access to Premium articles, exclusive newsletters, commenting, and virtual events with our leading journalists
Already have an account? sign in
Join our new commenting forum
Join thought-provoking conversations, follow other Independent readers and see their replies