Angela Merkel facing fresh migration crisis as Austria threatens to throw up border controls
Austria has threatened to close its borders if Germany's new policy goes ahead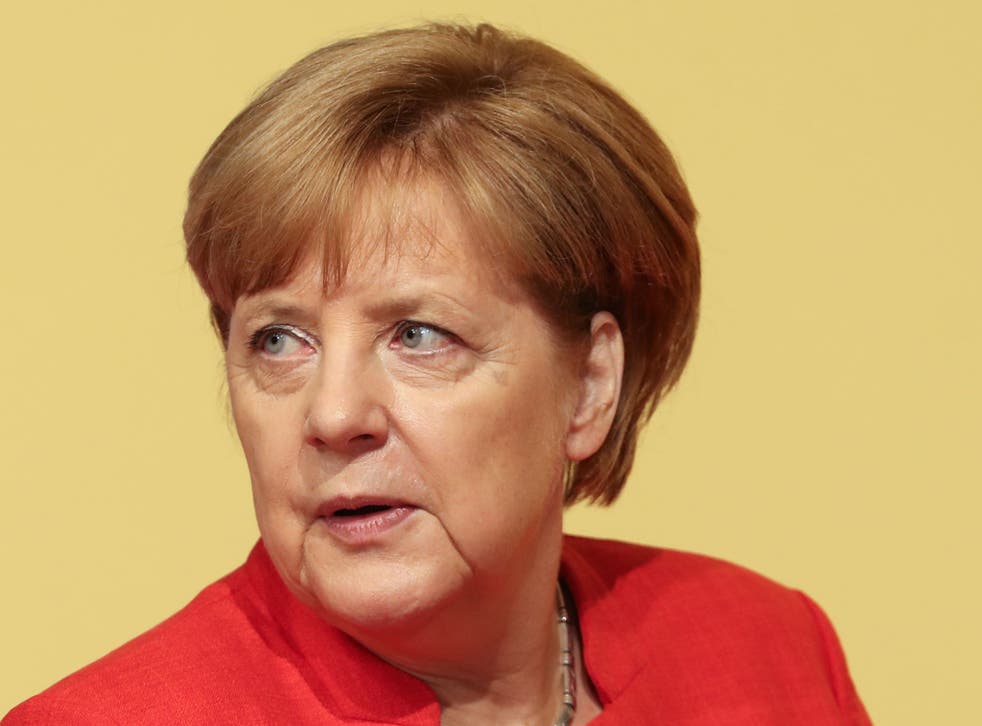 Angela Merkel was given a fresh migration crisis headache on Tuesday after a neighbouring government threatened to close its borders in response her new stricter asylum policy.
Austria said it would "take measures to protect its borders" if Germany imposed new planned entry restrictions on refugees agreed by Ms Merkel in emergency talks with her own ministers late on Monday night.
The policy, which would see migrants entering Germany held in centres and potentially sent back to other EU countries if they had already registered somewhere else, is part of a compromise agreed by Ms Merkel with her rebellious right-ring interior minister Horst Seehofer.
Austria however fears measures to turn back migrants could make it the final destination for more people. Ms Merkel had feared that Germany toughening its stance could cause a wave of border closures across Europe and threaten the integrity of the EU's passportless Schengen Area.
"We will be obliged to take measures to avoid disadvantages for Austria and its people," the Austrian government said in a statement. The statement called for Germany to clarify its position. Under the Schengen agreement countries can impose temporary border controls for security or other reasons.
Speaking at the European parliament Austrian chancellor Sebastian Kurz called for a "paradigm shift in migration" and claimed "a Europe without internal borders" would only be possible "in-the long term" with changes.
"We need to focus on the safeguarding of our external borders as the prerequisite for a common border-free Europe," he said.
But Mr Kurz's comments attracted criticism from Jean-Claude Juncker, the president of the European Commission.
In an apparent swipe at Austrian and Germany, the president said in response: "In 2008, protection of the external borders was proposed by the commission to the member states and there where those then who opposed the idea of a European border protection force and several German speakers refused to allow this."
The new German policy was struck to resolve a dispute between Ms Merkel's CDU and their allies, the Bavarian CSU party, who had originally wanted some migrants to be turned back at the border.
Mr Seehofer had threatened to unilaterally go ahead with his new policy of sending police to the German border to turn away refugees who had registered in other EU countries – effectively challenging Ms Merkel to sack him and bring down her own administration.
The pair agreed a compromise policy of setting up so-called "transit centres" which would allow asylum seekers who had already registered in a different EU country to return with the agreement of that country.
The CSU and Ms Merkel's more moderate CDU, who do not stand candidates against each other, have been inseparable allies since 1949 and the split over migration would have been a historic break in German politics.
The deal comes after Ms Merkel got the backing from MPs of both parties at a parliamentary meeting on Monday. Mr Seehofer did not attend.
The CSU, which only stands candidates in the south eastern state of Bavaria, has long had a reputation for being more conservative than the CDU which organises in the rest of Germany.
It has tried to reassert those right-wing credentials in recent months after the far-right AfD made gains in last autumn's Bundestag elections – notably in Bavaria.
The focus on migration by the CSU comes ahead of local elections to the Bavarian regional parliament, or Landtag, which are due later this year, with the AfD expected to do well. Bavaria's geographical position means it is on the overland migration route from the Middle East and Balkans, traversed by many refugees and migrants taking advantage of Angela Merkel's welcoming borders policy.
Despite a major fall in the number of refugees and migrants coming to Europe, and in particular Germany, in the last year, the issue has rocketed up the political agenda after gains for the far-right in elections across the continent.
World news in pictures

Show all 50
Far-right anti-immigration parties now participate in core EU governments like Italy and Austria, with populists also in charge in eastern states like Poland and Hungary.
Austria's government, which has said it wants to make migration policy a priority, is taking up the chair of the European Council this week, which it will hold for six months. At a summit on Thursday and Friday last week leaders agreed a raft of measures to toughen EU border policy including condemnation of NGO boats rescuing migrants drowning in the Mediterranean, the potential establishment of asylum processing centres in North Africa, and secure zone for migrants in EU countries.
Join our new commenting forum
Join thought-provoking conversations, follow other Independent readers and see their replies