Germans now find US as trustworthy as Russia, poll shows
Only 22 per cent of Germans think US is trustworthy now Donald Trump is in the White House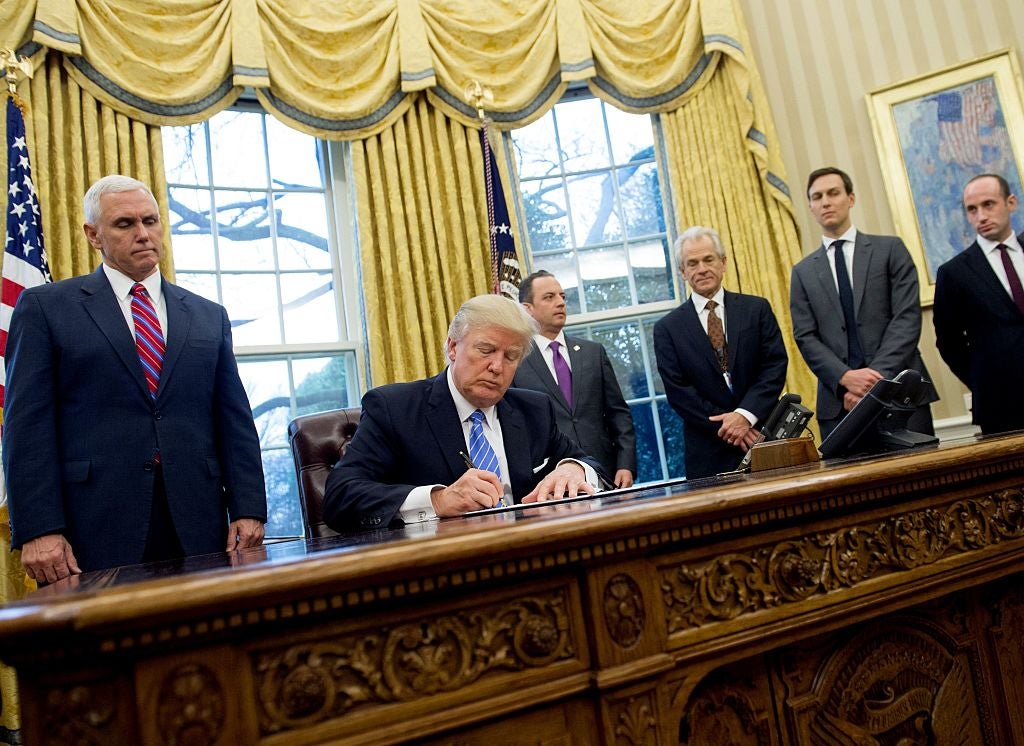 Germany's faith in the US has taken a nosedive since the election of Donald Trump with the country viewing their longtime ally as trustworthy as Russia, a new poll has found.
Just 22 per cent of respondents trusted the US under its new leader – compared with 59 per cent just before the November election.
The sample of just over just 1,000 voters also found Germany's trust in Russia had declined four points between November and February to just 21 per cent. However, this is up from a low of 15 per cent in March 2015 following the downing of MH17 and the annexation of the Crimea.
The results, gathered by Cologne-based radio station WDR, found that only 26 per cent of believe it is good that Mr Trump is following through on his campaign promises to ramp up protectionism, build a wall on the Mexican border and ban people from seven Muslim-majority countries.
A further 69 per cent disapproved of his policies, but 80 per cent still believed the European Union must cooperate closely with him.
The survey was part of a wider trend report polling Germans on politics ahead of the federal elections later this year.
It also found 90 per cent of Germans were worried about the state of democracy in Turkey.
Eighty-three per cent of respondents believed the government should be more opposed to the Turkish government's crackdown on dissent but 50 per cent still believe Chancellor Angela Merkel should do everything she can to save the refugee agreement agreed in March last year.
In pictures: Protests, pomp and Donald Trump
Show all 30
The poll comes as one Germany's leading political magazines, Der Spiegel, depicted Mr Trump as an "American Pyscho" on its front cover holding the severed head of the Statute of Liberty with the headline: "America First".
Germany, along with many other European countries, reacted with dismay to Mr Trump's executive order banning all citizens from seven Muslim-majority countries coming to the US last week.
In a recent phone call Ms Merkel reportedly explained the Geneva Convention to her American counterpart.
A statement issued by her spokesman, Steffen Seibert, said: "The Chancellor regrets the US government's entry ban against refugees and citizens of certain countries.
"She is convinced that even the necessary, resolute fight against terrorism doesn't justify putting people of a particular origin or particular faith under general suspicion.
"The Geneva Refugee Convention requires the international community to take in refugees from war on humanitarian grounds. All signatory states are expected to do so. The Chancellor explained this policy to the US President in their call yesterday.
"The German government will now examine what consequences the measure of the US government will have for German citizens with double citizenship and will represent their interests, if necessary, before our American partners."
Join our commenting forum
Join thought-provoking conversations, follow other Independent readers and see their replies