Germany's worst miscarriage of justice? 'Paranoid' husband freed after he was mistakenly held in asylum for seven years
Gustl Mollath was forcibly committed to psychiatric care in 2006 after a court rejected his claims that bank staff, including his wife, were smuggling millions into Swiss accounts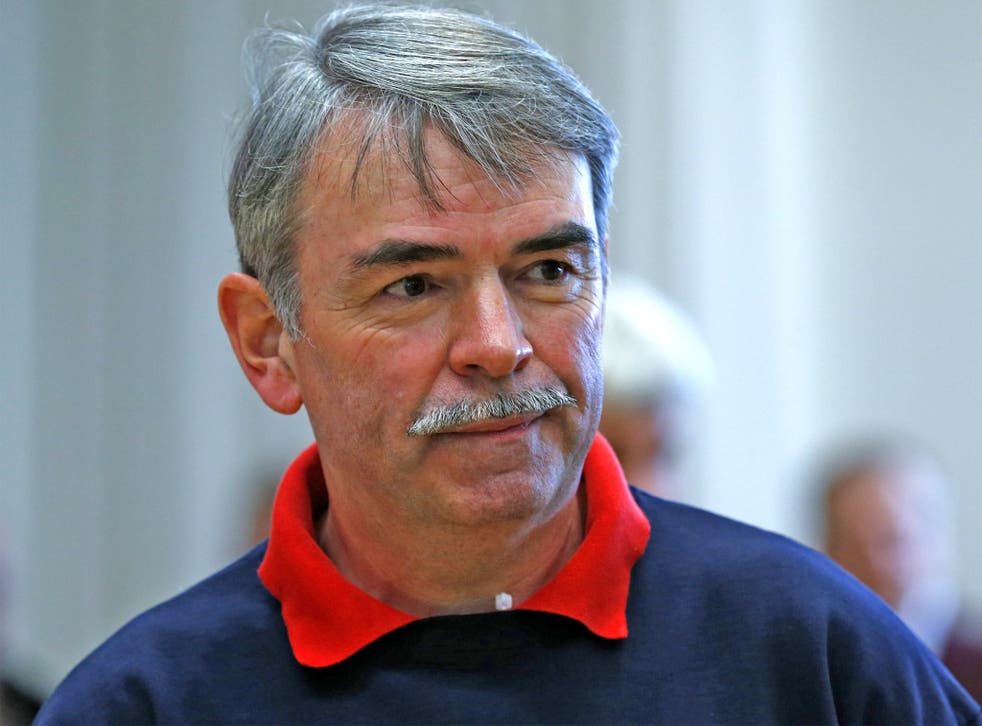 The victim of what may prove to be one of Germany's worst miscarriages of justice on record has been freed from a psychiatric unit where he had been held prisoner for seven years after exposing his wife's alleged involvement in a major money-laundering scandal at a Bavarian bank.
In a case reminiscent of a crime novel, Gustl Mollath, 56, was forcibly committed to psychiatric care in 2006 after a court rejected his claims that staff at Bavaria's HypoVereinsbank (HVB), including his wife, were smuggling millions into Swiss accounts. Instead judges ruled that he was paranoid.
Mr Mollath had been held at the psychiatric unit in Bayreuth until this afternoon when a Bavarian high court ordered his immediate release and dropped all charges against him. "He reacted with great joy," is how Mr Mollath's lawyer described his client's response.
The highly controversial case has been referred to as "The Mollath Affair" since Mr Mollath's trial in 2006 when he faced charges from his own wife, a HVB assets consultant, that he had attacked her and caused her bodily harm. He was also accused of slashing the car tyres of his opponents.
Mr Mollath denied the charges, claiming his wife was trying to blacken his name in an attempt to refute the evidence he had against her and her bank colleagues. But the court sided with Mr Mollath's wife.
In subsequent legal hearings, psychiatrists' reports claiming that Mr Mollath was suffering from a "paranoid personality disorder" were used by lawyers to refute his claims that the bank had been involved in illegal money laundering.
However, last November fresh evidence surfaced from a 2003 audit conducted at the Munich-based bank which suggested that money laundering and assisted tax evasion had been practised by staff for several years. It emerged that a number of bank employees, including Mr Mollath's wife, were sacked following the bank's investigation.
The revelations sparked a renewed wave of public interest in the case. Mr Mollath was inundated with letters and emails from thousands of supporters who argued that he was clearly a victim of a gross and unprecedented miscarriage of justice.
The Bavarian high court's decision to free Mr Mollath followed doubts expressed by Germany's Federal Prosecutor about judges' handling of the case. A regional court in Regensburg recently upheld the ruling that Mr Mollath was paranoid, prompting a protest by dozens of black-robed lawyers.
Mr Mollath's lawyers are expected to reopen the case to enable him to file for financial compensation.
Register for free to continue reading
Registration is a free and easy way to support our truly independent journalism
By registering, you will also enjoy limited access to Premium articles, exclusive newsletters, commenting, and virtual events with our leading journalists
Already have an account? sign in
Register for free to continue reading
Registration is a free and easy way to support our truly independent journalism
By registering, you will also enjoy limited access to Premium articles, exclusive newsletters, commenting, and virtual events with our leading journalists
Already have an account? sign in
Join our new commenting forum
Join thought-provoking conversations, follow other Independent readers and see their replies