Germany pulls troops and aircraft from Turkish airbases in row with Ankara
The move may take up to two months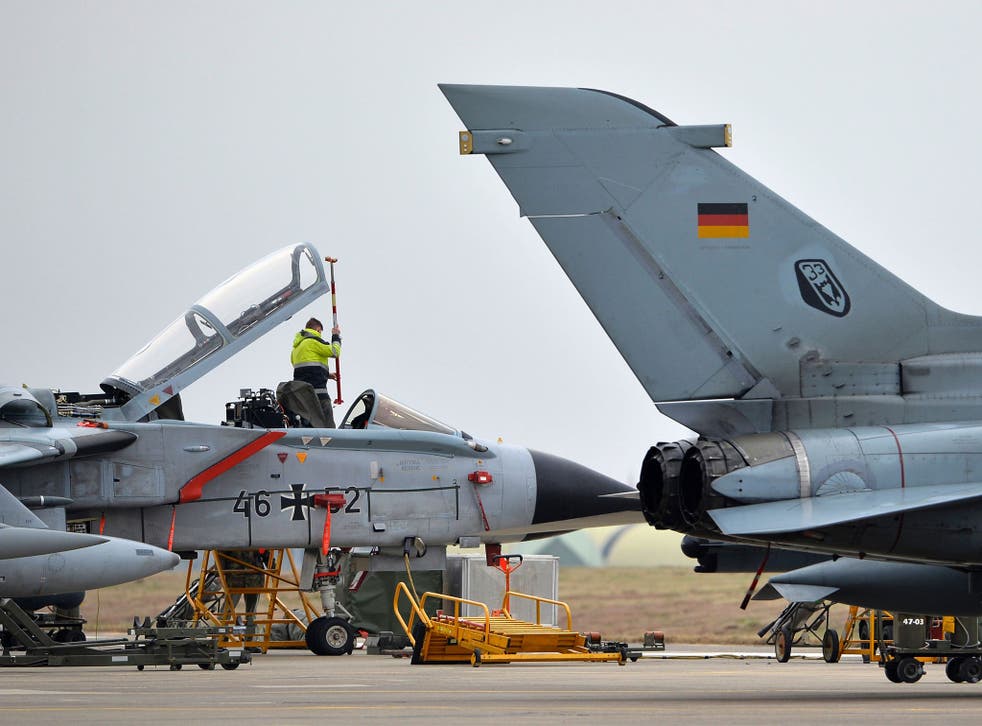 Germany will pull all of its troops and aircraft from its Turkish airbase amid a diplomatic row with Ankara, defence minister Ursula von der Leyen has announced.
Around 270 troops stationed at Incirlik, near the Syrian border, as well as Tornado reconnaissance jets and a refuelling plane, will be moved to Jordan over the next two months.
Tensions between Berlin and Ankara have mounted in recent weeks after Turkish officials refused to let German MPs visit troops stationed at the base.
The arrest of German journalists in Turkey and Germany's decision to grant asylum to soldiers and others who Turkey alleges were involved in last year's failed coup have also contributed to the diplomatic standoff.
Both sides took part in last ditch talks aimed at maintaining Germany's presence at the airbase, from where its aircraft contribute to the anti-Isis mission.
The redeployment of troops to Jordan will concern Nato as both nations are members of the alliance.
In May, Angela Merkel said her Cabinet was considering withdrawing from the base.
In pictures: Turkey coup attempt

Show all 17
She said the German government was looking at "alternatives" elsewhere in the region.
Speaking today, Ms Von der Leyen said: "Given that Turkey is currently not in a position to allow German parliamentarians the right to visit Incirlik, the Cabinet today agreed to move the Bundeswehr from Incirlik to Jordan."
She added that she would hold immediate talks with the US military and the US-led coalition fighting Isis to minimise the impact of the move.
The German chancellor added in comments made on Wednesday lunchtime that even after the troop withdrawal from Turkey, talks must continue with Ankara.
A Nato official told The Independent Jens Stoltenberg, the secretary general, had been "in regular contact" with the Turkish and German governments.
"We regret that this matter could not be resolved differently," she added.
"Both Germany and Turkey are making significant contributions to the fight against Isis. Clearly all Allies have a shared interest in fighting Isis."
Foreign minister Sigmar Gabriel was in Turkey on Monday in an attempt to convince Ankara to soften its stance, but said Turkey had refused the visits for "domestic political reasons".
He said he had wanted to avoid further damaging ties with Turkey and pushing it towards Russia.
Last summer, German and Turkish officials became embroiled in a similar row after Ankara was accused of blocking visits by members of parliament.
Then, relations were strained over a vote in the German parliament to classify the 1915 massacre of Armenians as genocide.
Turkey eventually granted the German officials access, two months after the visit was scheduled.
Register for free to continue reading
Registration is a free and easy way to support our truly independent journalism
By registering, you will also enjoy limited access to Premium articles, exclusive newsletters, commenting, and virtual events with our leading journalists
Already have an account? sign in
Register for free to continue reading
Registration is a free and easy way to support our truly independent journalism
By registering, you will also enjoy limited access to Premium articles, exclusive newsletters, commenting, and virtual events with our leading journalists
Already have an account? sign in
Join our new commenting forum
Join thought-provoking conversations, follow other Independent readers and see their replies