Giant rat takes over Swedish family's kitchen after tunnelling through cement in cellar
Monster 15-inch rodent finally caught in huge mousetrap – yet still almost escaped alive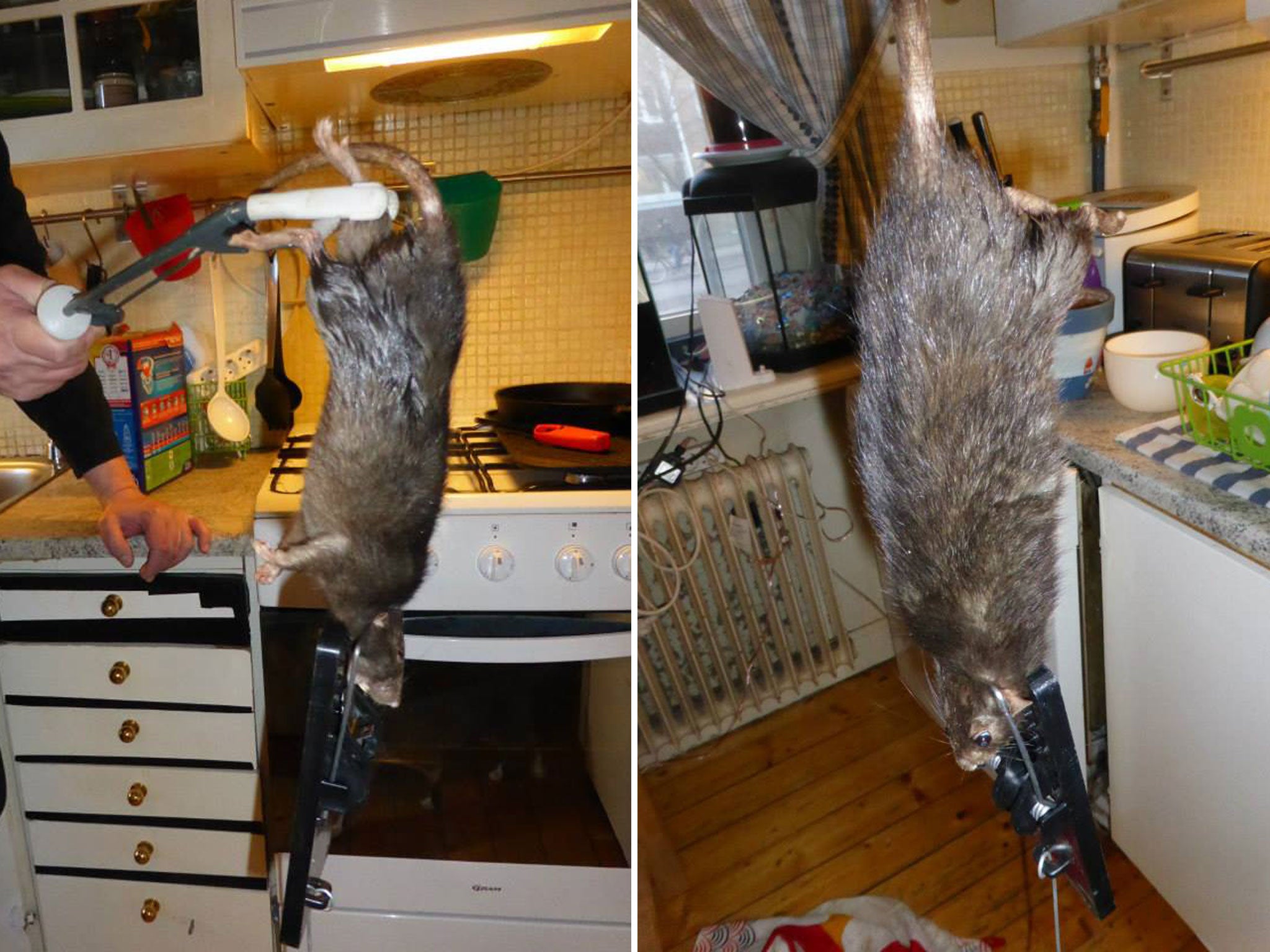 A Swedish family have described how they were terrorised by a giant rat which tunnelled through cement to take over their kitchen.
Pest controllers said the "Viking" monster, measuring 15 inches (40cm) not including the tail, was the largest rat they had ever seen.
The Bengtsson-Korsås family thought they must have had a mouse infestation after they heard noises coming from behind appliances in the kitchen – but darker suspicions were aroused when their cat started refusing to go near that part of the house.
It emerged that the rat had entered their basement by burrowing through wood and cement, carving out a lair for itself behind the dishwasher.
Signe Bengtsson-Korsås told the Swedish edition of The Local that first contact was made when she went to empty the bin under the sink.
"It was right there in our rubbish bin, a mighty monster. I was petrified. I couldn't believe such a big rat could exist," she said.
"I couldn't help but do the old classic and jump on the kitchen table and scream."
Her husband, Eric Bengtsson-Korsås, said he was away at the time and thought his wife must have been exaggerating.
"By the time I got home, the rat was so domesticated that it just sat under the kitchen table," Mr Bengtsson-Korsås said.
When they realised that the rat had chewed through the pipes at the back of the dishwasher, flooding part of the kitchen, the family put the area "on lockdown" and called in exterminators.
Pest controllers put down three huge traps, and a day later one went off.
Yet not willing to go down without a fight, the rat had disappeared – dragging the trap with it back behind the dishwasher. It later died – though the family's children remained unconvinced.
"The kids were afraid it would come back to life as some sort of zombie rat. They didn't want to touch it," Mr Bengtsson-Korsås added.
Join our commenting forum
Join thought-provoking conversations, follow other Independent readers and see their replies