Girl Scout confronts far-right protester in striking photo from Czech neo-Nazi rally
Picture is a viral hit with many applauding the girl's composure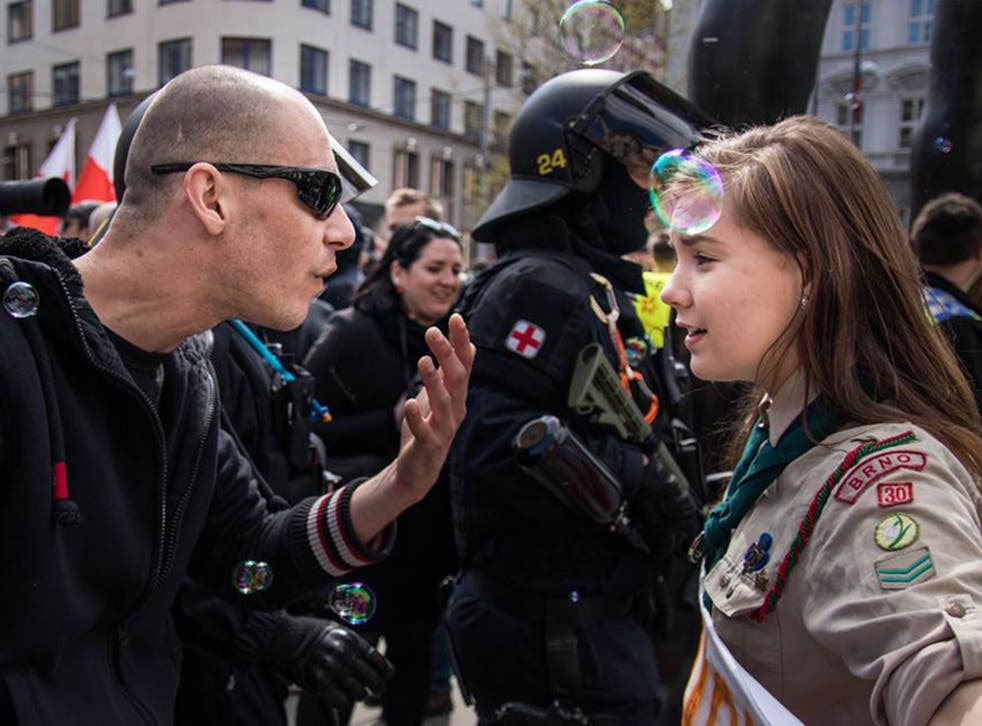 A photo of a Girl Scout calmly confronting a far-right protester during a rally in the Czech Republic has been shared thousands of times as a powerful symbol of peaceful defiance in the face of hate.
The image, of teenager Lucie talking to a demonstrator during a May Day rally, was shared by the World Organisation of the Scout Movement.
The picture became a viral hit with many applauding the youngster's courage and composure.
In a Facebook post the group said: "People from all walks of life, and #Scouts among them, came to the streets during an extreme right march yesterday, to express their support for values of diversity, peace and understanding. Creating a better world!"
The march is understood to have been organised by the DSSS Workers' Party – a far-right party in the Czech Republic.
Anička Čámská, a member of the Czech scouting group, who was at the rally, said: "There was some kind of far-right march, so a bunch of people wen there as well to protest in a peaceful way – they were dancing and painting.
"Later more people came to protest against neo-Nazis with drums and so on. The message was 'we are tired of your hate and pessimism'."
The powerful image echoes the photo of a young woman smiling at a member of the English Defence League at a rally in Birmingham.
Photographer Vladimír Čičmanec, who captured the image during Monday's protests, said the "neo-Nazi was clearly angry with her, but she stood her ground".
President Trump protests

Show all 20
"I was thinking about the Saffiyah Khan photo when I started shooting, the situation looked similar, and the bubbles were just a sweet coincidence," he told IBTimes.
"I thought 'this will be a nice photo', but in the sense 'when my friends see it on Facebook, they'll probably like it'.
"I initially shared it with limited privacy not thinking much about it. And then people wanted me to make it public and it exploded."
Join our new commenting forum
Join thought-provoking conversations, follow other Independent readers and see their replies