Girlfriend to marry soldier shot dead by scooter killer
The pregnant fiancée of one of Mohamed Merah's victims is making plans for a posthumous wedding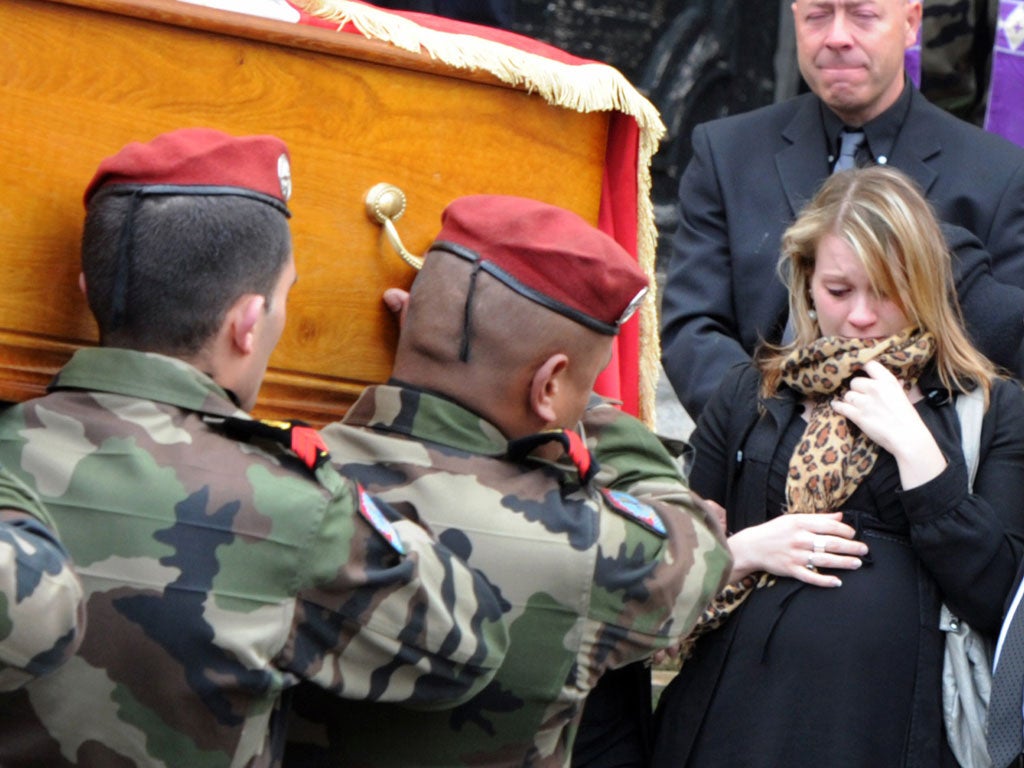 The pregnant girlfriend of a French soldier gunned down in Toulouse by the "scooter killer" has applied for permission to marry her partner posthumously. Such weddings have long been legal – if rare – in France, and require the assent of the President, something which is not likely to be in doubt in the midst of a close election campaign.
Abel Chennouf, a paratrooper, was shot dead at a cash machine in one of a series of killings blamed on the 24-year-old Islamist fanatic Mohamed Merah. A lawyer for the family of Mr Chennouf's girlfriend, Caroline Monet, 21, said she hopes to marry her late partner at an official ceremony in a few weeks' time.
The lawyer, Gilbert Collard, said: "I've already had it done twice, for policemen's girlfriends. It's a really moving ceremony, with an empty chair representing the dead spouse." He added that the official request was made yesterday, but that the President's office had indicated that approval would be given. Hundreds of posthumous weddings have taken place in France in the past 50 years. The couple need to have been planning to wed, and the deceased's family must consent. Only about one-quarter of requests are rejected.
Meanwhile, the circumstances surrounding Mohamed Merah's rampages are still being investigated. His mother, who was being questioned by police, was released yesterday, but his older brother, Abdelkader, and the older brother's girlfriend are still in custody. They were flown to Paris for further questioning yesterday morning.
Mohamed Merah, who claimed allegiance to al-Qa'ida, died in a hail of gunfire on Thursday after a 32-hour standoff with police at his apartment in Toulouse. At one point, police brought his mother to the scene, but she refused to urge her son to surrender. Merah had filmed himself carrying out the attacks in southern France, which began on 11 March. Since then he had killed three Jewish schoolchildren, a rabbi and three French paratroopers with close-range shots to the head. He had also wounded another Jewish student and a paratrooper. Five police officers were injured trying to dislodge Merah from his flat.
Police are trying to determine whether Merah had any help in carrying out the murders. Key questions include how Merah, described by the French intelligence boss Ange Mancini as "a little failure from the suburbs", was able to amass an arsenal of weapons – including an Uzi submachine gun – and rent a car, despite having no clear source of income. Mr Mancini told the French broadcaster BFM TV that Merah told police during the siege that he bought the weapons for €20,000 using money he acquired through break-ins and hold-ups.
Mr Mancini said he believed Merah was telling the truth about that, but suggested that police would be examining the guns for clues as to where Merah got them. Merah had claimed that neither his mother nor his brother knew of his plans, but a police union spokesman, Christophe Crepin, told reporters that detectives have already gathered evidence to suggest that Abdelkader may have helped his brother to carry out the shootings.
Join our commenting forum
Join thought-provoking conversations, follow other Independent readers and see their replies