Giulio Regeni: Cambridge graduate killed in Egypt had 'letters' carved into his body
The body of Giulio Regeni, an Italian graduate student at Girton College, was found by the side of a road in Cairo on 3 February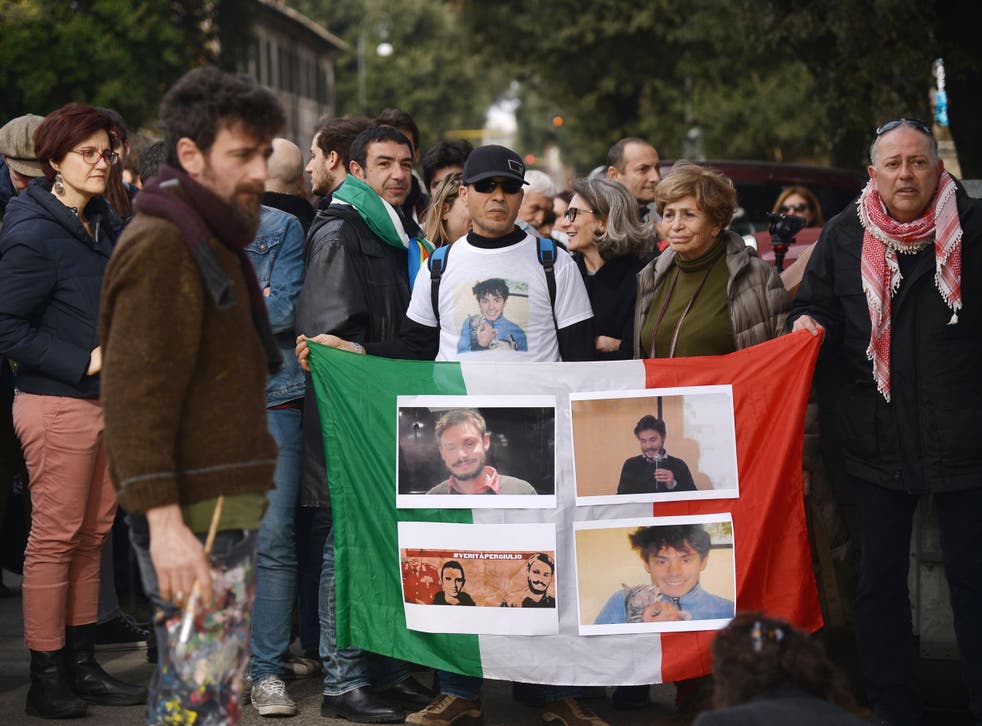 A Cambridge University student killed in Egypt had mysterious letters carved into his body, according to a post-mortem examination.
The body of Giulio Regeni, an Italian student, was found by the side of a road in Cairo on 3 February with signs of extreme torture, including cigarette burns, cuts and contusions, more than a week after he had vanished.
The 28-year-old had been researching independent labour unions in Egypt for his doctorate studies at Girton College and disappeared on the fifth anniversary of the 2011 Egyptian popular protests that led to the downfall of president Hosni Mubarak.
A post-mortem by Italian authorities discovered Mr Regeni had been viciously beaten over seven days and four or five symbols that appeared to be letters had been carved into his skin, the Telegraph reports.
The 220-page post mortem report also found a letter, believed to be an "X", had been cut into Mr Regeni's left hand and further marks had been carved into his back, above his right eye and on his forehead.
It also found he had broken bones, shattered five teeth, had been hit with "kicks, fists, sticks and hammer" and was killed after his neck was broken.
"'They used him like a blackboard," his mother, Paola, was quoted as saying by the Corriere della Sera newspaper.
Egyptian officials initially said Mr Regeni had been killed by a criminal gang, a theory disputed by international experts and his family.
The Egyptian government has been heavily criticised for refusing to look into claims its security services may have been involved in the PhD student's death.
An Egyptian prosecutor said in Rome, that the head of Egypt's independent union of street vendors, who Mr Regeni had been in contact with as part of his research, reported the graduate student to police a few weeks before he disappeared.
Government and security services deny taking Mr Regeni into custody. But security and intelligence sources told Reuters in April he had been arrested by police outside a Cairo metro station on 25 January and was taken to a Homeland Security compound.
World news in pictures

Show all 50
Rome's chief prosecutor Giuseppe Pignatone and Egyptian general prosecutor Nabeel Sadek met for the third time this year on Thursday and Friday to exchange information collected during their respective investigations.
Mr Sadek "said that he confirmed that Cairo police, on Jan 7 2016, received a report from the head of the independent union of street vendors on Giulio Regeni," according to a joint statement by prosecutors released on Friday.
"Afterward the police carried out checks on [Regeni's] activity. After the checks, which lasted three days, no activity of interest to national security was discovered and, as a consequence, the checks were stopped," the statement said.The statement said there was a "common commitment" to overcome "technical obstacles" in recovering the video, without elaborating.
The two prosecutors also said they renewed their commitment to exchange information and find the truth about Mr Regeni's death.
Additional reporting by Reuters