Tourists flee huge wave after glacier collapses in Iceland
Loud cracking sound can be heard before glacier collapses into sea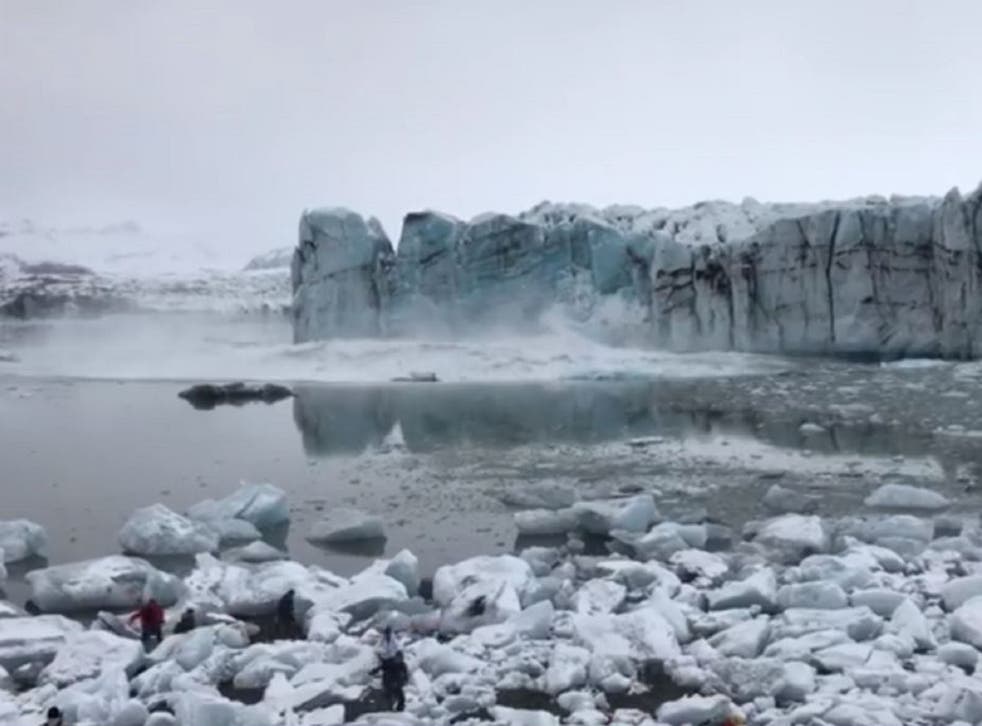 Tourists were left fleeing a huge wave after part of a glacier broke off and collapsed into the sea in Iceland.
The groups had been admiring the Breiðamerkurjökull glacier in Vatnajökull National Park when a loud cracking sound could suddenly be heard.
Stephen Mantler, who filmed the incident on Sunday, said the sound was a warning that a glacier calving - the natural process where a large section of ice breaks away - was imminent.
The mountain guide, who owns Icelandic tour company Hafjall, filmed tourists running to higher ground for safety as the wave hurtled towards where they had just been standing.
He said he made sure all of his clients were safe and kept an eye on the group, who were also with guides, below as he recorded.
Mr Mantler said the area, in southeastern Iceland, was only accessible with a trained mountaineer.
Glacier collapse shows climate impact

Show all 20
He told CNN: "While calvings are fairly frequent at this time of the year, this was an extraordinarily large event and much closer to the shore than usual, which is why it was such a close call."
The business owner said everyone is briefed about what to do in the event of a calving before they set off to see the glacier.
Register for free to continue reading
Registration is a free and easy way to support our truly independent journalism
By registering, you will also enjoy limited access to Premium articles, exclusive newsletters, commenting, and virtual events with our leading journalists
Already have an account? sign in
Register for free to continue reading
Registration is a free and easy way to support our truly independent journalism
By registering, you will also enjoy limited access to Premium articles, exclusive newsletters, commenting, and virtual events with our leading journalists
Already have an account? sign in
Join our new commenting forum
Join thought-provoking conversations, follow other Independent readers and see their replies