Gorbachev calls for new elections to appease Russians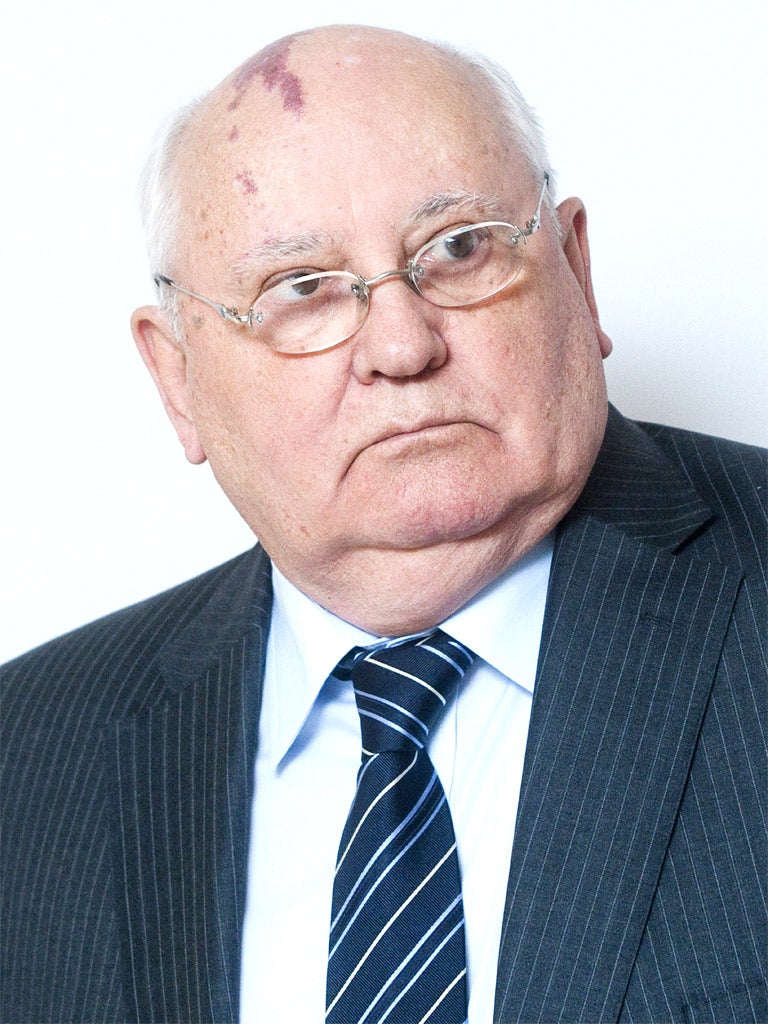 Mikhail Gorbachev, the leader who presided over the collapse of the Soviet Union, has called on Russian Prime Minister Vladimir Putin to hold new elections in the wake of this week's protests that have seen thousands of people take to the streets of Moscow and other cities.
"More and more people are starting to believe that the election results are not fair," Mr Gorbachev told the Russian news agency Interfax yesterday. "I believe that ignoring public opinion discredits the authorities and destabilises the situation."
Mr Putin's United Russia party won 49 per cent of the vote in Sunday's elections, but there have been widespread allegations of voter intimidation and fraud. On Monday night, about 8,000 protesters gathered in Moscow to listen to speeches from opposition leaders, while on Tuesday thousands gathered at Triumfalnaya Square. Over 500 people were detained by police on Tuesday and two opposition leaders have received 15-day jail sentences. Last night, trucks full of riot police stood guard on Triumfalnaya Square, the epicentre of protests, but not many demonstrators turned up and the evening passed largely without incident.
The opposition is now planning a huge rally on Saturday, to be held at Revolution Square, just a stone's throw from the Kremlin. Moscow authorities have approved the protest, but set a limit of 300 participants.
On Facebook and the Russian social network Vkontakte over 25,000 Russians said they would attend the meeting over the course of yesterday, with thousands of people confirming their attendance each hour. If even half of them show up, it will be one of the largest street protests in Russia since the fall of the Soviet Union. Groups were also set up for planned protests in cities across Russia. By yesterday evening, 3,500 people had signed up to rally on Saturday in the Siberian city of Novosibirsk, with another 7,000 saying they might attend.
Most of those detained over the past days have been released, though some said they were forced to sign blank pieces of paper in the police station, with officers saying they would write in the details later.
"They didn't beat me when I was arrested," one protester, Alexander Manotskov, wrote on his blog. "But they did afterwards, in a special dark police van. I was covered in blood."
The growing discontent has surprised authorities, whose response has been muted. Mr Putin officially submitted his papers for the presidential vote in March, but made no comment yesterday on the growing mood of rebellion.
Vladimir Churov, the head of Russia's Central Election Committee, said videos posted by Russians on YouTube that apparently show ballot stuffing, multiple voting and other violations were filmed in "secret apartments made to look like fake polling stations". And pro-Kremlin youth groups such as Nashi have swung into action. Set up in the aftermath of "colour revolutions" in post-Soviet states such as Georgia and Ukraine several years ago, the groups appear to have finally found their calling.
On Tuesday night, thousands of activists disrupted opposition protesters by banging drums and shouting support for Mr Putin. Yesterday, a stage emblazoned with "The future is ours!" was set up in Pushkin Square in Central Moscow, where pro-Kremlin activists gathered.
Join our commenting forum
Join thought-provoking conversations, follow other Independent readers and see their replies