Greece debt crisis: German-Greek relations slump further after Der Spiegel magazine cover prompts controversy
Germans were not amused by this latest bit of Greece bashing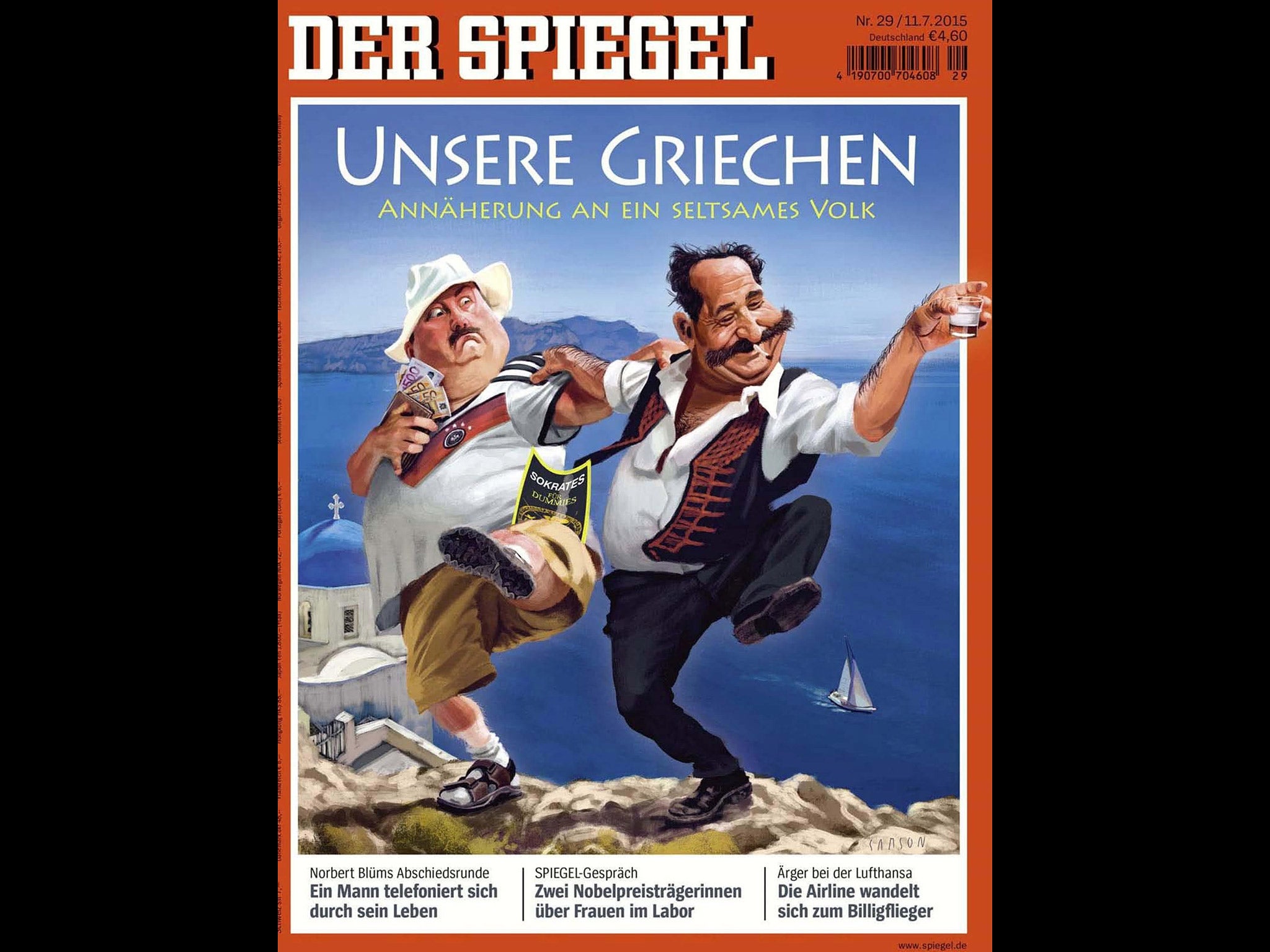 Fresh fat has been added to the fire of German-Greek relations after the respected and mostly serious Der Spiegel magazine published a front cover depicting an alarmed Teutonic tourist with a fistful of Euros reluctantly dancing Sirtaki with a chain-smoking, Ouzo-slurping Greek.
The cartoon, which appeared on the magazine's cover hours before eurozone leaders brokered Monday's Athens bailout was entitled: "Our Greeks. – a rapprochement with a strange people". It was Germany's latest bit of Greek bashing, but, above all, the Germans were not amused.
The financial newspaper Handelsblatt, scathingly dismissed the cartoon for being "Humorous like a German" and said it was "insulting to the Greeks". The paper took issue with the term "our Greeks" and noted: "The last time Greece belonged to 'us' was when the Swastika flew over the Acropolis."
Der Spiegel was not alone in its criticism of Greece. For more than two years Germany's mass circulation Bild newspaper has specialised in Athens baiting. Its headlines have contained advice such as: "Sell off your islands you bankrupts !" and: "We Germans can pay off our debts because we get up and go to work!"
But Tuesday's mass criticism prompted the Der Spiegel editor to come forward with a statement justifying the magazine's controversial cover. "Political satire is a necessary part of the democratic process," he insisted.
The German parliament will gather for a special session this Friday. MPs will be asked to back Chancellor Angela Merkel and approve negotiations with Athens and other eurozone leaders for a new €86 billion Greek bailout package.
Ms Merkel has said that she supports the bailout plan with "complete conviction", but she faces some stiff opposition from Mps within her own conservative Christian Democratic party. She may have to rely on votes from other parties to win parliamentary approval.
In pictures: Greek referendum
Show all 28
On Tuesday opposition parties angrily attacked both Ms Merkel and Wolfgang Schaüble, her veteran pro-Grexit Finance Minister, for their handling of the eurozone crisis. Mr Schaüble was criticised for proposing a limited five-year Grexit for Greece. But his supporters claimed the veiled threat contained in the proposal persuaded Athens to strike a deal.
Join our commenting forum
Join thought-provoking conversations, follow other Independent readers and see their replies