Greece debt crisis: Leaked IMF report heaps fresh pressure on creditors to grant massive relief ahead of key vote
Greek PM, Alexis Tsipras, must push a raft of austerity measures through parliament to start negotiations on a new funding lifeline from reluctant European nations
Ben Chu
,
Michael Day
Wednesday 15 July 2015 06:32 Comments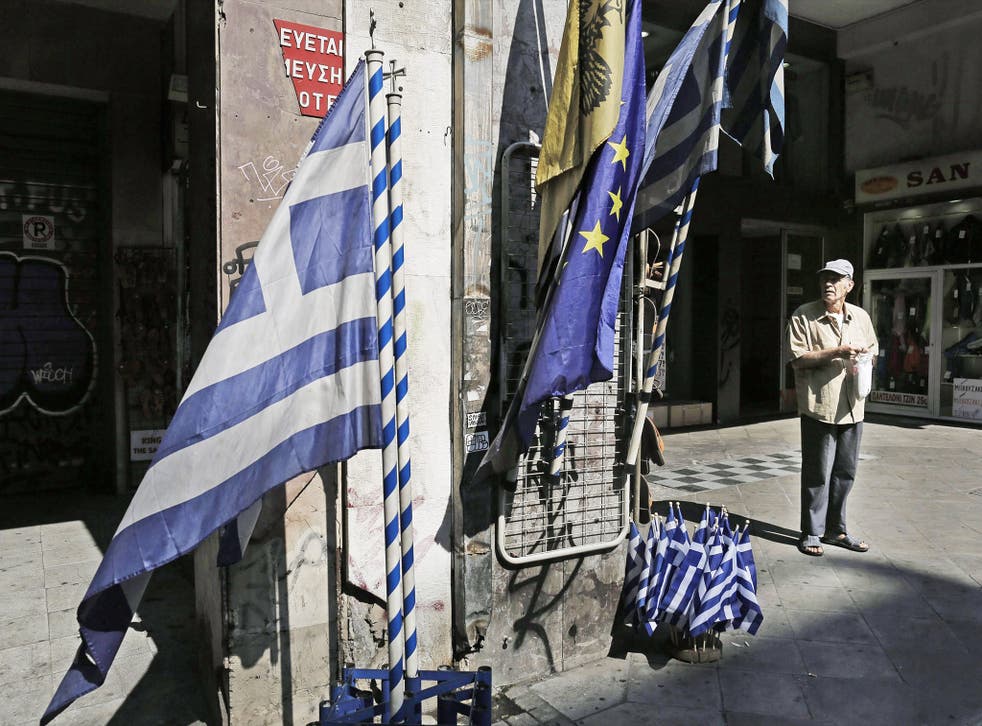 A leaked analysis of Greece's sovereign debt by the International Monetary Fund has heaped fresh pressure on the country's creditors to grant the Mediterranean country massive debt relief as part of its latest bailout deal.
The IMF document shows Greece's national debt burden peaking at 200 per cent of GDP, up from its already unsustainable level of 177 per cent. Monday's deal in Brussels committed Greece's creditors to "consider" further debt relief for Greece provided the Athens government implements economic reforms and further austerity.
But the IMF has been lobbying hard behind the scenes for a more proactive approach to tackle Greece's spiralling debt burden as its own central condition for participating in a further Greece bailout.
The IMF argues that debt relief for Athens is needed "on a scale that would need to go well beyond what has been under consideration to date" and suggests debt relief will need to be much bigger than mooted in Monday's €86bn deal.
But before debt relief can be discussed the Greek Prime Minister, Alexis Tsipras, must push a raft of austerity measures through parliament to start negotiations on a new funding lifeline from reluctant European creditors.
Describing the deal as "harsh", Mr Tsipras said it was the only way for Greece to remain in the euro, adding that he assumed responsibility for a text he did not believe in but had "signed to avoid disaster for the country".
Failure to pass the legislation would prevent Athens from receiving a promised "bridge loan" from its creditors, leaving Greece unable to avoid a catastrophic sovereign default on Monday, when it is due to redeem €3.5bn of sovereign bonds held by the European Central Bank.
In addition to VAT rises and privatisations, Mr Tsipras must persuade parliament to vote for structural reforms to the labour market. On Monday night Greek public sector workers massed in protest outside parliament buildings.
German Finance Minister Schaeuble told reporters in Berlin that "some people" in the German government think Greece would be better off outside the eurozone.
Mr Tsipras's opponents on the far left of his party are opposed to the latest Brussels deal. Energy minister Panagiotis Lafanzanis said: "The so-called partners and especially the German establishment acted like cold-blooded blackmailers and economic assassins." Mr Lafanzanis conceded that while the Greek Parliament was likely to pass the agreement due to support from the Pasok and To Potami opposition parties he argued that the Greek people would not accept it.
Unless Athens passes the legislation required by creditors by midnight on Tuesday it will not receive the emergency funds it needs to meet its sovereign liabilities and the country's banks will soon find themselves without access to the ECB's emergency lending operations. That would prompt a financial collapse and Greece's de facto exit from the single currency.
A spokesperson for Mr Tsipras insisted that the prime minister was not preparing to resign, but said a Syriza cabinet reshuffle after Wednesday's vote is likely.
Register for free to continue reading
Registration is a free and easy way to support our truly independent journalism
By registering, you will also enjoy limited access to Premium articles, exclusive newsletters, commenting, and virtual events with our leading journalists
Already have an account? sign in
Join our new commenting forum
Join thought-provoking conversations, follow other Independent readers and see their replies