Greece debt crisis: Greeks brace for unrest as Alexis Tsipras prepares to push through cuts
Demands accompanying €500m bailout deal anger public fed up with austerity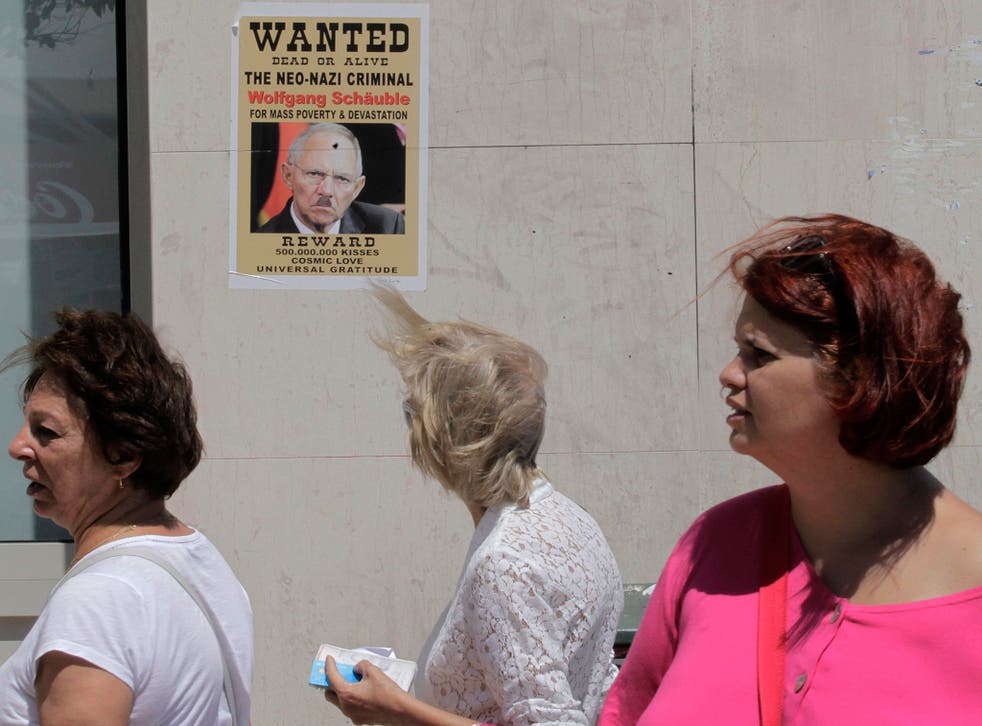 The Greek Prime Minister Alexis Tsipras has returned to Athens with the makings of a bailout deal but a mountain to climb in forcing a raft of spending cuts through parliament in just 48 hours as a political rebellion took off in his own party and anger swelled among a population already sick of austerity.
An emergency cash injection could see the banks reopen by Friday. But many of the millions who voted "no" to fresh austerity in the recent referendum, were predicting unrest on the streets, in a country where living standards were already plunging.
Mr Tsipras must ensure that the controversial package of tax rises, privatisations, and pension and labour market reforms wins the backing of parliament by Wednesday night.
But the eleventh hour agreement, in which Greece must find a further €13 billion savings over the next three years in exchange for a further more than €50 billion loan, is exacerbating splits in left-wing Syriza, the dominant party in the ruling coalition.
Government sources predicted a ministerial reshuffle in the next few days, to produce a cabinet more likely to back controversial reforms.
Mr Tsipras said he had the "belief and the hope that... the possibility of 'Grexit' is in the past... We averted the plan for a financial strangulation and for the collapse of the banking system."
He added: "The deal is difficult but we averted the attempt to move state assets abroad," a reference to calls from some of Greece's more hawkish creditors for the €50 billion state assets earmarked for privatisation to help finance the bail-out to be kept in Luxembourg.
One of Mr Tsipras's most immediate priorities as he prepares to force a huge amount of legislation through parliament in the space of 48 hours will be replacing the powerful speaker, Zoe Kostantopoulou, a Syriza leftist who appears implacably opposed to any further austerity.
Far-left elements in Syriza had already been furious last week after its leader proposed a new austerity package in a desperate bit to avoid expulsion from the euro. At least 30 of Mr Tsipras's 149 MPs are expected to rebel, but the pro-European opposition has pledged to vote for the Brussels deal, making it almost certain that the votes will go his way.
But Mr Tsipras came under fire from his former finance minister, Yannis Varoufakis, who was forced to resign last week, said he would not have accepted the deal, which was "absolutely impossible, totally non-viable and toxic".
The new deal has sharply divided public opinion. Some regard it as a harsh but unavoidable price for avoiding expulsion from the single currency and economic oblivion. Others say they feel betrayed and even "invaded" by European powers and EU bureaucrats, with many tweeting under the hashtag, "#ThisIsaCoup".
Athens restaurant manager Irini Limtsiouli, 34, said: "It's good, there is a deal now. Or not good, but it could have been worse. People wanted to stay in the euro. The country wasn't ready to leave. It would have been a disaster. It will pass in parliament. I think it [the austerity] has to be done."
But 49-year-old Michael Lagoumitzis, a community worker in the Piraeus area of the city, said: "Everything is collapsing already. And now there will be more austerity. We are experiencing an occupation. You might not see tanks and soldiers, but this is an occupation. People are so angry and there will be more protests on the streets."
Meanwhile, some observers said a sort of coup was under way within the government with moves inside Syriza to oust the party's far left wing. Moderates -- including some ministers -- called for the expulsion not only of Ms Kostantopoulou, but also of Panagiotis Lafazanis, the energy and environment minister. The Deputy Finance Minister Dimitris Mardas has dismissed both outspoken left-wingers as being "lost in space" and attacking them for being inspired by Che Guevara.
Some observers are worried by the apparent re-emergence of the centre-left old guard. Many "moderates", such as Mr Mardas, come from the Pasok socialist party, which was part of the political establishment whose cronyism allowed Greek corruption and debt to swell in the first place.
Greek political pundit Sophia Ignatidou predicted the deal would fall apart after a few months. "We can't escape Grexit," she said. "I don't think Greece will put up with this; the country will explode."
A more upbeat view came from Antigone Lyberaki, an MP and liberal economist with the centrist Potami party. "I am feeling more optimistic today," she told The Independent. "This is the best deal we could have got. Tsipras did what he promised and kept us in the euro. We've saved ourselves from something far worse."
She said that, crucially, clauses in the deal made it possible that some sort of debt relief – or at least restructuring -- would be on the cards after the first official review of reforms later in the year, "whether it's lowered interest rates or extension of repayments".
In common with Mr Varoufakis, she believes the €250 billion that Greece has already borrowed from European creditors cannot realistically be paid back on existing terms.
Register for free to continue reading
Registration is a free and easy way to support our truly independent journalism
By registering, you will also enjoy limited access to Premium articles, exclusive newsletters, commenting, and virtual events with our leading journalists
Already have an account? sign in
Register for free to continue reading
Registration is a free and easy way to support our truly independent journalism
By registering, you will also enjoy limited access to Premium articles, exclusive newsletters, commenting, and virtual events with our leading journalists
Already have an account? sign in
Join our new commenting forum
Join thought-provoking conversations, follow other Independent readers and see their replies