Greece bailout programme finally comes to an end - but country faces decades of austerity
Athens will be repaying €322bn debt mountain for next 42 years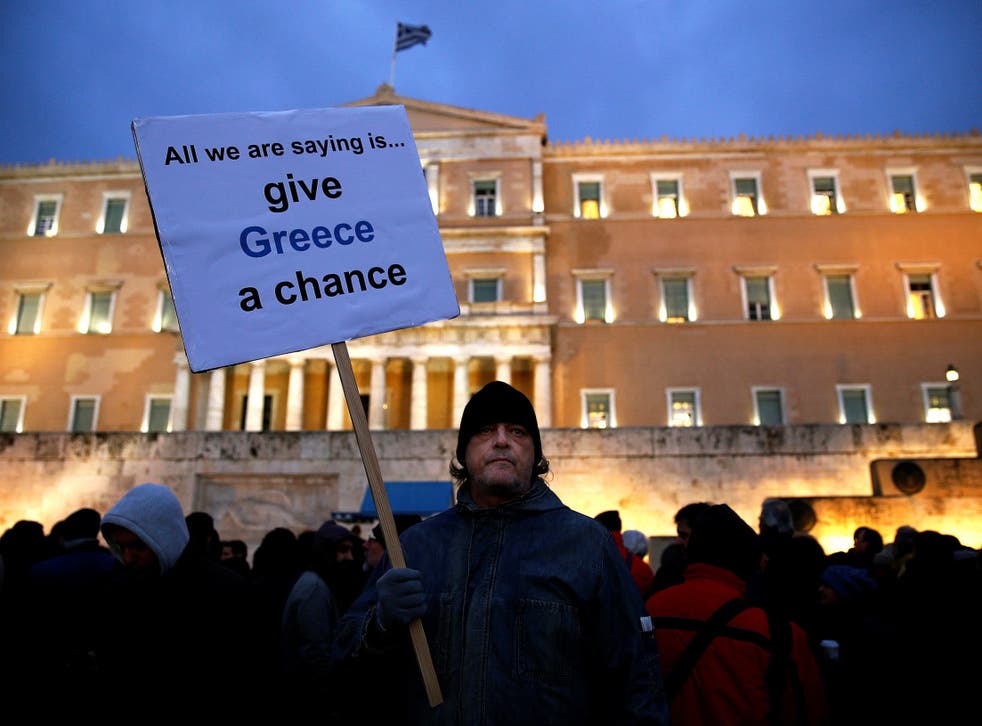 After eight crisis-filled years of austerity, spending cuts and economic woe, Greece's eurozone bailout will finally come to an end on Monday.
The completion of a third and final programme of massive loans is a major milestone that prime minister Alexis Tsipras said showed his country had "managed to stand on her feet again" following economic collapse.
But Greece will be dealing with the impact of austerity for decades to come as it repays its huge €322b (£289bn) debt, albeit at rock-bottom interest rates.
The arrears, mostly owed to eurozone creditors, amount to more than 180 per cent of its annual economic output.
Technical experts will make quarterly visits to ensure Athens is meeting agreed targets for public finances until the last bailout loan is repaid in 2060.
Greece was plunged into economic collapse after successive governments borrowed heavily for three decades to fund generous spending on pensions, while turning a blind eye to widespread tax evasion and covering up budget shortfalls.
All that blew up disastrously in October 2009, when Athens admitted its budget deficit was much bigger than previously reported.
Shocked investors would no longer would risk loaning Greece money at affordable rates, forcing the government to turn to rescue loans from the other eurozone countries and the International Monetary Fund (IMF).
The loans came with tough conditions: closing deficits, which led to aggressive tax increases and spending cuts; and a raft of reforms aimed at improving tax collection and the business climate in general. The economy, hit hard by spending cuts, shrank by a quarter.
Unemployment reached almost 28 percent at its worst. With a quarter of children left in poverty and benefits slashed, many families grew dependent on grandparents for handouts.
Protests repeatedly erupted against the austerity measures imposed due to the bailouts.
Although the Greek economy is finally starting to grow again, albeit modestly, many people will face more pain. Changes to pension regulations mean more cuts are expected in 2019.
Some experts say that the best way to help Greece would be for eurozone countries to write off part of the loans altogether. But governments have balked at that.
The bailouts were unpopular, particularly in Germany, and loan forgiveness would be a tough sell for leaders such German chancellor Angela Merkel.
World news in pictures

Show all 50
However, the IMF and prominent economists warn Greece's debt will eventually start to rise out of control again if part of its loans are not written off.
George Pagoulatos, a professor at the Athens University of Economics and Business, warned that in the end the country's creditors may have to lower their expectations.
He said lower surpluses plus better economic growth from the pro-business reforms could be the key to make debt sustainable.
Reforms over the past eight years "have been very significant and they must have an impact on productivity", he said.
The huge debt pile in Greece and an even bigger one in Italy will remain a lurking financial threat to Europe that could take a generation to defuse.
Additional reporting by agencies
Register for free to continue reading
Registration is a free and easy way to support our truly independent journalism
By registering, you will also enjoy limited access to Premium articles, exclusive newsletters, commenting, and virtual events with our leading journalists
Already have an account? sign in
Register for free to continue reading
Registration is a free and easy way to support our truly independent journalism
By registering, you will also enjoy limited access to Premium articles, exclusive newsletters, commenting, and virtual events with our leading journalists
Already have an account? sign in
Join our new commenting forum
Join thought-provoking conversations, follow other Independent readers and see their replies