Greece referendum: Official projections after polls close see 'no' vote winning by 61 per cent
The result will likely determine whether Greece stays in the Eurozone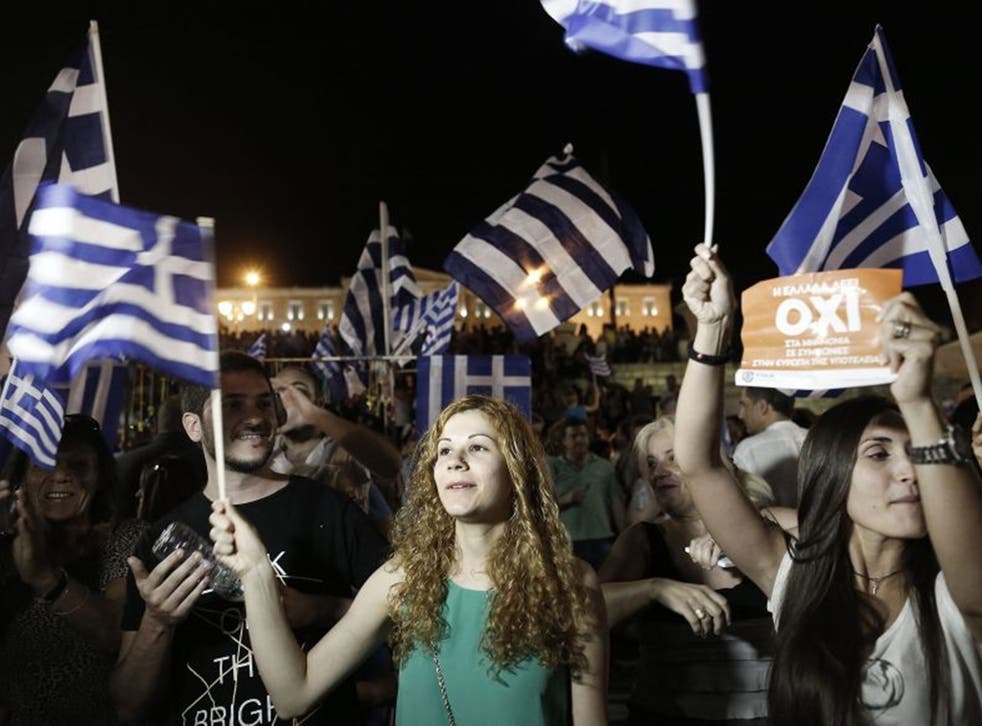 The Greek public look set to reject the austerity measures proposed by its international creditors in return for rescue loans, as initial projections from a referendum fall in favour of the 'no' vote.
In a poll that could ultimately decide whether Greece will stay in the Eurozone, results published by the country's interior ministry showed that 61 per cent of votes which had been counted opted for 'no'.
Greek Prime Minister Alexis Tsipras hailed the result as a "victory for democracy" and urged the country to come together.
Speaking in a televised address, he said: "I am fully conscious that the mandate you have given me is not a mandate against Europe but a mandate for finding a sustainable solution that will take us out of this vicious circle of austerity."
Thousands of government supporters have gathered in Athens to celebrate, waving Greek flags and chanting "No, No, No."
"We don't want austerity measures anymore, this has been happening for the last five years and it has driven so many into poverty, we simply can't take any more austerity," Athens resident Yiannis Gkovesis, 26, holding a large Greek flag in the city's main square told the Associated Press.
Further cheers rang out when Antonis Samaras, the head of the opposition right-wig New Democract party, resigned on Sunday evening.
The preliminary result came in the face of opinion polls conducted by the nation's TV stations and released after official ballots closed at 7pm, which suggested that the 'no' vote would win by a whisker.
Not to be confused with an exit poll, an opinion poll by Metron showed that 'yes' gained 46 per cent of the vote, compared with 49 per cent for 'no'. Meanwhile, Alpha TV results showed 'no' on between 49 and 54 per cent, and 'yes' on 45 and 50 per cent. Projections by MRB showed 'no' on 51.5 per cent and 'yes' lagging behind with 49.5 per cent.
As no exit polls were published, Europe must wait with baited breath for the first official results which are expected in the coming hours.
Greece's finance minister Yanis Varoufakis reacted to the first result by declaring the country had said "no more" to continued austerity.
"The Greek people said 'no more' to five years of austerity," he said.
In pictures: Greek referendum

Show all 28
The vote came after Greece defaulted on its debts earlier this week - causing the banks to shut to avoid their collapse.
In the run up to the referendum, banking restrictions were imposed to prevent a run on the banks and Greeks were forced to queue across the country to withdraw a maximum of €60 per day.
Earlier, Tsipras argued that a "no" vote would enable him to negotiate a better deal with creditors, but warned that a "yes" result would mean succumbing to their harsh demands.
"Today, democracy is defeating fear ... I am very optimistic," Tsipras said after he cast his ballot in Athens.
Mirroring his sentiment, Minister of State Nikos Papas told the Greek Alpha TV station that it would be "wrong to link a 'no' result to an exit from the eurozone. If a 'no' prevails that will help us get a better agreement."
However, Greece's creditors take a different view. Hans Michelbach, a senior German politician and member of Chancellor Angela Merkel's conservative bloc, told Reuters after the initial predictions were released that Greece might be better off outside the single currency.
"Now one has to ask the question whether Greece would not be better off outside the euro zone," said Michelbach, a hardline member of the Bavarian Christian Social Union (CSU) and part of Chancellor Angela Merkel's conservative bloc.
"Unfortunately, Greece has chosen a path of isolation," he said, adding that if a 'No' vote won, as results indicate, he saw no basis for further aid for Greece.
A summit of Eurozone leaders will meet on Tuesday to discuss how to move forward from the vote.
Additional reporting by AP
Join our new commenting forum
Join thought-provoking conversations, follow other Independent readers and see their replies