Greece announces strict second coronavirus lockdown
'I've chosen once again to take drastic measures sooner rather than later,' PM says after country records 18 deaths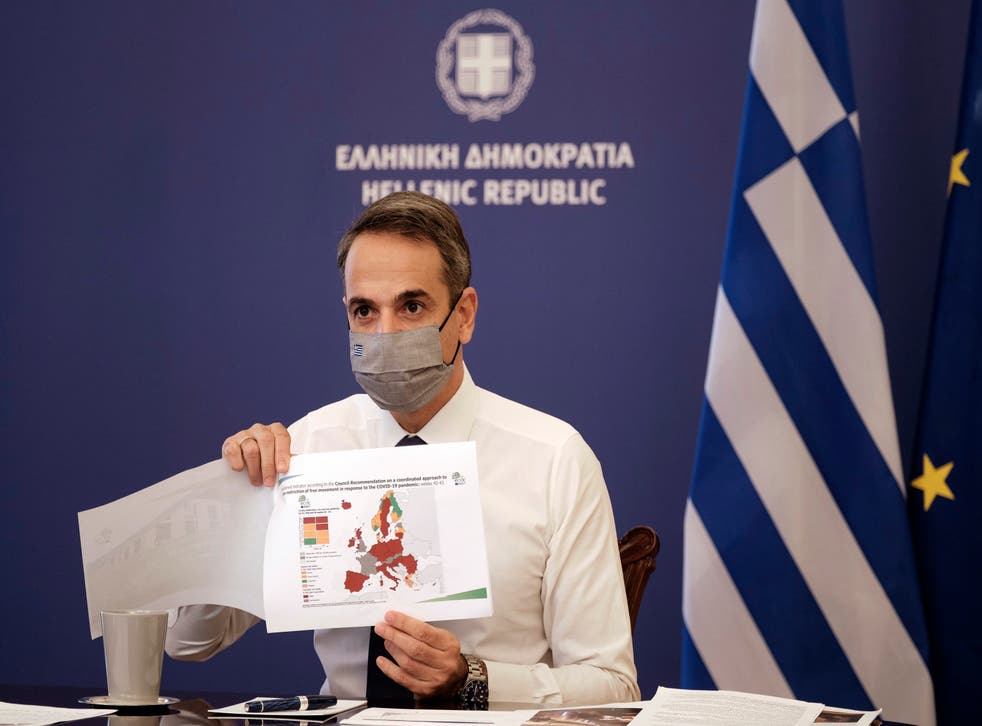 Greece's prime minister has announced a nationwide three-week lockdown in an attempt to stop the rise in coronavirus infections before the pressure on the country's healthcare system becomes "unbearable".
"I've chosen once again to take drastic measures sooner rather than later," Kyriakos Mitsotakis said, adding that Greece had experienced an "aggressive increase in cases" over the last five days.
Under the new lockdown measures, which take effect on Saturday until 30 November, all shops except pharmacies and food stores will close around the country. Restaurants will be able to deliver meals but shut to customers.
Residents will only be allowed to leave their homes for work, medical appointments or physical exercise and will need a time-slot to venture outside.
The main difference with the lockdown that the country imposed in the spring is that kindergartens and primary schools will remain open. High schools will close and operate on a remote learning basis.
Greece has reported fewer coronavirus cases than other European countries both now and in the spring, when it introduced incisive restrictions early on in the pandemic, starting in February.
But it reported a record-high 18 deaths and 2,646 new cases yesterday, prompting scientists to say the resurgence was particularly aggressive.
So far, Greece has confirmed 46,892 coronavirus cases and 673 deaths since the start of the pandemic.
By confirming the latest measures, Greece joined a growing list of European countries imposing new lockdowns or other restrictions as they struggle to contain the disease.
On Thursday morning, Paris mayor Anne Hidalgo announced the French capital would be placed under yet more restrictions after France had already introduced a national lockdown.
More shops will have to shut earlier in the evening in a bid to curb the second wave.
The mayor said the measures were necessary because some residents were not respecting existing rules, putting at risk the health of a large number of people.
The news came two days after France recorded the highest Covid-19 death toll of any European country since the spring – 854 deaths on Tuesday.
Similarly, on Wednesday night, the Italian government introduced new lockdowns in the four worst-affected regions in the country and the tightening of restrictions elsewhere as Italy's caseload continues to rise.
The regions of Piedmont, Calabria, Valle d'Aosta and Lombardy, the first coronavirus outbreak area in the west in the spring, will be placed under lockdown on Friday until at least 3 December.
The Norwegian government also tightened restrictions on Thursday. All bars have to close at midnight, and prime minister Erna Solberg told Norwegians to avoid travelling domestically and instead stay at home as much as possible.
Norway had already introduced new restrictions on gatherings last week.
Germany and Belgium have also ordered national lockdowns in the last few days.
Additional reporting by AP
Register for free to continue reading
Registration is a free and easy way to support our truly independent journalism
By registering, you will also enjoy limited access to Premium articles, exclusive newsletters, commenting, and virtual events with our leading journalists
Already have an account? sign in
Register for free to continue reading
Registration is a free and easy way to support our truly independent journalism
By registering, you will also enjoy limited access to Premium articles, exclusive newsletters, commenting, and virtual events with our leading journalists
Already have an account? sign in
Join our new commenting forum
Join thought-provoking conversations, follow other Independent readers and see their replies