Fighter jet crash: At least 10 French and Greek nationals killed at Nato military base in Spain
A further 21 people were injured in the incident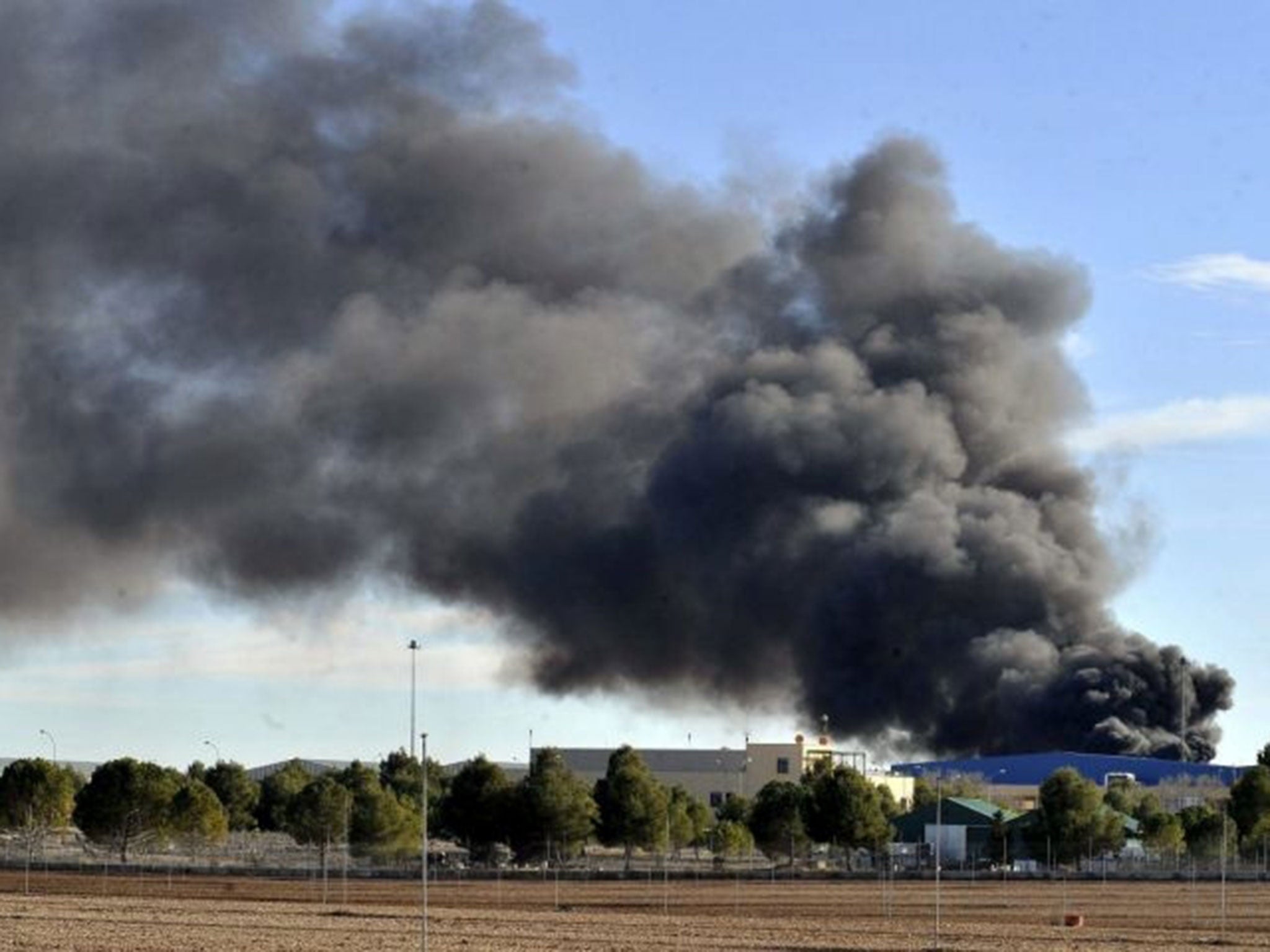 A fighter plane crash at a military base in southeastern Spain has killed the two Greek pilots on board and eight French nationals, according to Spanish Prime Minister Mariano Rajoy.
The two-seater Greek F-16 fighter jet attempted to take off during a Nato military exercise at around 3:30pm (local time) at the Los Llanos base, in Albacete, but lost thrust and crashed into a hangar - triggering a large fire.
The plane crashed in an area where French Mirage and Italian Alpha Jets were parked and preparing to join the Tactical Leadership Program (TLP) training exercise, Spain's Defence Ministry said in a statement.
A further 21 people -10 French people, 11 Italians - were injured in the incident at the base used by Nato to train pilots and crews from member states, Rajoy told Telecinco TV.
Five of those injured were taken to a specialist burns unit at La Paz Hospital in Madrid while the others were treated at a hospital in Albacete, the Defence Ministry said.

Emergency crews were not immediately allowed on the scene amid fears fuel tanks inside parked aircrafts could explode, but are now working to douse the blaze as black plumes of smoke filled the air.
At least five jets were damaged and the Italian statement said "numerous" helicopters were damaged.
NATO Secretary General Jens Stoltenberg said he was "deeply saddened by the crash of a Greek fighter jet at the Los Llanos base in Spain, which has caused many casualties."
He did not specify their nationalities in a statement, but called the crash "a tragedy that affects the whole NATO family."
"I am deeply saddened," NATO Secretary General Jens Stoltenberg said in a statement.
"This is a tragedy which affects the whole NATO family. I express my heartfelt condolences to the loved ones and the nations of those who lost their lives, and I wish a speedy recovery to the injured."
According to a US Air Force Website, TLP was formed in 1978 by NATO's Central Region air forces to advance their tactical capabilities and produce tactics, techniques and procedures that improve multi-national tactical air operations.
Belgium, Britain, Denmark, Germany, Greece, and the Netherlands, also participate in TLP exercises.
The first TLP course was located at Fuerstenfeldbruck Air Base, Germany. It has been based at the Spanish base since June 2009.
Additional reporting by AP
Join our commenting forum
Join thought-provoking conversations, follow other Independent readers and see their replies