Greek police find eight more parcel bombs intended for EU officials as anarchist terror campaign continues
Eurogroup president and Dutch finance minister Jeroen Dijsselbloem reportedly among targets
Lizzie Dearden
Tuesday 21 March 2017 12:47 Comments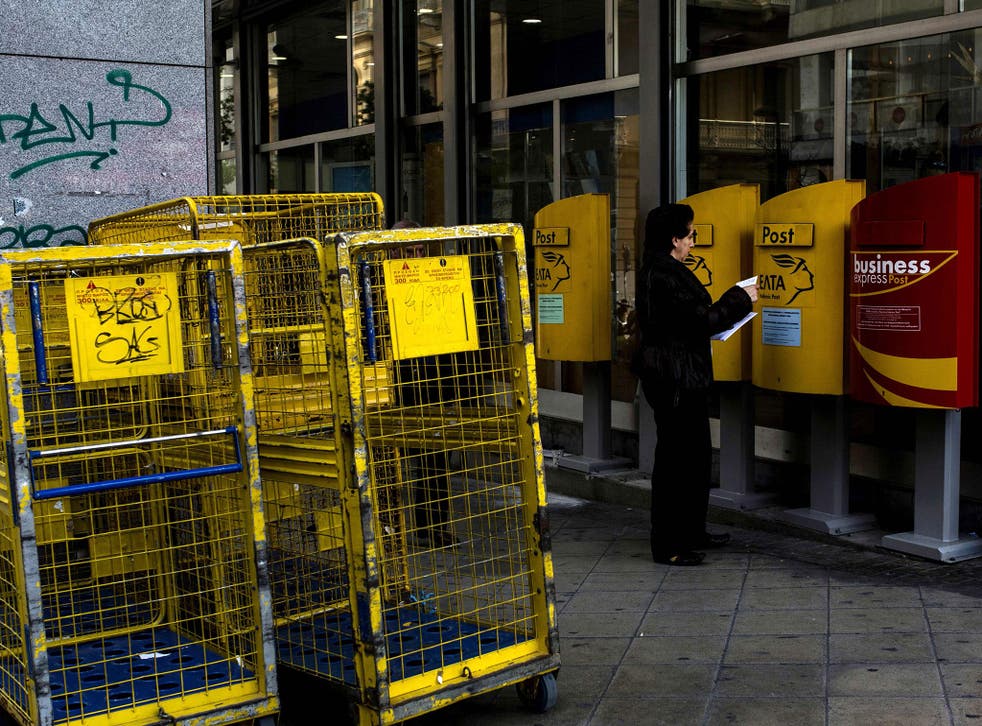 Eight more parcel bombs intended for EU leaders, institutions and multinational companies have been intercepted in Greece amid an anarchist terror campaign.
The Conspiracy of Cells of Fire (CCF) group warned of further targets in "Operation Nemesis" after sending explosives to the German finance ministry last week.
That package was intercepted and destroyed before reaching Wolfgang Schäuble but the following day, a secretary at the International Monetary Fund's (IMF) headquarters in Paris was injured after opening a second device.
The explosion, meant for the IMF's European representative, Jeffrey Franks, had also been sent under a false name from Greece and triggered a crackdown by the Hellenic Police.
Explosion at IMF offices in Paris
Officers seized eight suspicious parcels from a post sorting centre in Kryoneri, north of Athens, on Monday and authorities are contacting their intended recipients.
The parcels had been falsely labelled as being sent from academic institutions and were believed to contain explosives linked with fireworks manufacturing, which have been used in previous attacks.
They were addressed to European finance officials and businesses in several countries.
Officials said they would not release the names of the targets until everyone had been informed, but sources told Kathimerini newspaper they included Eurogroup president Jeroen Dijsselbloem.
The Dutch finance minister represented European creditors in negotiations with Greece over its controversial bailout agreements following Syriza's victory in the 2015 elections.
If Mr Dijsselbloem is confirmed to be among those targeted, it would fit the CCF's pattern of singling out officials linked to the Greek financial crisis, which sparked its formation in 2008.
Many Greeks resent the austerity measures imposed by the IMF and EU in exchange for Athens to receive billions of euros, while anarchists additionally oppose state and international financial systems.
World news in pictures

Show all 50
A previous parcel bombing campaign by the CCF forced authorities to suspend international post leaving Greece for 48 hours in 2010, when devices were sent to targets including Angela Merkel, Silvio Berlusconi, Nicolas Sarkozy, Europol and international embassies.
Police crackdowns have since resulted in a series of arrests and prosecutions but a message posted online claimed the group's "comrades" would continue their violent struggle in Operation Nemesis – a campaign of attacks in revenge for the imprisonment of activists.
"For each comrade in prison, new comrades are ready to take his place and continue the path of attack," said a Conspiracy of Fire Cells statement, signed off with the phrase "LONG LIVE ANARCHY".
"We sent parcel bomb to the German finance minister as part of the second act of the Project Nemesis campaign.
"Watch for more announcements in the future."
The CCF characterised its campaign as attacks on "tyrants" supported by militants in Chile and Italy, claiming its ideals "could not be contained".
The Hellenic Police are now attempting to prevent any more explosive packages being sent out via the Greek postal service, which is investigating how they evaded airport security checks in Athens.
Register for free to continue reading
Registration is a free and easy way to support our truly independent journalism
By registering, you will also enjoy limited access to Premium articles, exclusive newsletters, commenting, and virtual events with our leading journalists
Already have an account? sign in
Join our new commenting forum
Join thought-provoking conversations, follow other Independent readers and see their replies