Green party close to overtaking Angela Merkel's conservatives in polls
CDU could be knocked off top spot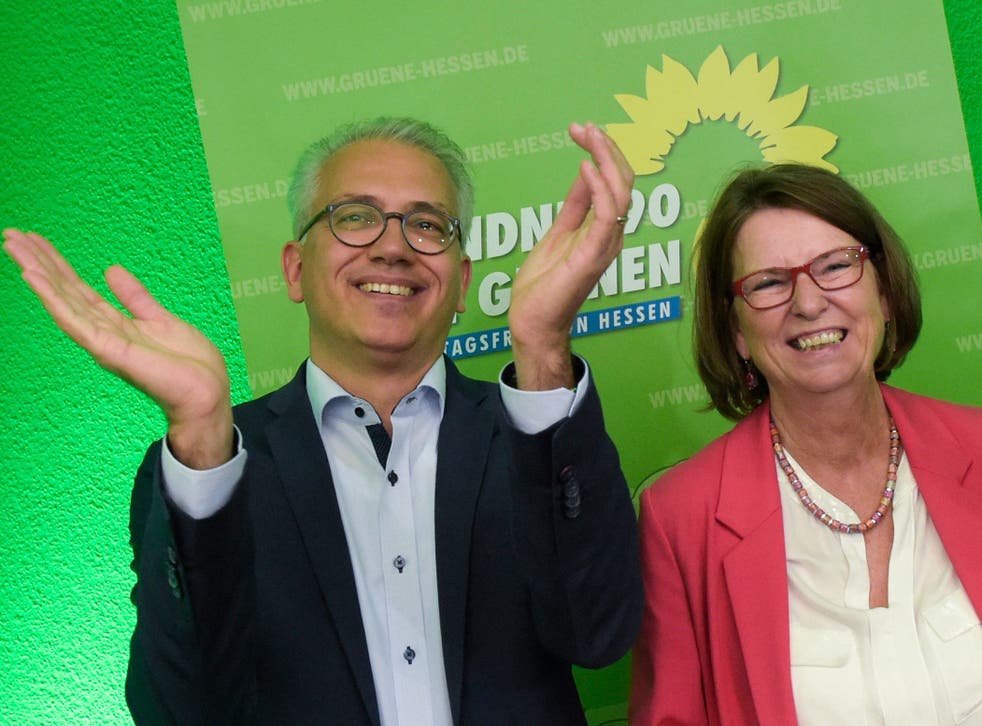 A surge in support for the German Green party has put them in second place, trailing Angela Merkel's conservatives by just a few points in the polls.
Most pollsters now show the Die Grünen just three or four points behind the CDU, having apparently eclipsed the centre-left social democrats as the main opposition in Germany.
The party's current trajectory in the polls suggests every chance it could knock the CDU into second place, if its momentum is sustained.
But with fresh elections not scheduled until 2021 it remains to be seen whether the environmentalists will be able to keep their new-found support.
The party experienced a similar surge in support on the back of opposition to nuclear power in 2011, with some surveys showing them in second place. That momentum was not sustained until the 2013 federal elections, when the party crashed back to an average result.
One survey by pollsters Forsa found the CDU/CSU on 27 per cent, while the Greens were on 24 per cent, up three. The far-right AfD trailed on 13 per cent, the same score as the centre-left social democrats.
The leftist Die Linke and centre-right liberal FDP were both on 9 per cent each.
Another poll by Emind told a similar story, with Ms Merkel's Christian Democrats on 25 per cent, the Greens on 21 per cent, the AfD on 15 per cent, the SPD on 14 per cent, Die Linke on 10 per cent, and the FDP on 9 per cent.
The social democratic SPD has been the biggest loser in recent years. Once dominant, it has struggled to attract voters. Its 13 per cent score in the Forsa poll is the lowest recorded by the party since it was banned by the Nazis.
The Greens have made solid gains in recent state elections, including in Bavaria and Hesse.
World news in pictures

Show all 50
Angela Merkel announced last week that she would be stepping down as leader of the CDU in December, when a successor is elected to lead her party. She however intends to remain as Chancellor until the next federal elections – whenever they may be.
Her replacement at the head of the Christian democrats will be chosen at the CDU party congress at the end of the year, with a choice facing members between social conservatives and social liberals, as well as economic moderates and economic liberals.
Register for free to continue reading
Registration is a free and easy way to support our truly independent journalism
By registering, you will also enjoy limited access to Premium articles, exclusive newsletters, commenting, and virtual events with our leading journalists
Already have an account? sign in
Register for free to continue reading
Registration is a free and easy way to support our truly independent journalism
By registering, you will also enjoy limited access to Premium articles, exclusive newsletters, commenting, and virtual events with our leading journalists
Already have an account? sign in
Join our new commenting forum
Join thought-provoking conversations, follow other Independent readers and see their replies