Guilty after six-year trial, Portugal's high-society paedophile ring
Politicians among abusers who preyed on state-run orphanages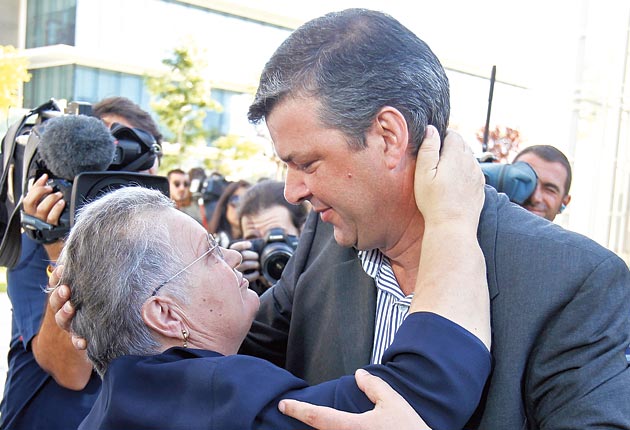 To most people Portugal's state-run orphanages seemed like a safe haven for thousands of children who had been robbed of their parents. They were called the Casa Pia, or Houses of the Pious.
But for an elite paedophile ring, which included a former ambassador and a prominent television celebrity, Casa Pia orphanages were something entirely different. They were supermarkets stocked with children to abuse. Yesterday, at the conclusion of the longest trial in Portugal's history, seven defendants were convicted of using the orphanages to rape and abuse scores of teenage boys in a case that has sent shockwaves through the country's political elite and raised serious concerns over the efficiency of Portugal's judiciary. Six of the seven were given jail terms of between five and 18 years.
The trial, in Lisbon's top criminal court, is thought to be the largest ever undertaken by Portugal's court system. Over five and half years, more than 800 witnesses, including 32 alleged victims, gave evidence detailing how a paedophile ring used the orphanages to source children for wealthy and influential clients. The sentencing document alone, of which judges spent most of yesterday reading a summary, runs to 2,000 pages.
Two of those found guilty included Carlos Cruz, a popular television chat-show host with 30 years in show business, and Jorge Ritto, a former ambassador once sent home in disgrace from a posting in Germany over allegations that he had been having an improper relationship with a young boy in a park.
Their co-defendants included Carlos Silvino, an orphanage driver who would ferry children to paedophile houses; Joao Ferreira Diniz, a prominent doctor who often deliberately picked out deaf and dumb children; Manuel Abrantes, a former deputy principal at an orphanage; solicitor Hugo Marcal and Gertrude Nunes, the only female defendant who allowed her house to be used by the paedophile ring. The successful convictions, eight years after the paedophile scandal was exposed, is a major victory for Portuguese police, under intense criticism over their handling of the investigation into the disappearance of Madeleine McCann. One of the lead detectives in the Casa Pia case, Paulo Rebelo, also investigated the Madeleine McCann disappearance after the original lead investigator was sacked. Rebelo and his team of forensic investigators – called "the cleaners" because they leave no stones unturned – are said to have played a pivotal role in securing the convictions.
But the trial was dogged by accusations that witnesses had been intimidated, and allegations that senior politicians turned a blind eye to the abuse to protect friends. Reports that paedophiles were using Casa Pia orphanages to source victims surfaced in the early 1980s but they were swept under the carpet. Teresa Costa Macedo, a senior government official, said she informed the country's then president, General Ramalho Eanes, and provided photographic evidence. But the photographs were "lost" by police and Mrs Macedo said she was also intimidated by phone calls from anonymous callers. "They said they would kill me, flay me and a lot of other things," she recalled.
The current trial began in 2004 after a lengthy investigation started by nine boys who had been at one of the homes in Lisbon accused several people of sexual abuse between 1998 and 2001. Their decision to come forward prompted hundreds more witnesses to speak out and has lead to a tripling in the number of child-abuse investigations across Portugal.
Victims have told investigators that abuse at Casa Pia orphanages – of which there about 10 around the country – occurred as far back as the 1970s but most witness testimonies used for the trial came from victims who were abused during the 1990s. Prosecutors still believe there are more victims out there too scared to talk.
The prosecution's case centred around Silvino, known to the paedophile ring as "Bibi". The 53-year-old confessed to 639 charges relating to the abuse of children or procuring them for others, and testified against the other defendants. He admitted he had used the orphanages to collect victims and delivered them to co-defendants such as Cruz who, Silvino claimed, paid cash.
Cruz has denied the accusations and claimed in press interviews during the trial that he was the victim of prejudice from one of the three judges trying the case. Yesterday the 68-year-old dismissed the verdict built on "lies and manipulation", adding: "This is one of the most monstrous judicial mistakes in Portuguese history."
He and the other defendents are expected to appeal. It is not clear whether the defendants would be jailed with an appeal pending.
Alvaro Carvalho, a psychiatrist who has counselled the victims and was in court with some them yesterday, said they were nervous as they awaited the verdict. "They calmed down when the judge ruled that the crimes were proven," Mr Carvalho told reporters. "In a way, it's society making reparation for what happened to them."
Pedro Namora, a former resident of a Casa Pia orphanage who says he was abused, became a lawyer and played a pivotal role in the prosecution. "These men have to be condemned," he said. "They committed barbarous crimes against humanity."
The scandal that went right to the top
João Ferreira Diniz
A wealthy doctor, Diniz was arrested in January 2003 near his office in Belem, Lisbon. He insisted on his innocence throughout the trial. He has been sentenced to seven years in jail after being found guilty of abusing two children. His accusers claimed they had been abused by him at a house in Elvas, owned by co-defendant Gertrude Nunes.
Jorge Ritto
One of the most high-profile figures to be caught up in Portugal's largest paedophile ring, Ritto was once a career diplomat with a glittering career. He retired in 2002 after serving as Portugal's ambassador to Unesco. During the trial it emerged that he was sent home from a posting in Stuttgart in the early 1980s after allegations surfaced that he had been caught in an "improper relationship" with a boy in a park. He denied all charges in the Casa Pia trial. He was jailed for six years.
Carlos Cruz
Once voted "Portugal's most popular man", Carlos Cruz has spent three decades as one of the country's most recognisable television personalities. The 68-year-old fronted a number of successful shows during his career in the media and famously married a wife who is three decades his junior. He was arrested in 2003. He has repeatedly alleged that his arrest was the result of "a vendetta". Cruz is now facing a seven-year jail sentence.
The trial in numbers
800 witnesses and experts gave evidence in the case.
4,500 people were cared for at Casa Pia homes for children in need.
639 crimes were confessed to by ex-Casa Pia driver Carlos Silvino.
2,000 pages: the length of the sentencing document.
32 victims were identified during the near six-year trial.
Join our commenting forum
Join thought-provoking conversations, follow other Independent readers and see their replies