Haider's deputy reveals gay affair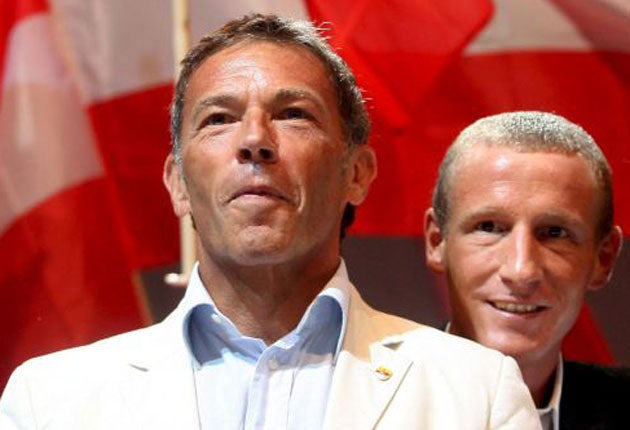 Conservative Austria was in a state of shock today after the male successor to Jörg Haider admitted to having a longstanding "special relationship" with the far right leader who died dramatically in a high speed car crash earlier this month.
Stefan Petzner – the 27-year-old who recently replaced Haider as leader of the right wing Alliance for the Future of Austria and has often appeared in tears on television since his death - effectively outed himself as the deceased's gay lover while being interviewed on an Austrian radio breakfast show.
"I had to go to him. I had to go to him," Mr Petzner said in his highly emotional interview as he recalled how he rushed to the hospital where the dead body of 52-year-old Haider was lying after his fatal crash in early October.
Admitting that he felt a "magnetic attraction" for Haider, whom he met five years ago while working as a cosmetics reporter, Mr Petzner insisted: "We had a relationship that went far beyond friendship. Jörg and I were connected by something truly special. He was the man of my life."
He insisted that Mr Haider's widow, Claudia did not object to his relationship: "She loved him as a woman. He loved her as a man. I loved him in a completely different and personal way. She understood that," Mr Petzner said. However, the young man's sister Christiane suggested in a newspaper interview that Mrs Haider had not always been so understanding. "Sometimes Claudia was jealous because Stefan would spend more time with her husband than she did."
Clearly embarrassed by the revelations, party officials today attempted to limit the political damage and cancelled forthcoming interviews with Mr Petzner. Their attempts to prevent his radio interview being rebroadcast, however, were unsuccessful.
The revelations came after photographs in the Austrian media showing Mr Haider in a gay bar shortly before his fatal accident. Witnesses who were present at a magazine launch party where the two men were seen together on the night of the crash were quoted today as saying that Mr Haider had left in a hurry after an emotional argument with his deputy.
The far-right leader crashed his Volkswagen limousine while drunk and driving at more than double the speed limit, as he made his way to his mother's birthday party in the early hours of the morning. He is reported to have told his chauffeur to go home. More than 25,000 people flocked to his quasi state funeral in Klagenfurt, the capital of the Austrian province of Carinthia where he was governor for more than a decade.
He died just days after his party had more than doubled its share of the vote in Austria's general election and speculation swirled that he would once again figure in Austrian national politics. Nearly a decade ago, Mr Haider had been part of the ruling coalition with his Freedom Party, triggering EU sanctions on Austria after he praised Adolf Hitler's employment policies and described Nazi SS veterans as "decent men."
Austrian attitudes to gays in politics contrast sharply with neighbouring Germany where numerous politicians have outed themselves as homosexuals without anyone batting an eyelid. Rumours that Haider was either gay or bi-sexual first surfaced in Austria nearly a decade ago. However the far right leader, who fathered two children with his wife Claudia, refused to discuss them, fearing that they would alienate thousands of his ultra conservative followers.
Although his party was nicknamed the "Haider's boy party", until today conservative Austria had preferred to embrace his public persona as a traditional family man. Mr Petzner's revelations have shattered that charade, and there was speculation today that after not even a month in the job, he might soon find himself replaced as leader of the Alliance for the Future of Austria.
Join our commenting forum
Join thought-provoking conversations, follow other Independent readers and see their replies