Hamburg attacker who killed one and injured six is 'known Islamist' with psychological problems
Investigators say failed Palestinian asylum seeker was known to security services but not considered dangerous
Lizzie Dearden
Saturday 29 July 2017 12:23 Comments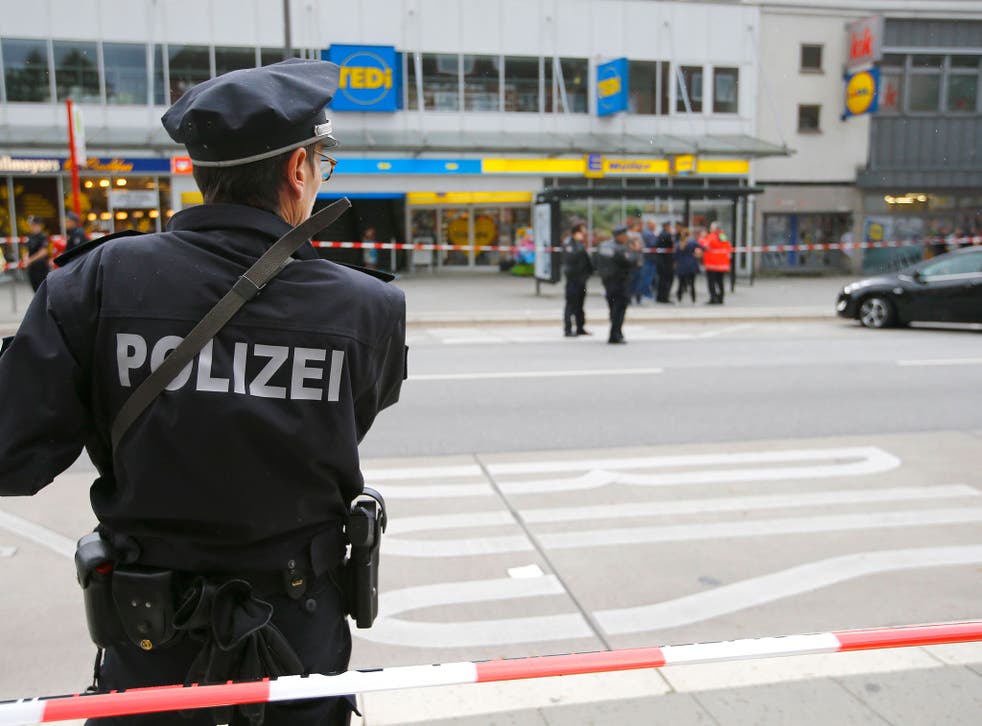 The attacker who killed one man and injured six others in a stabbing rampage in Hamburg is a "known Islamist", police say.
Investigators told a press conference the 26-year-old man, named locally as Ahmad A, was known to security services but also appears to have psychological problems.
Hamburg's state interior minister, Andy Grote, said the man was a rejected Palestinian asylum seeker born in the United Arab Emirates.
He said the unnamed attacker was known to have been radicalised but had not been considered dangerous and his motive remained unclear.
Torsten Voss, head of the Hamburg branch of the domestic intelligence agency, said officials interviewed the man and came away with the impression that he was a "destabilised personality" but not someone who posed an immediate threat.
"We evaluated him rather as someone who was psychologically unstable than had clear Islamic extremist motivations," he added.
Ralf Martin Meyer, the chief of the city's police force, said that while initial findings showed the attacker had acted alone it could not be completely ruled out that he had accomplices.
Witnesses said the man repeatedly shouted "Allahu Akbar" as he indiscriminately attacked shoppers with a large kitchen knife at a supermarket on Friday afternoon.
Kathrin Hennings, from the state police office, said the perpetrator bought bread from the supermarket before leaving and boarding a bus, but quickly returned, took a knife from a shelf, unwrapped it and launched the attack without warning.
He killed a 50-year-old man and injured six other victims, before attempting to flee as passers-by threw chairs and other objects to prevent him escaping.
A 50-year-old woman and four men aged between 19 and 64 were wounded in the attack, all of whom were German, while a 35-year-old Turkish man was also injured while trying to stop the attacker.
Dramatic footage from passing cars showed a group of men beating the knife-wielding killer with chairs from nearby cafes, chasing him and launching missiles, eventually backing him against a wall before police arrived.
Police said the heroic actions enabled plain-clothes officers to arrest the attacker nearby.
Officers have since searched a migrant accommodation centre where the attacker lived.
Olaf Scholz, the mayor of Hamburg, said the attacker was "a foreigner who was supposed to leave the country", but could not be deported because he did not have the necessary identification papers.
"It is infuriating that this perpetrator is someone who asked for protection in Germany and then turned his hate against us," he added.
Officials said the man travelled to Germany from Norway and initially lived in Dortmund in 2015, before being relocated to Hamburg.​
Dortmund is one of several known centres of jihadi networks in Germany and was the home of Boban Simeonovic, a leading figure in an Isis-linked group found to be radicalising young men and sending them to fight in Syria.
Berlin Christmas market lorry attack

Show all 18
Anis Amri, the Isis supporter who killed 12 people at a Berlin Christmas market, spent time in Dortmund and was mentored by Simeonovic before his arrest in November.
Amri attended classes at Simeonovic's "Madrasa Dortmund", which taught radical ideology and trained jihadis for combat in Syria.
A police informant within the network told officials the would-be attacker wanted to do "something here" in November 2015 – eight months after the Hamburg attacker arrived in Dortmund.
Simeonovic is one of five alleged members of the network currently in custody for terror offences carried out as part of a network headed by an Iraqi preacher known as Abu Walaa, who was classified as a "representative of the Islamic State in Germany" and travelled to mosques across the country.
The Hamburg attacker's suspected radicalisation was first reported to authorities in August 2016, by a friend who was concerned about a sudden change to his personality that saw him stop drinking and start talking about the Quran, while deportation was delayed by a lack of identification papers.
Amri had also been the subject of failed deportation attempts and was known for radicalisation and serious crime.
His massacre sparked fresh pledges from Angela Merkel's government to speed up deportations of failed asylum seekers, as well as monitoring of anyone presenting a security threat.
Germany is less than two months away from parliamentary elections where the Chancellor is attempting to win a fourth term, despite continued tensions over terror, security and her decision to open the country's borders to more than a million asylum seekers at the height of the refugee crisis.
Germany has suffered three Isis-linked terror attacks in little over a year, leaving 12 victims dead and more than 70 injured.
All three perpetrators were migrants, with a suicide bomber in Ansbach being recognised as a Syrian refugee, the Wurzburg train attacker identified as an Afghan asylum seeker and Tunisian Amri having been denied protection.
The German interior minister, Thomas de Maiziere, stopped short of calling the last rampage a terror attack, but described it as a "deplorable attack on our society".
"Our painful experience tells us that we must recognise that jihadi ideology can be used as grounds or justification for attacks that actually might be committed for very different motives," he added.
"The real motives can also be found in the perpetrator's personality.
"That is what the Hamburg authorities will now determine, and they have our full support.
"It is important to analyse the background of his attack as quickly as possible, to understand how this attack could happen."
Register for free to continue reading
Registration is a free and easy way to support our truly independent journalism
By registering, you will also enjoy limited access to Premium articles, exclusive newsletters, commenting, and virtual events with our leading journalists
Already have an account? sign in
Join our new commenting forum
Join thought-provoking conversations, follow other Independent readers and see their replies