Hasna Aitboulahcen: Profile of the West's first female suicide bomber
Hasna Aitboulachcen, 26, is believed to have died inside a Paris flat during a police raid on Wednesday
Rose Troup Buchanan
,
Roisin O'Connor
Thursday 19 November 2015 13:10 Comments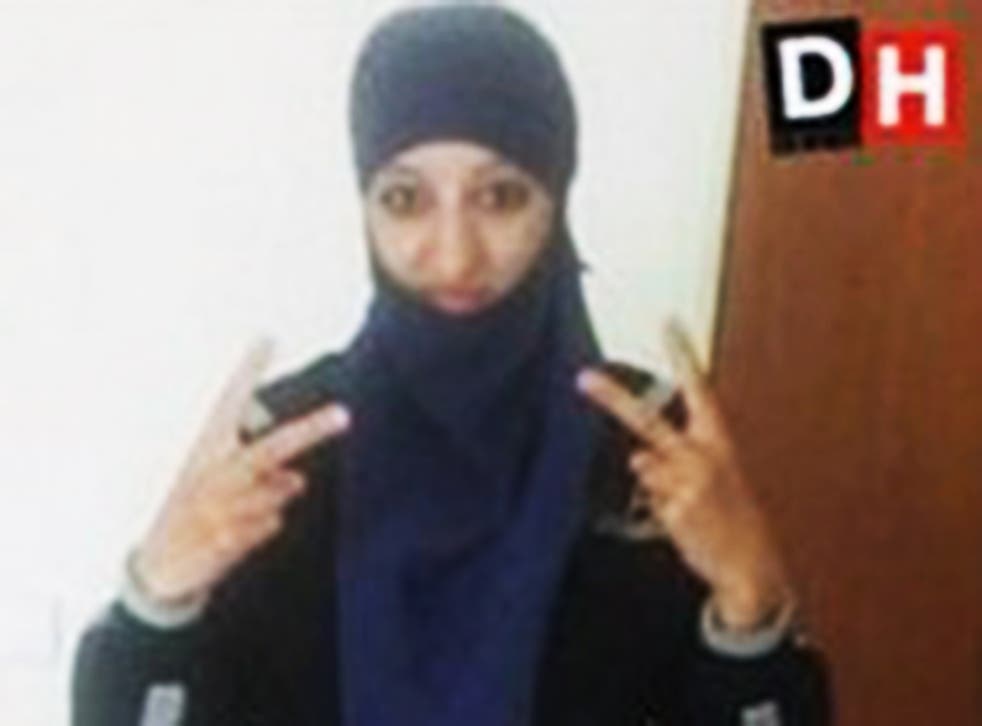 The woman who detonated an explosive device after a siege with French police has become the first female suicide bomber in France's history.
Hasna Aitboulachcen, 26, is believed to have detonated explosives when officers entered the flat in the Paris district of Saint Denis on Wednesday following an manhunt for the perpetrators of Friday's night's attacks that killed almost 130 people in the French capital.
In her final moments she apparently screamed at police to "help me, help me," but video also purports to show her shouting at officers that a man also inside the flat was not her boyfriend.
Details about Aitboulachcen remain scarce. French media have reported she was born in France in 1989 and raised by her mother in Paris.
Later, neighbours of the young women in Cretzwald, Moselle, told reporters she was an "outgoing" woman who drank alcohol, referred to as "the cowboy woman" because of a hat she wore, and was described as "a little clueless".
She reportedly worked in a construction company in Epinay sur Seine until 2012. Investigators suspect her of being the cousin of Abdelhamid Abaaoud.
Police conducted a mass search in Cretzwald, Moselle, where she is believed to have paid regular visits, in an attempt to learn more about her.
What do we know about the Paris attackers?
It is believed her father was a resident in the town and still has an apartment there; according to neighbours he has been in Morocco for the past six months.
According to the Républicain Lorrain, she was last mentioned in public records in May 2013.
In pictures: Saint-Denis raid

Show all 33
Aitboulachcen's decision to detonate her device follows a slight shift in Isis commands. In 2010 then-leader Omar al-Baghdadi said women could not carry out suicide attacks, but his decree appeared to have been rolled back by the terror group's later leaders, who said in October it was acceptable for a woman to blow themselves up if they were raided in their own home.
Boko Haram has used young women and girls to stage attacks, reportedly against their will, and most recently earlier this week when two women detonated explosives when they entered a marketplace in the northern city of Kano.
Around a dozen Palestinian female fighters have conducted suicide attacks since 2002, according to Associated Press. Sanaa Mheidly, 17, was the first known woman in the Arab world to carry out such an attack.
Register for free to continue reading
Registration is a free and easy way to support our truly independent journalism
By registering, you will also enjoy limited access to Premium articles, exclusive newsletters, commenting, and virtual events with our leading journalists
Already have an account? sign in
Register for free to continue reading
Registration is a free and easy way to support our truly independent journalism
By registering, you will also enjoy limited access to Premium articles, exclusive newsletters, commenting, and virtual events with our leading journalists
Already have an account? sign in
Join our new commenting forum
Join thought-provoking conversations, follow other Independent readers and see their replies