Hasna Aitboulahcen: The French female suicide bomber's curious path to Islamic extremism
Aitboulahcen was one of the two people killed as police stormed an apartment in the Parisian suburb of Saint-Denis
Elahe Izadi
,
Yanan Wang
Friday 20 November 2015 16:00 Comments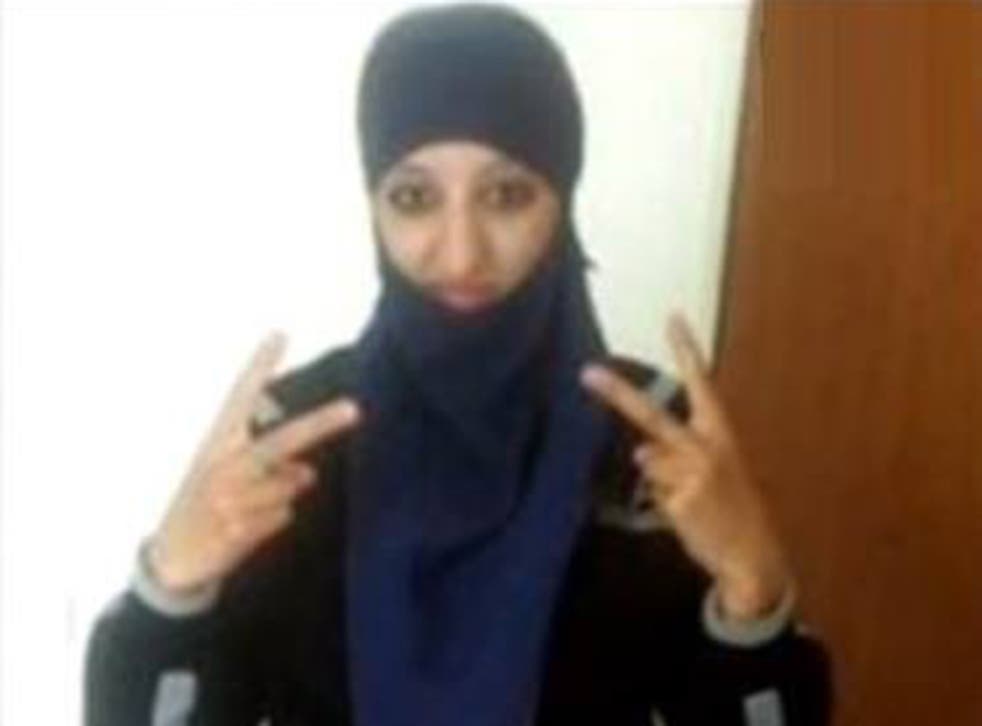 The story of Hasna Aitboulahcen, Western Europe's first known female suicide bomber, is filled with jolting plot turns.
It began 26 years ago in Clichy-la-Garenne, a township on the outskirts of Paris. There, in the picturesque suburbs anchored by the Seine River and the Clichy bridge, Aitboulahcen was born to Moroccan immigrants.
According to neighbors' accounts in French newspaper Le Republicain Lorrain, she was an extroverted child, though "a little lost." Like every other French adolescent, she drank alcohol, which is forbidden in Islam.
Fast forward to Wednesday, and the story ends abruptly — in a nondescript apartment building with a slanted shingled roof, surrounded by police officers undertaking an anti-terrorism raid in the Parisian suburb of Saint-Denis.
More than 100 police officers and soldiers had stormed the apartment where they believed Abdelhamid Abaaoud, the suspected ringleader of the Paris attacks, was hiding and potentially plotting another violent strike.
The seven-hour siege left two people dead, officials told The Washington Post. Abaaoud was one of them; Aitboulahcen was the other.
Saint-Denis raids heard from resident's balcony
Her last words were captured in a recording. They were book ended by bullets and explosions.
"Where is your boyfriend?" an officer demanded.
"He's not my boyfriend!" Aitboulahcen responded with a mix of anger and terror in her voice.
"Where is he?"
She insisted: "He's not my boyfriend!"
Officials told the Associated Press that this exchange took place moments before Aitboulahcen detonated her suicide vest, blowing her body into mangled pieces that were later found on a police car parked outside.
The translation here relies on a particular interpretation of the French word "copain," which can mean either "friend" or "boyfriend." The majority of media reports have leaned on the latter definition, though others have used the platonic meaning. It's unclear which interpretation the police officers and Aitboulahcen intended, nor is it known to whom "he" refers.
In pictures: Paris attacks

Show all 25
Another point of obscurity is her relationship with Abaaoud, who has been frequently called the "mastermind" of the Paris attacks. Three police officials told the AP that she described him as a "cousin," but this may not indicate an actual familial connection: young French people of North African descent often use it as an affectionate term for close friends.
It is not currently known whether Aitboulahcen had a role in the killing of 129 people in Paris last weekend.
But what has become evident is the unlikely nature of Aitboulahcen's trajectory — the path that somehow turned an outgoing French girl into an extreme religious adherent who now holds the title of the first known female suicide bomber in Western Europe, according to analysts.
News outlets, neighbors and onlookers are all posing the same question: What went wrong with Hasna Aitboulahcen?
A former classmate told the BBC that Aitboulahcen "didn't have an easy childhood."
"She was pushed around from foster family to foster family," the classmate said with her eyes downcast. "It was a bit difficult for her. Maybe her past made her like that today, because when we were young there were no concerns for her."
Shaking her head, she continued: "She was a model kid. We could never have imagined that she could have done something like that. What she did was unimaginable, unthinkable, inconceivable."
When Aitboulahcen was 16, her family left Clichy-la-Garenne for the eastern French town of Creutzwald. The mayor, Jean-Luc Wozniak, told the AP that she had a sister and two brothers, and all of them spent some time in foster care. In 2006, they moved with their parents into an apartment in a housing project.
Eventually Aitboulahcen left Creutzwald for Clichy-sous-Bois, a suburban Paris township like the one she had been born in. Clichy-sous-Bois is notorious for having been the starting point of the 2005 riots, when young people burned cars and public buildings to protest high unemployment rates and allegedly rampant police brutality in their neighborhoods.
Aitboulahcen's Facebook page indicated that she studied at the University of Lorraine, Belgium newspaper La Derniere Heure found.
She frequently visited her father in Creutzwald, where he lived in a cul-de-sac in one of the housing projects. She would stay for two or three weeks at a time, neighbors recalled to Le Republicain Lorrain.
"We saw her quite often and we called her 'The Cowgirl' because she was always wearing a large hat," one neighbor said. Aitboulahcen rarely visited the mosque, and her brother told authorities that he had not once seen her open up a Koran, CNN reports.
The last time Aitboulahcen's name appeared in public records was May 15, 2013, according to Le Republicain Lorrain. In a legal registration announcement for the court of Bobigny, a Paris suburb, she was listed as manager of a Clichy-sous-Bois-based company called Beko Construction.
The AP reports that the company went bankrupt less than 10 months after it was registered.
These details suggest that Aitboulahcen's radicalization was recent, though it was certainly also extreme.
La Derniere Heure found several indicators of Aitboulahcen's radical Islamist views on her Facebook page. Lately, she had taken to calling herself a jihad fanatic. Last June, she posted a photo of herself in a niqab with the caption (using French short hands): "I will soon go to syria [sic] inchallah [God willing] soon I will leave for turkey."
The profile also included messages praising Hayat Boumeddiene, the fugitive widow of a French gunman who killed one policewoman and four Jewish men in a Parisian kosher supermarket in January of this year.
Paris 'ringleader' killed
Isis published a magazine article the following month that included an alleged interview with Boumeddiene, who they suggested was settled in Isis-held territory in Iraq or Syria.
In the end, Aitboulahcen never made it to Syria, but she may have been the one who pointed French authorities to the Saint-Denis apartment and Abaaoud's location.
Police officers told the AP that Aitboulahcen was under surveillance because her name had come up in a drug-trafficking case (unrelated to terrorist activities), and they had wiretapped her phone at the time of the raid.
Though Aitboulahcen was the first woman in Western Europe to strap on an explosive vest to end her own life, there has long been a global precedent for female suicide bombers — before Isis extremism even came into the fore.
The AP has compiled a summary that includes incidences in Russia, Nigeria and India.
In 1991, Indian Prime Minister Rajiv Gandhi was killed by a female suicide bomber aligned with the Sri Lankan Tamil Tigers. Women and girls in Nigeria have repeatedly carried out suicide bombings for the militant group Boko Haram, with the most recent blast this week believed to have been set off by an 11-year-old girl.
A New America report released this week found that one in seven of Isis's Western militant recruits are women, "typical teenagers" who ask about hair dryers and romance.
What they encounter upon their induction into the group is a far more gruesome and restrictive reality, The Post's Kevin Sullivan reported last month.
As gruesome, in Aitboulahcen's case, as death.
It remains a mystery what motivated the young French woman to stray from her suburban upbringing into the murderous realm of terrorists. No one interviewed so far has said there were hints of extremism in the Aitboulahcen they knew.
"She loved life," Aitboulahcen's former classmate and childhood friend told the BBC. "I didn't think she had the intention to become a suicide bomber; I don't think she planned it. I think she was influenced."
"Over time, with some of the things she went through," she said, "maybe she got lost."
© Washington Post
Register for free to continue reading
Registration is a free and easy way to support our truly independent journalism
By registering, you will also enjoy limited access to Premium articles, exclusive newsletters, commenting, and virtual events with our leading journalists
Already have an account? sign in
Join our new commenting forum
Join thought-provoking conversations, follow other Independent readers and see their replies