Hijack of Libyan plane in Malta ends peacefully as Gaddafi loyalists surrender
Early investigations find two pistols, one held by a hijacker, and a hand grenade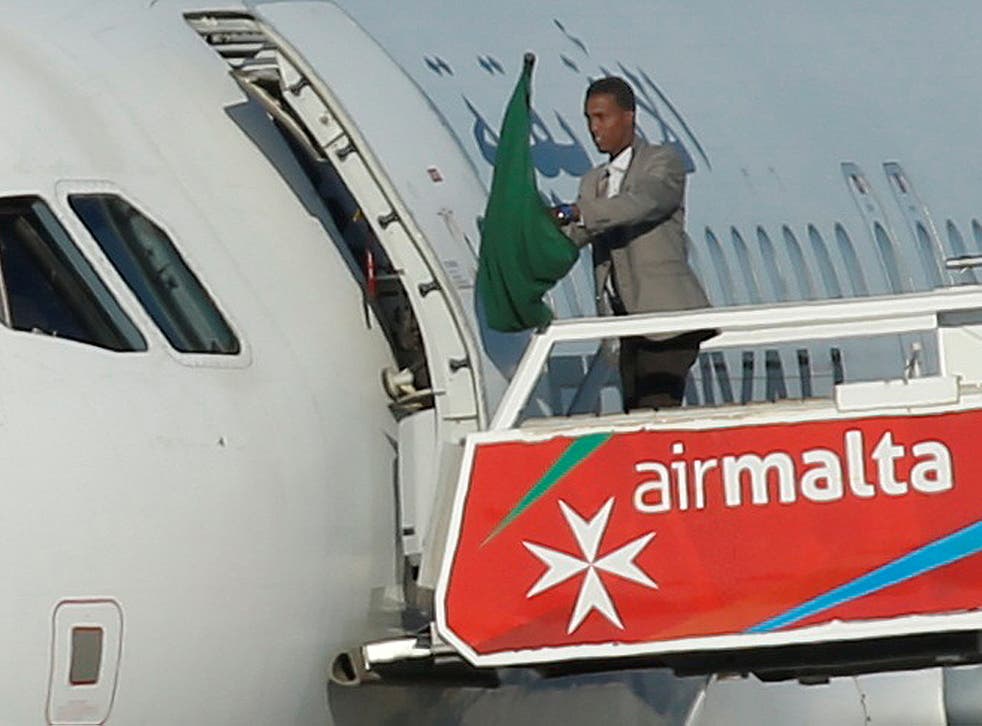 Two hijackers who diverted a Libyan passenger plane to Malta claiming to have a grenade have surrendered peacefully following hours of tense negotiations.
There were 117 people, including six crew members, on board the hijacked Afriqiyah Airways Airbus A320, which was on an internal flight from Sabha in south east Libya to the capital city of Tripoli.
The hijackers, who declared loyalty to Libya's late leader Muammar Gaddafi, were carrying two pistols and a hand grenade, according to the Maltese Prime Minister Joseph Muscat. He later said that initial forensic examination showed the weapons were replicas.
Mr Muscat effectively broke the news on Friday, tweeting: "Informed of potential hijack situation of a Libya internal flight diverted to Malta. Security and emergency operations standing by."
All flights to Malta International Airport were immediately cancelled or diverted and emergency teams, including security officers and negotiators, were sent to the airport tarmac.
The passengers – 82 men, 28 women and one child – were allowed to leave the plane before the hijackers walked out themselves with the last of the crew.
Mr Muscat told reporters the hijackers wanted negotiators to go on board but his government refused and insisted that all passengers and crew be released.
"Hijackers surrendered, searched and taken in custody," wrote Mr Muscat at 3:44pm local time, two hours after the plane's doors opened and a staircase was moved over to let freed passengers begin disembarking in groups.
After passengers had left the plane, a man briefly appeared at the top of the steps with a plain green flag resembling that of Gaddafi's now-defunct state.
The flag was adopted in 1977 by Libya when Gaddafi became the country's leader through a coup d'etat, until his death in 2011.
Libya's Channel TV station said one hijacker, who gave his name as Moussa Shaha, had said by phone he was the head of Al-Fateh Al-Jadid, or The New Al-Fateh.
Al-Fateh is the name that Gaddafi gave to September, the month he staged a coup in 1969, and the word came to signify his coming to power.
In a tweet, the TV station later quoted the hijacker as saying: "We took this measure to declare and promote our new party."
Libya, a sprawling oil-rich north African country, has been split between rival parliaments and governments, each backed by a loose array of militias and tribes, since Gaddafi's death.
Western nations view the newly-formed UN-brokered government as the best hope for uniting the country, but Libya's parliament, which meets in the country's far east, has refused to accept it. Amid chaos, Isis and al-Qaeda affiliates have gained a foothold over the past year.
Earlier this month, militias answering to the UN-brokered government seized an Isis stronghold in the Libyan city of Sirte.
In pictures: Isis' Libyan stronghold of Sirte

Show all 10
Airport security in Libya can be poor and is not always under state control, according to BBC journalist Rana Jawad.
"Every airport in Libya is poorly secured and technically run by one armed group or another, outside state control," she wrote on Twitter.
Ms Jawad also said the mayor of Sabha in Libya had said a preliminary investigation had found one of the hijackers was called Musa Shah and he was possibly seeking political asylum.
Register for free to continue reading
Registration is a free and easy way to support our truly independent journalism
By registering, you will also enjoy limited access to Premium articles, exclusive newsletters, commenting, and virtual events with our leading journalists
Already have an account? sign in
Register for free to continue reading
Registration is a free and easy way to support our truly independent journalism
By registering, you will also enjoy limited access to Premium articles, exclusive newsletters, commenting, and virtual events with our leading journalists
Already have an account? sign in
Join our new commenting forum
Join thought-provoking conversations, follow other Independent readers and see their replies