Holocaust Memorial Day: World leaders and survivors mark 75th anniversary of Auschwitz liberation with calls to defeat antisemitism
Presidents of Israel, Germany and Poland gather at infamous death camp to honour survivors and remember the dead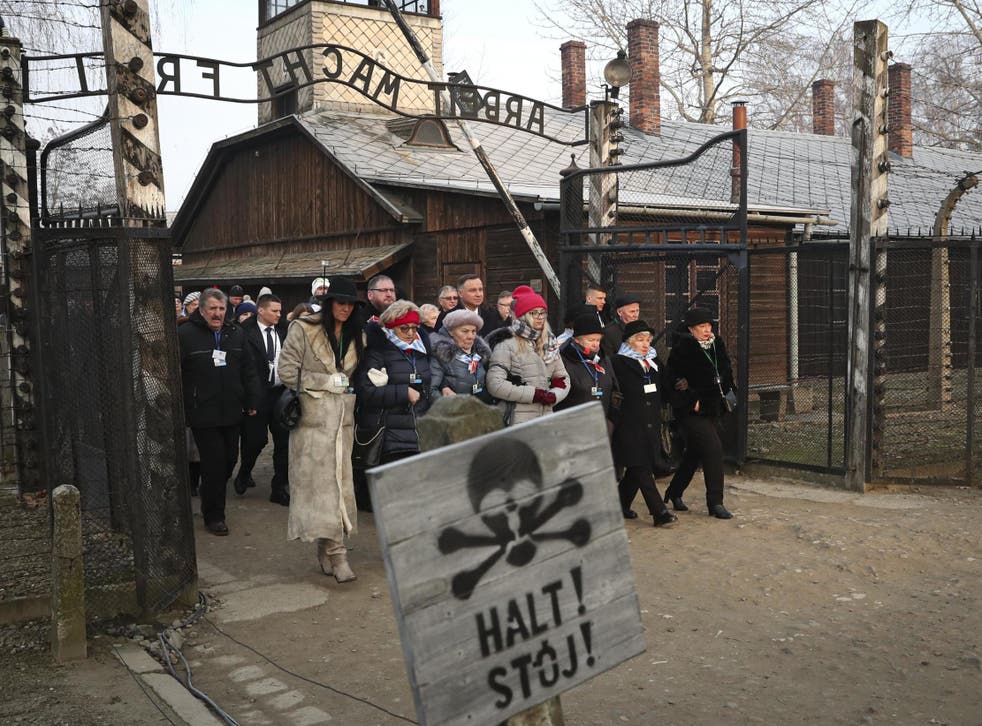 The presidents of Israel and Poland have urged the world to do more to combat rising antisemitism, as they marked the 75th anniversary of the liberation of Auschwitz.
Reuven Rivlin travelled to the former Nazi concentration camp in Poland for Holocaust Memorial Day, and told a press conference the world had a duty to stamp out all kinds of hatred.
"Today we hear voices which spread hate, on the internet, on the street and in the centres of political power," he said.
"Our duty is to fight antisemitism, racism and fascist nostalgia, those sick evils that ... threaten to eat away at the foundations of our democracies."
Andrzej Duda, Poland's president, said Mr Rivlin's presence for the commemoration was a symbol that the world would not forget what happened at Auschwitz.
"This presence is a sign of remembrance, it is a visible sign of opposition to inhuman treatment, hatred, against all forms of hate, especially racist hate."
The politicians were joined by about 200 survivors of the death camp, many of whom were elderly and had travelled from countries as far afield as the United States, Australia and Peru.
Some took time to visit the site of the camp, which is now a permanent museum to the Holocaust.
The network of camps in Auschwitz held a total of 1.3 million people throughout the Second World War, mostly Jews from across occupied Europe but also hundreds of thousands of Poles, Roma people, Soviet prisoners of war and others persecuted by the Nazis such as the disabled and homosexuals.
Of these, about 1.1 million were murdered there, either by being gassed, overworked or starved to death.
Some of those who survived the camp spoke to reporters about their memories.
"We could hear children coughing, crying, choking from the gas and also the smell of the human flesh and the great fear what we experienced is that maybe you will be the next victim," 92-year-old Yvonne Engelman said.
She had come to honour the memory of her parents: "I have no graves to go to and I know my parents were murdered here and burned. So this is how I pay homage to them."
Holocaust survivor Eva Mozes Kor describes moment she was taken by Nazis
Others warned that lessons from the Holocaust had not been learned and antisemitism was being allowed to grow again.
"I think they pick on the Jews because we are such a small minority and it is easy to pick on us," 96-year-old survivor Jeanette Spiegel said, fighting back tears.
"Young people should understand that nothing is for sure, that some terrible things can happen and they have to be very careful. And that, God forbid, what happened to the Jewish people then should never be repeated."
David Marks, 91, lost 35 members of his family after they were all sent from their village in Romania to Auschwitz.
"We would like that the next generation know what we went through, and it should never happen again," he said.
New dictators do not arise all at once, they come to power through "micro steps", he added. "If we don't watch it, one day you wake up and it's too late."
This was the message of many world leaders too, including France's president Emmanuel Macron, who spoke at the Holocaust memorial in Paris.
"That antisemitism coming back is not the Jewish people's problem: it's all our problem – it's the nation's problem," he said, noting hate crime had shot up 27 per cent in the past year in France.
Germany's president, Frank-Walter Steinmeier, also joined Mr Rivlin and Mr Duda at the ceremony in Auschwitz. Last year two people were killed in an antisemitic shooting at a synagogue in eastern Germany.
Karen Pollock, the chief executive of the British Holocaust Education Trust, said society had to do more to tackle hatred of Jews.
"I never thought when I started this work that I would have spent the past three years calling out antisemitism in mainstream politics.
"I didn't expect to witness attacks on synagogues in Halle in Germany or in Pittsburgh.
"I don't think any of the survivors thought they would witness what they have witnessed in their lifetime and it's for their sake that we need to do better."
Register for free to continue reading
Registration is a free and easy way to support our truly independent journalism
By registering, you will also enjoy limited access to Premium articles, exclusive newsletters, commenting, and virtual events with our leading journalists
Already have an account? sign in
Register for free to continue reading
Registration is a free and easy way to support our truly independent journalism
By registering, you will also enjoy limited access to Premium articles, exclusive newsletters, commenting, and virtual events with our leading journalists
Already have an account? sign in
Join our new commenting forum
Join thought-provoking conversations, follow other Independent readers and see their replies