Holocaust survivors recount death camp horrors at trial of former Auschwitz guard Reinhold Hanning
The 94-year-old is charged as an accessory to the murder of 170,000 people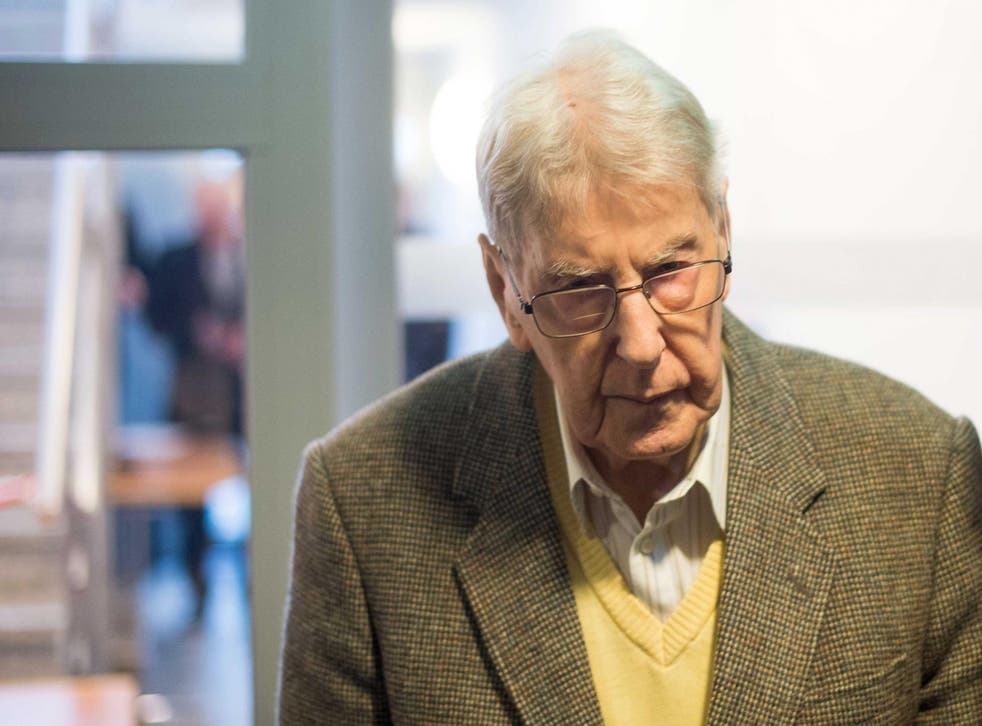 Three Holocaust survivors have recounted the horrors they experienced in Auschwitz at the trial of a former SS sergeant charged as an accessory to the murder of 170,000 people.
Reinhold Hanning sat only a few meters from the witnesses in the court room in Detmold on the second day of his trial.
Justin Sonder, the youngest of the witnesses at 90, told how he was sent to Auschwitz aged 17 and was selected to be a slave labourer for the IG Farben company.
He told the court how, after three or four months, he was considered one of the "older" prisoners at Auschwitz and how he used to fear selection days, when SS men would look at rows of inmates, forced to stand in a line naked for up to four hours, and decide who was still fit to work and who should be killed.
"I don't have the words to describe how it was, when you know that you could be dead in one or two hours, it made you sick, made you crazy," he said. "I survived 17 selections."
A former police officer from Chemnitz, Sonder lost 22 family members in the Holocaust.
Hanning is accused of serving as an SS leader - an Unterscharfuehrer, or junior squad leader - in Auschwitz from January 1943 to June 1944.
He admits working at the camp in Nazi-occupied Poland but denies involvement in the mass murder that took place there.
Prosecutors argue he is guilty of accessory to murder because he helped the camp function, even though there is no evidence of him committing a specific crime.
"Perhaps he will try to explain — it would be good if he did," Sonder told the Associated Press after the session.
"I hope he finds the courage to say something."
Hanning's lawyer said it was "highly likely" Hanning would make a statement during the proceedings, but gave no indication of how detailed it would be.
Survivor Erna de Vries, who went with her mother to Auschwitz, told the court how she was later separated from her and taken to the women's concentration camp Ravensbrueck.
Leon Schwarzbaum, a 94-year-old Auschwitz survivor from Berlin, also gave evidence.
He had been used as a slave labourer to help build a factory for Siemens outside the camp.
Sonder, de Vries and Schwarzbaum are among about 40 survivors and their families who have joined the trial as co-plaintiffs.
Given Hanning's age - he is 94 - and those of the witnesses, the trial in Detmold is likely to be one of the last of its kind.
Additional reporting by Associated Press
Register for free to continue reading
Registration is a free and easy way to support our truly independent journalism
By registering, you will also enjoy limited access to Premium articles, exclusive newsletters, commenting, and virtual events with our leading journalists
Already have an account? sign in
Register for free to continue reading
Registration is a free and easy way to support our truly independent journalism
By registering, you will also enjoy limited access to Premium articles, exclusive newsletters, commenting, and virtual events with our leading journalists
Already have an account? sign in
Join our new commenting forum
Join thought-provoking conversations, follow other Independent readers and see their replies