How my hate-filled family spawned Merah the monster
Brother's book blames parents for Toulouse scooter assassin's killing spree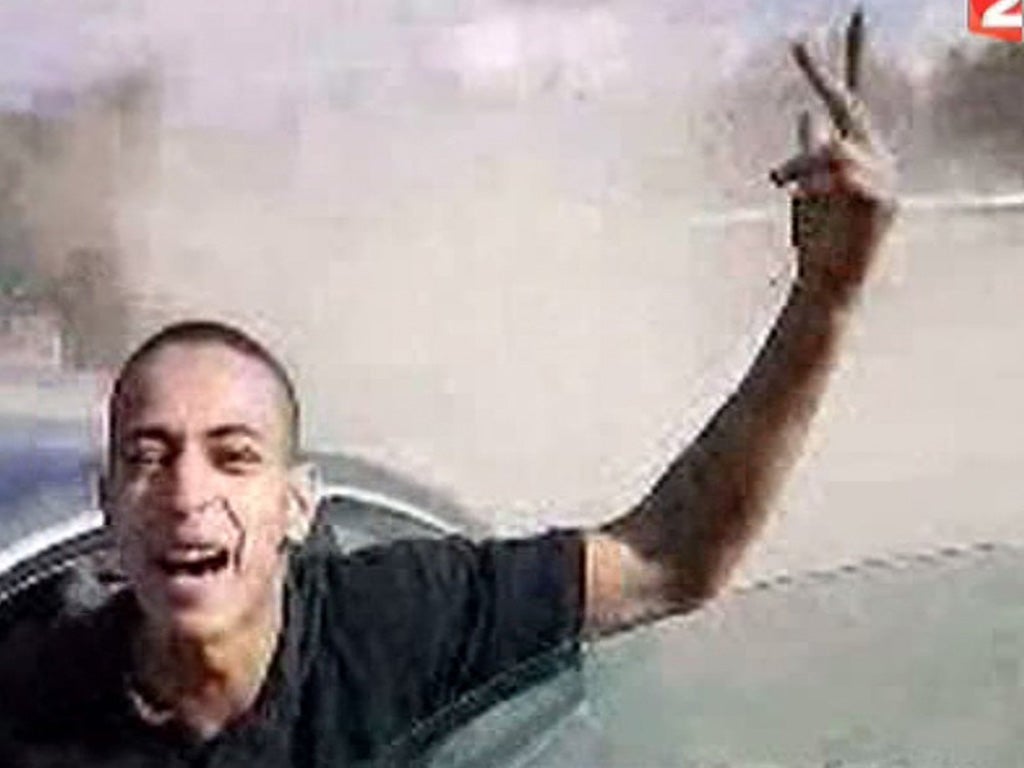 The oldest brother of the Toulouse scooter killer, Mohamed Merah, denounces the role of his own father, mother, sister and brother in spawning a "monster" in his new book.
Abdelghani Merah, 36, says the youngest of his four siblings was raised in an "atmosphere of racism and hatred" but also of violence and neglect. He has written the book – "Mon Frère, ce terroriste" (My brother the terrorist) – to try to counter the hero-worship of Mohamed, 23, among some young French Muslims. "I am the killer's brother but I am on the side of his victims," he says.
Mohamed Merah murdered seven people, including three Jewish children, in a series of scooter-borne attacks in the Toulouse area in March. He was killed resisting arrest after a 36-hour police siege of his flat on 22 March.
In the book, and a newspaper interview and television documentary, Abdelghani Merah blames his parents for the way they raised their five children. He accuses his father, a convicted drug-dealer, of repeated child-beating and his mother of neglect. But he blames Mohamed's attraction to the teachings of extremist and anti-Semitic Islam mostly on his own sister, Souad, and brother, Abdelkader. For a television documentary to promote the book broadcast on Sunday, Abdelgani helped to film his sister secretly as she proclaimed her "pride" in Mohamed and declared her hatred of Jews.
The second Merah brother, Abdelkader, 30, has been under arrest since March and is under investigation for complicity in the murders. Souad Merah, 32, has been questioned but has not been linked to the attacks.
In the documentary on the M6 TV channel, Souad was seen and heard saying: "I am proud of my brother. He fought until the end. I think the world of (Osama) Bin Laden. I told the cops as much and now I'm telling you."
The young woman, who has links with the fundamentalist Salafist Islamic movement, says at one point that she suspects she is being recorded. But she carries on: "Mohamed had the courage to act. I am proud, proud, proud… Jews, and all those who massacre Muslims, I detest them."
In his book, Abdelghani Merah describes Abdelkader, or "Kader", as a "tumour". Abdelghani recalls that in 2003 his brother stabbed him seven times after he refused to give up a girlfriend with Jewish origins.
At the time, he said, he warned police in Toulouse that if there was ever a terrorist attack in the city they "only need to go after Kader". Both Abdelkader and Souad were watched for many years by the French internal security services, leading to official criticism of their failure to track the evolution of their brother from club-goer and small-time criminal to terrorist.
In his book, Mr Merah paints a miserable picture of his own – and especially of Mohamed's – childhood. He says his father, also called Mohamed Merah, "beat me so much that I could no longer feel the blows. He also struck Abdelkader a great deal. Mohamed less so, because he was too small."
The future killer was four years old when his father abandoned the family, he said, and became a drug dealer, for which he was convicted and jailed. His mother, Zoulikha, then in her 30s, "went out all the time, had all kinds of scrapes and left Mohamed alone all day in front of the TV".
At the age of eight, Mohamed was placed in care. "My mother said to him, 'stay there during the week and I'll come for you at weekends'. But she would never come and it drove him mad with unhappiness."
Mr Merah also recalls visiting his mother's house for a wake for Mohamed . There were whoops of joy, he said. People were congratulating his mother and saying "Be proud. Your son brought France to its knees". "I screamed: 'My brother is not a hero. He is a common assassin.'"
Join our commenting forum
Join thought-provoking conversations, follow other Independent readers and see their replies