How Paris is trying to wean lovers off bridge locks
'We didn't want to get into a repressive situation so we're suggesting a social wall' says City spokesman
Anne Penketh
Monday 11 August 2014 09:49 Comments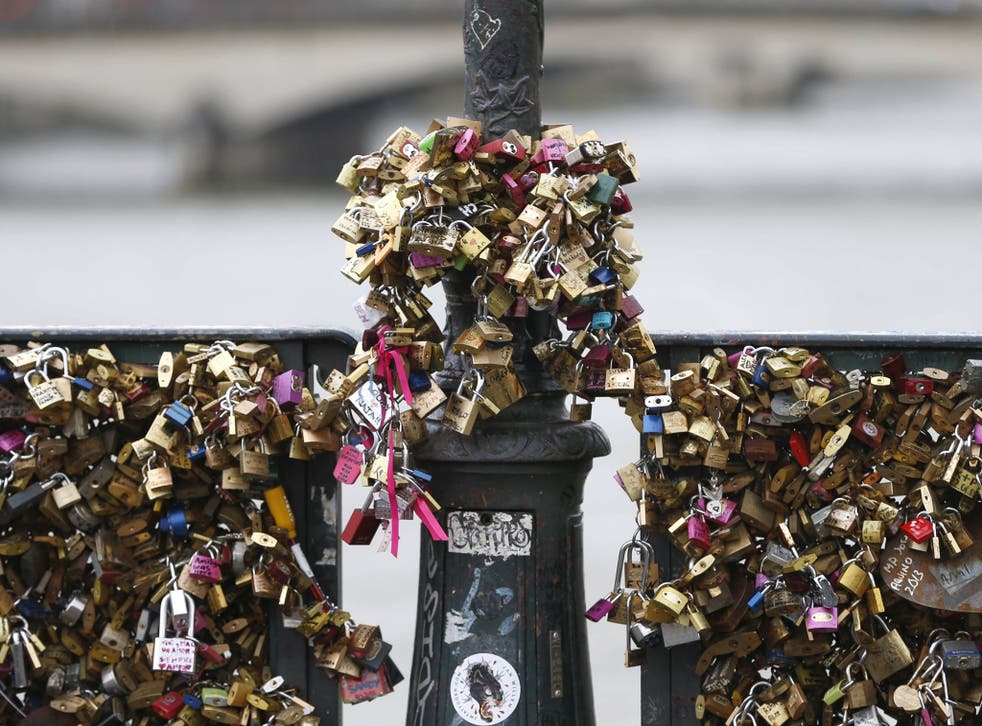 In the midst of the tourist season, which has seen lovers flocking to historic Paris bridges to affix a padlock declaring undying love before throwing the key into the Seine, city authorities have taken a brave decision.
From Monday, they will be posting stickers on all the bridges weighed down by the "love locks" in hopes of encouraging couples to share a romantic "selfie" on social media instead, with the hashtag #lovewithoutlocks.
In June, a five-foot long section of the Pont des Arts weighed down by 500 kilos of love locks collapsed and the metal mesh had to be replaced, prompting the temporary closure of the footbridge located by the Louvre museum. Another stretch of railings on the bridge – where the thousands of padlocks now weigh a total 54 tons – was replaced earlier this month.
Lovebirds have now migrated to other bridges – all of which have listed monument status – and the love locks now adorn the Pont de l'Archevêché at the foot of Notre Dame, the Pont Neuf from where bateaux-mouches set off, and the Alexandre III bridge by the Grand Palais.
"We didn't want to get into a repressive situation and penalise tourists, so we're suggesting a social wall," a city hall spokesman told Le Parisien newspaper.
Until now, despite an online petition by two Americans calling for the removal of the padlocks and a ban on their future use, tourists have turned a deaf ear to their "No Love Locks" entreaties.
The two campaigners, who reject the use of bolt cutters to remove the padlocks, discussed ways of discouraging the love locks and possible alternatives at the end of June with city officials. The pair are proposing flyers in different languages to inform visitors that the bridges are protected by UNESCO heritage status, and a ban on the sale of padlocks by street sellers.
In pictures: The 'Love Lock' bridge in Paris

Show all 19
The love locks began appearing on the Pont des Arts in 2008, after reputedly starting in Pécs, Hungary in the 19th century then spreading around the world more recently. But they are particularly numerous in the city of love.
The problem has now become so serious that city officials regularly check the bridges' railings for safety, and Paris Mayor Anne Hidalgo has asked her deputy, Bruno Julliard, to come up with a plan.
It remains to be seen how successful the initiative will be, although there is one factor that might prove a deterrent this week: rain.
Register for free to continue reading
Registration is a free and easy way to support our truly independent journalism
By registering, you will also enjoy limited access to Premium articles, exclusive newsletters, commenting, and virtual events with our leading journalists
Already have an account? sign in
Join our new commenting forum
Join thought-provoking conversations, follow other Independent readers and see their replies