Hundreds arrested as protests greet Vladimir Putin inauguration
Violent clashes in Moscow as Russian leader prepares to be sworn in as President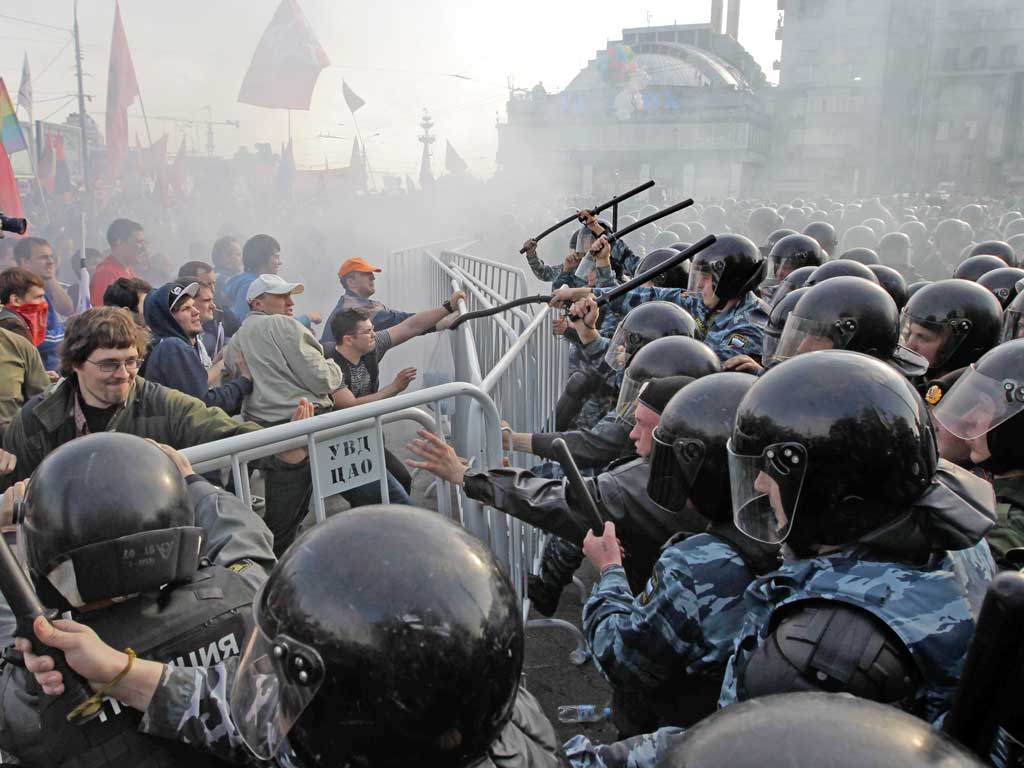 At least six people were taken to hospital, and around 15 riot police injured, while many opposition leaders were among nearly 600 people to be detained. Vladimir Putin's spokesman, Dmitry Peskov, said the Moscow police had acted "softly" and should have been even more forceful.
The Russian leader won around 63 per cent of the vote in a March election, which gave him another presidential term after a four-year break during which he was prime minister. The opposition, a motley group of leftists, nationalists and democrats, alleged irregularities and branded Mr Putin's win illegitimate.
"We know that this isn't going to affect anything for now," said Margarita, 54, wearing the white ribbon protesters use to symbolise their opposition to Mr Putin. "But it was important to come out again and shout as loud as we can that there are normal, civilised people in this country who don't support the thief who is sitting in the Kremlin."
Protests began after parliamentary elections last December and brought tens of thousands of people on to the streets of Moscow several times. There was a sense the protest mood had died down as people realised Mr Putin's return was inevitable. But yesterday's events will make the Kremlin think again.
Riot police were massed in their thousands on Bolshoi Kamenny Bridge, which leads from Bolotnaya Square to the Kremlin, to ensure no protesters could make their way towards the seat of Russian power. Police used tear gas and made several arrests, dragging the detainees along the asphalt and also beating them with batons.
For perhaps the first time, protesters resisted en masse. In one skirmish, a riot police helmet went flying in the air, before its former owner emerged into the crowd with blood streaming down his face. He then lashed out at all those around him before colleagues dragged him away.
The police dispersed the crowds as evening fell, and anyone who did not oblige was detained and driven away to police stations. Opposition leaders could now face 15-day jail terms.
Join our commenting forum
Join thought-provoking conversations, follow other Independent readers and see their replies