Hundreds of homeless people given 'luxury' Christmas dinner in Madrid landmark
The Spanish capital's new left-wing administration leased the historic building to an NGO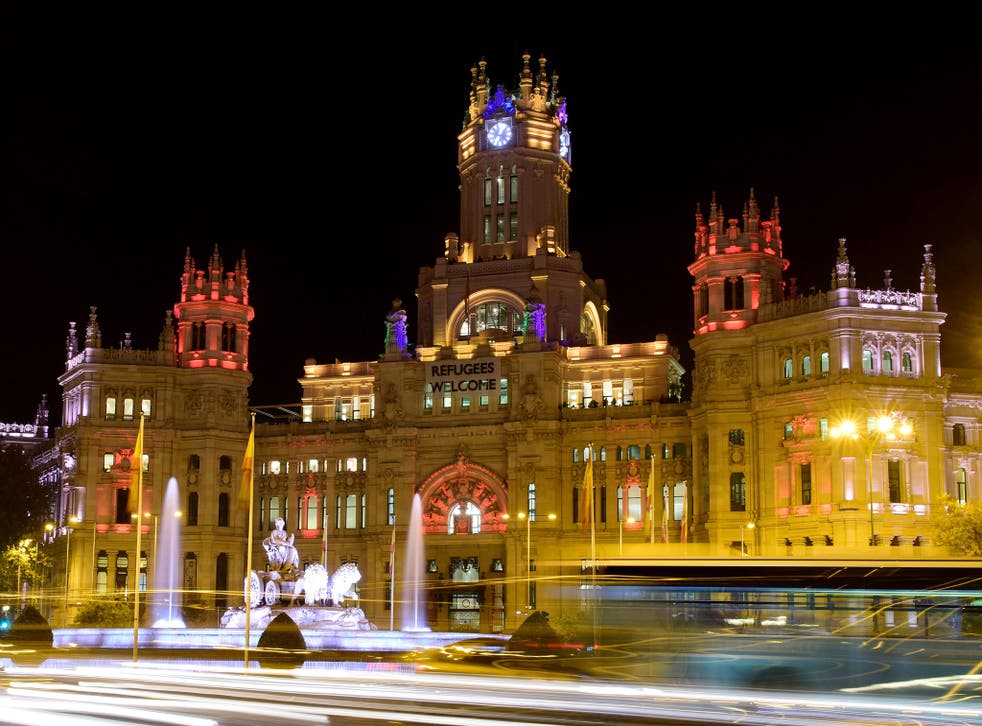 Hundreds of homeless people have been given a lavish Christmas dinner at one of Madrid's most famous landmarks after it was handed over by the city's new left-wing leadership.
Part of the Cybele Palace, which houses the city hall, was loaned to a Spanish NGO for the event on Christmas Eve, which was the first of its kind in the capital.
More than 200 guests were served in a glass-ceilinged hall at cloth-covered tables, with a menu including prawns, roast lamb, bream and crème caramel, El Pais reported.
Caterers told the newspaper the feast was comparable to a "luxury wedding" but said no alcohol had been served, with sparkling drink Champín being used for toasts instead.
Francisco Lopez, a 67-year-old homeless man who has been sheltering in a church, told the AFP news agency the dinner was "wonderful", adding: "If I hadn't been invited to come here tonight, I would have just eaten a sandwich."
Event organisers the Mensajeros de la Paz (Peace Messengers) also organised free taxis driven by volunteers for the homeless people attending, saying they wanted to "show affection" and make sure no one spent Christmas alone.
Manuela Carmena, the mayor of Madrid, attended to raise a toast to everyone attending and wish them a merry Christmas before they left with goodie bags and festive sweets.
The 71-year-old former judge and rights activist has made international headlines since her tenure began in June.
She had finished second in Madrid's local elections but took the helm thanks to an alliance between her Podemos-backed Ahora Madrid group and the Socialist Party.
They immediately drew up a joint action plan that included freezing the privatisation of public services, an accounts audit and the establishment of an anti-corruption office.
Ms Carmena made homelessness a key issue in her campaign, vowing to halt the eviction of families defaulting on their mortgages as soaring repossession rates continued in Spain.
Her efforts have won praise from Richard Gere, who said he "applauded" her "humane and intelligent" approach to the issue while visiting Madrid last month.
Join our new commenting forum
Join thought-provoking conversations, follow other Independent readers and see their replies