Hundreds of migrants stranded in Budapest after police stop trains departing for Germany
All westbound departures from Keleti station were stopped earlier today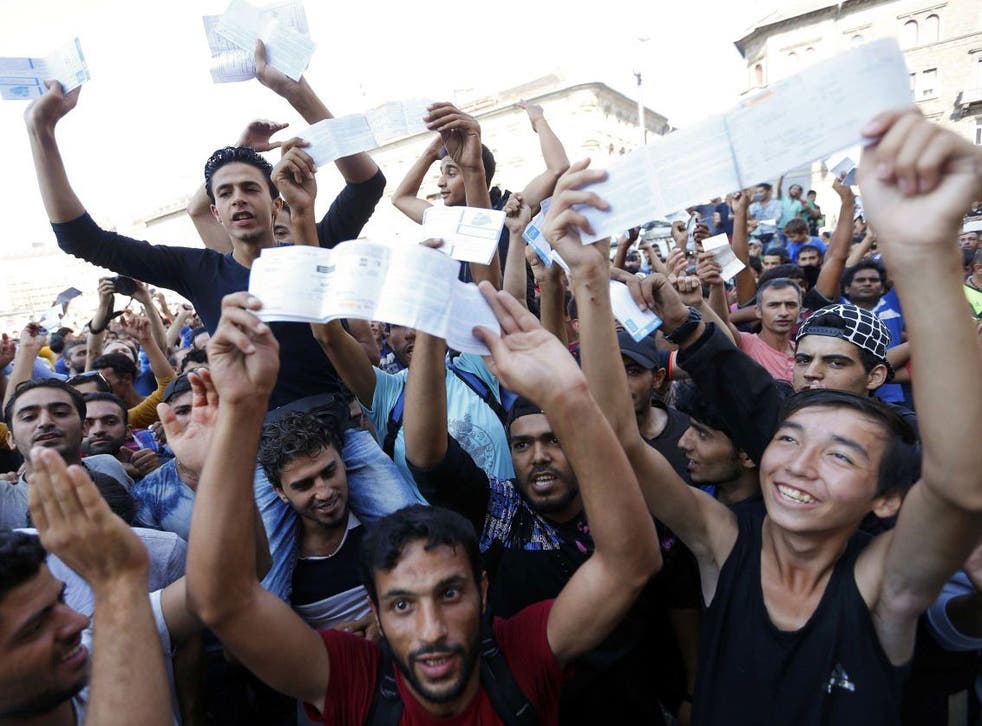 Hundreds of migrants are stranded in Budapest after Hungarian police stopped trains leaving for Austria and Germany in a bid to stop them travelling onwards.
Authorities reportedly halted westbound departures from Keleti station for more than an hour this morning, with an announcement over its loudspeakers saying that the measure would be in effect for an undetermined period of time.
Hundreds of migrants and asylum seekers were ordered to leave the building, including many who had spent hundreds of euros on tickets.
Photos showed men and women, some with young children, waving their tickets in the air outside the station as they chanted "Germany, Germany".
Although the station was later reopened, migrants were barred from entering by lines of police with batons and riot helmets and they were left sitting on the pavement outside, facing a temporary blockade.
The stoppage came after scuffles broke out between passengers pushing towards platform gates where a train was scheduled to leave for Vienna and Munich, and the police blocking them.
Hungary, which has drawn international criticism for the 100 mile-long barbed wire fence it is erecting along its border with Serbia, is the main gateway to the EU for asylum seekers from countries including Syria and Afghanistan crossing by land through the Balkans.
William Lacy Swing, director general of the International Organisation for Migration, said in an interview with The Associated Press that countries blocking migrants from boarding trains drive them to dangerous options.
"If you - as they have just done in Hungary - if you deny them, although they have a paid ticket and you don't let them to get on board, you push them right into the hands of smugglers," he said.
"So they get into vans and into trucks, and they die."
In pictures: Hundreds of migrants stranded in Budapest

Show all 10
Zoltan Kovacs, a spokesperson for the Hungarian government, said it was trying to enforce EU laws requiring anyone who wishes to travel within Europe to hold a valid passport and a Schengen visa.
"If we do not succeed in restoring order and legality here, illegal migration - including that of refugees, who are truly in need of protection - will become completely unmanageable," he added.
Marah, a 20-year-old woman from Aleppo, Syria, said her family had bought six tickets for a RailJet train that was scheduled to leave for Vienna at 9am today.
"They should find a solution," she told Reuters. "We are thousands here, where should we go?"
The decision to bar the migrants from westbound trains was a U-turn from the previous day, when Hungary and Austria let thousands of undocumented people leave for Germany in a violation of EU rules that requires migrants to stay in their country of arrival until they are granted asylum.
Around 3,650 migrants arrived from Hungary at Vienna's Westbahnhof station on Monday, the city's police said, adding that most continued to neighbouring Germany.
Austrian security forces stopped two trains near the Hungarian border on the same day, with police checking their immigration papers and returning anyone who had not been processed to Budapest, AFP reported.
Hungary's government has previously claimed Germany's "more flexible attitude" towards Syrian refugees is encouraging immigration but Angela Merkel said her country's policies were not to blame.
The Chancellor said today that Syrians do have a high chance of being granted asylum but "that should be no surprise...and should actually be similar in every European country."
She said current rules were not being adhered to and a new common European asylum policy must be introduced to bring a "fair distribution" of refugees across EU states.
Under current regulations, known as the Dublin provision, asylum seekers must remain in the first European country they enter until their application is processed and face deportation from other member states if they are found to violate entry requirements.
The EU's Schengen agreement normally allows unrestricted travel between member states but countries can reintroduce border controls under exceptional circumstances.
Additional reporting by agencies
Register for free to continue reading
Registration is a free and easy way to support our truly independent journalism
By registering, you will also enjoy limited access to Premium articles, exclusive newsletters, commenting, and virtual events with our leading journalists
Already have an account? sign in
Register for free to continue reading
Registration is a free and easy way to support our truly independent journalism
By registering, you will also enjoy limited access to Premium articles, exclusive newsletters, commenting, and virtual events with our leading journalists
Already have an account? sign in
Join our new commenting forum
Join thought-provoking conversations, follow other Independent readers and see their replies