Hundreds of neo-Nazis set to attend skinhead music festival in Milan
British band Brutal Attack will perform at Skinhouse Milano in front of far-right extremists from across Europe
Ludovica Tronci
Saturday 15 June 2013 17:02 Comments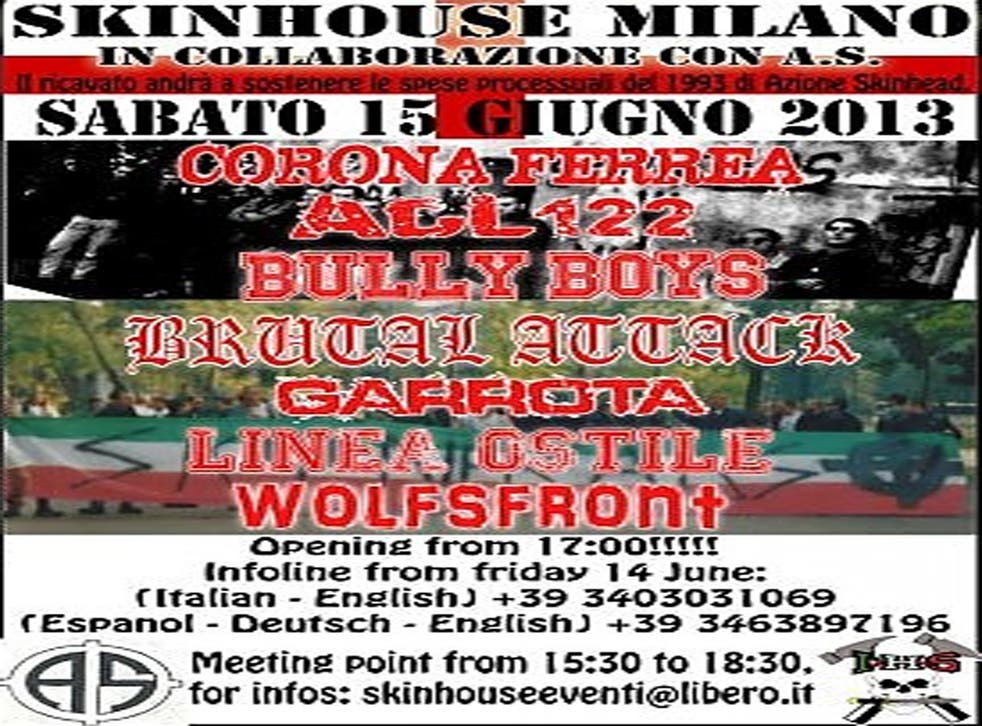 Hundreds of neo-Nazis from all over Europe are expected to gather in Milan for a skinhead music festival this evening.
British band Brutal Attack, a well-known far-right group, will play alongside US act Bully Boys at the Skinhouse Milano concert, held in a hangar in the industrial zone of Rogoredo, just outside of the city centre. Both bands have pages dedicated to them on the website of Stormfront, a white supremacist group.
It is expected to attract more than two thousand skinheads from England, Germany, Switzerland, Spain, Slovakia, Poland, Russia, Greece, Norway, Romania and the Czech Republic.
The event follows recent insults to the Italian minister for integration, Cecile Kyenge, and calls from extreme far-right groups for her to be raped.
Police are monitoring the zone from the afternoon in order to avoid problems to public order and possible reaction of the far left political groups.
There are as-yet-unconfirmed rumours that European delegations of the American Ku Klux Klan will be attending the event.
The festival began in 1993 as a way of raising legal fees to support arrested members of the so-called Azione Skinhead (Skinhead Action) gang. The group was born in the Nineties as a fusion of the Milan Skins and the far-right members of the FC Internazionale Milan ultras Boys SAN.
Register for free to continue reading
Registration is a free and easy way to support our truly independent journalism
By registering, you will also enjoy limited access to Premium articles, exclusive newsletters, commenting, and virtual events with our leading journalists
Already have an account? sign in
Join our new commenting forum
Join thought-provoking conversations, follow other Independent readers and see their replies