Hungary election: Viktor Orban likely to win fourth term as prime minister, projections suggest
Anti-migration party projected to regain super majority in national parliament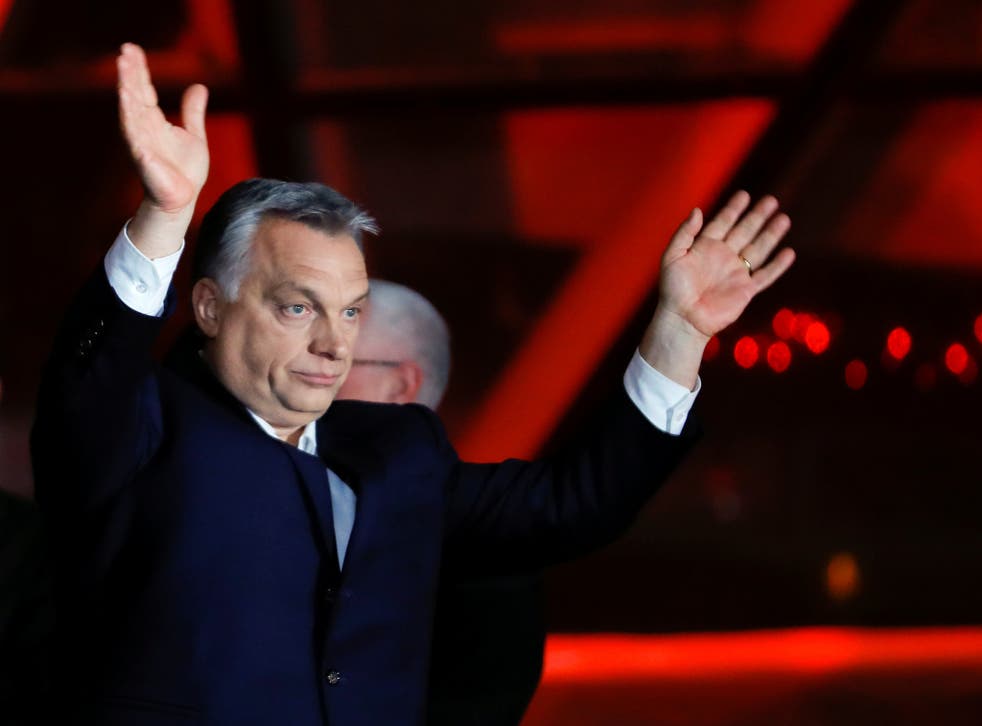 Viktor Orban is likely to be elected as Hungary's prime minister for the fourth time, projections suggest.
The nationalist leader portrayed himself as the saviour of Hungary's Christian culture against Muslim migration into Europe.
With 98.5 per cent of the votes counted, Mr Orban's anti-migration Fidesz party won the parliamentary election with 48.5 per cent of the vote.
The result allows the populist party to retain its super majority in the national parliament with 133 out of 199 seats.
Mr Orban said his party's overwhelming victory is an opportunity to "defend Hungary".
"We have won," he told a crowd of cheering supporters. "Hungary has won a great victory."
He added: "High turnout has cast aside all doubts." The result is his third consecutive victory.
He headed a Fidesz-led coalition government during 1998-2002 before returning to power in 2010.
The autocratic prime minister campaigned heavily on his anti-migration policies, although many voters said they were more concerned with poverty, growing government corruption and the country's underfunded healthcare system.
Such a strong victory could embolden Mr Orban to put more stock into a central European alliance against the European Union's migration policies.
Mr Orban, Hungary's longest-serving post-communist premier, opposes deeper integration of the bloc.
However, critics warn he has put Hungary on an increasingly authoritarian path and say his stance on immigration has fuelled xenophobia.
Opposition parties feared another super majority would allow Mr Orban to more easily push through constitutional changes, continue his crackdown on civic groups he claims work against Hungarian interests, and further strengthen his grasp on the highly centralised state power structure.
Mr Orban has claimed the opposition is collaborating with the United Nations, the European Union and the wealthy philanthropist George Soros to turn Hungary into an "immigrant country".
World news in pictures

Show all 50
The right-wing nationalist Jobbik party placed second with 26 seats, while a Socialist-led, left-wing coalition came in third with 20 seats.
The Jobbik leader, Gabor Vona, announced he would resign following the party's defeat.
"Jobbik's goal, to win the elections and force a change in government, was not achieved," Mr Vona told a late-night news conference. "Fidesz won. It won again."
"I hereby tender my resignation. Tomorrow afternoon Jobbik's board will plan the tasks ahead ... We would have liked for this high turnout to yield a different result, but the people decided this way."
The presidency of the Socialist party also tendered its resignation after the loss, the party's president Gyula Molnar said.
"We regard ourselves responsible for what happened, [and] we have acknowledged the decision of voters," he told supporters and journalists.
Election officials said voter turnout was 68.1 per cent by 18.30 local time [GMT 16:30], 30 minutes before the official end of voting.
Numerous voting stations remained open after the 19:00 local deadline [17:00 GMT] to accommodate the long lines of people waiting to vote.
Final election results are expected by 27 April.
Register for free to continue reading
Registration is a free and easy way to support our truly independent journalism
By registering, you will also enjoy limited access to Premium articles, exclusive newsletters, commenting, and virtual events with our leading journalists
Already have an account? sign in
Register for free to continue reading
Registration is a free and easy way to support our truly independent journalism
By registering, you will also enjoy limited access to Premium articles, exclusive newsletters, commenting, and virtual events with our leading journalists
Already have an account? sign in
Join our new commenting forum
Join thought-provoking conversations, follow other Independent readers and see their replies