Hungary's far-right leader Orban 'forcing university founded by George Soros to leave the country'
Central European University says it cannot guarantee its academic freedom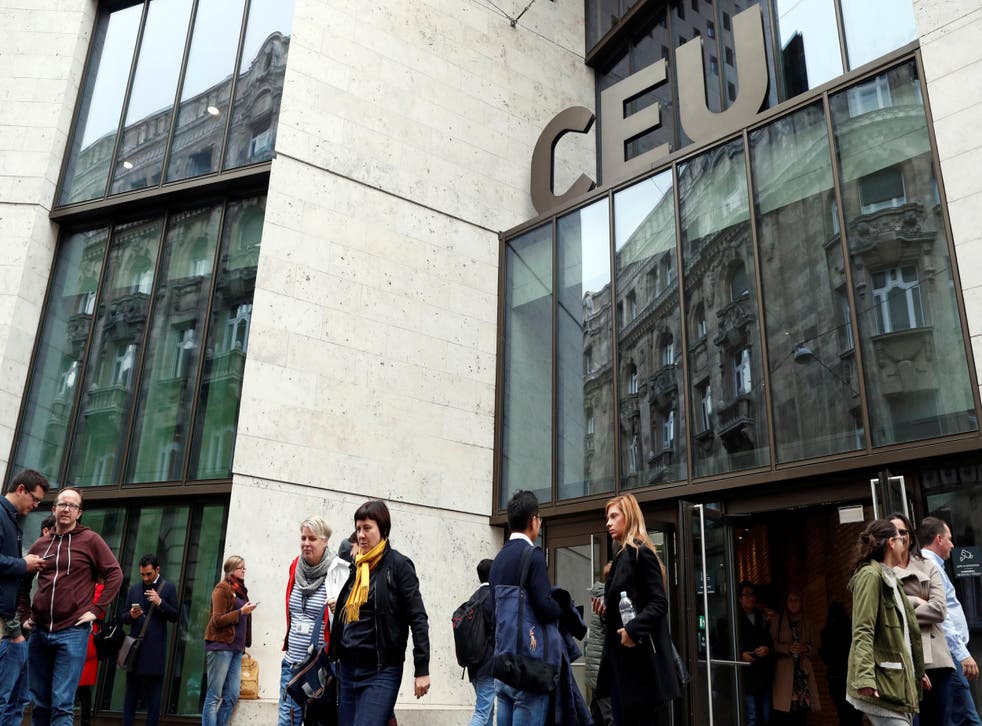 A Budapest university founded by US financier George Soros says it is being forced out of Hungary by the country's far-right government, and will have to set up shop abroad.
The Central European University (CEU), long a favoured target of the Viktor Orban regime, says it will open a campus in neighboring Austria because it cannot "secure the guarantees we need from the Hungarian government to preserve our academic freedom".
The CEU, which was established in 1991, has been in legal limbo since April of last year after a new higher education law – widely known as Lex CEU – was passed. The law changed accreditation requirements for foreign universities and appeared tailor-made to close down the institution.
The law, which the European Commission says breaches fundamental human rights, has also been accompanied by a wider crackdown on academic freedom. The Government has, amongst other policies, banned gender studies programmes and forced the suspension of research related to migration.
"We have taken all necessary actions in order to comply with Lex CEU. We have repeatedly indicated our openness to find a solution that guarantees our institutional integrity and academic freedom. We have waited as long as we possibly can," CEU rector Michael Ignatieff said.
"But it would be irresponsible for us not to pursue arrangements to secure CEU's future. Unfortunately, we have been forced into this decision by the unwillingness of the Hungarian government to offer an acceptable solution."
George Soros, who donates to liberal causes in Hungary and around the world, has been the subject of an antisemitic hate campaign by the country's Fidesz government. Imagery of Mr Soros featured in ruling party campaign literature portrays the financier as a puppetmaster controlling liberal opposition to Mr Orban.
The campaign and other new laws targeting NGOs forced the Hungarian-American Mr Soros's Open Society Foundations to leave Budapest earlier this year.
The CEU said in a statement that it would enroll new students in its US-accredited degree programmes at its Vienna campus in 2019 if its legal status in Hungary is not resolved by the start of December.
How Hungary welcomes its refugees - in pictures

Show all 15
The European Parliament last month voted by a two-thirds majority to trigger Article 7 of the EU's founding treaties against Hungary, on the basis that the government had conducted a fundamental breach of fundamental European values. The process could see Hungary stripped of its voting rights at European Council level and have other sanctions placed on it.
Tory MEPs caused a storm after they voted against triggering the provision, isolating themselves from other European conservatives, who overwhelmingly backed the move.
Register for free to continue reading
Registration is a free and easy way to support our truly independent journalism
By registering, you will also enjoy limited access to Premium articles, exclusive newsletters, commenting, and virtual events with our leading journalists
Already have an account? sign in
Register for free to continue reading
Registration is a free and easy way to support our truly independent journalism
By registering, you will also enjoy limited access to Premium articles, exclusive newsletters, commenting, and virtual events with our leading journalists
Already have an account? sign in
Join our new commenting forum
Join thought-provoking conversations, follow other Independent readers and see their replies