'I just want to be human': Teenage boy tells story of desperate migrant boat journey to Italy
A Palestinian boy who fled Gaza has told his harrowing story of being kidnapped, beaten, imprisoned and starved in his battle to reach Europe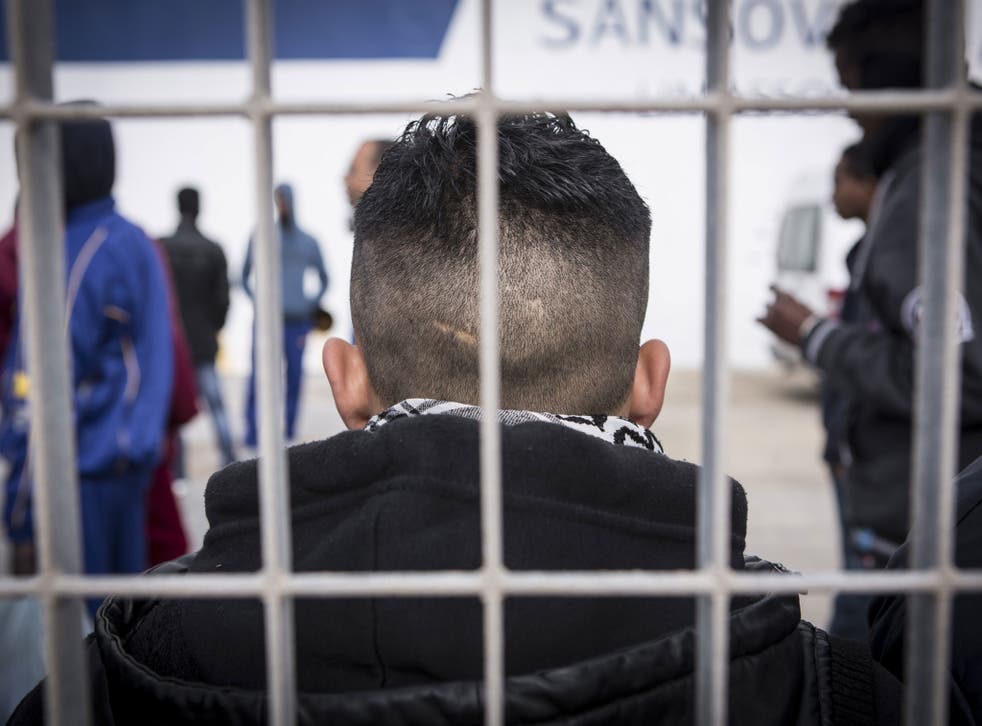 As Europe is accused of "closing its eyes" to the tragic deaths of hundreds of desperate migrants trying to cross the Mediterranean, one boy from Gaza has told his harrowing story.
Yusuf, 17, survived being kidnapped, beaten, imprisoned and starved in his battle to reach Europe for a better life.
He fled conflict and poverty, like many of the refugees pouring into Italy from Syria, Somalia, South Sudan and other war-torn countries.
As well as exploitation and abuse at the hands of human traffickers on land, migrants face a treacherous boat journey that claimed the lives of 950 people in the most recent shipwreck, on Sunday.
Here is Yusuf's story, in his own words:
"I left Gaza with my best friend and travelled through the border to Lebanon. I've known my friend since we were very, very young. When we arrived in Lebanon we stayed with extended family members who are refugees living in a camp.
"My friend and I wanted to go to Europe but we were kidnapped. The people put us in a jail and I really don't know how long we were in there for. It was very dark and difficult to tell day from night, perhaps two weeks perhaps a month.
"The kidnappers asked us for $1,000 (£670) to set us free. They threatened to kill us if we didn't give them the money. They took videos of us being beaten and sent this to my family. They put us in sacks and tied us up to our chins.
"I saw someone who had his nails ripped from their fingers. My family gave the kidnappers the money. We were set free. We stayed in Lebanon for two months. We were very scared of armed groups. The women living in the refugee camps were threatened a lot and some were violated.
"We found the traffickers ourselves and with them we went from Khartoum to Libya. We travelled in an open air truck. The truck could carry about 30 people on it. The truck went very fast at about 160km and if you fell out of it you were left behind in the desert.
In pictures: Migrant boat disaster

Show all 10
"Three Palestinians fell off and the truck did not stop or go back to get them. In the desert we were with lots of other people, a lot of different nationalities. They gave us water to drink out of a can but the water was mixed with petrol. We were allowed to eat once a day.
"One small plate was supposed to feed 10 people. We soon got so hungry that we were allowed to buy flour and made bread ourselves. They made us pay $50 (£33) for the flour. Some people died during this trip from hunger and thirst.
"In Libya all of our belongings, like our clothes and shoes, were stolen. We found the traffickers and they told us they would take us to Italy. They gave us other clothes. We paid $1,000 (£670) to go to Italy.
"We were put into a boat that the "captain" told us was going to Italy. We had to buy our own lifejackets - those that couldn't afford them didn't get one. There were about 250 people in the boat, it had two levels and some Africans were put below.
"The traffickers had guns and if you talked they said they would throw you overboard or shoot you. He always threatened us with their guns. The trip to Italy took 13 hours. Two times the boat had problems and stopped.
"In fact as soon as we left Libya the boat had a mechanical problem. The women and children were crying but one of us was able to fix the motor and the boat started again. Sometimes the water came into the boat and we got it out with our hands.
"We were afraid we would drown. The captain called the Italian coast guard to be rescued. We were so scared of being in the boat but when we saw the rescue ship were overjoyed and smiling. Even the children were happy.
"But the captain and the traffickers shot at the rescuers because they wanted to take back the boat to go and get other people. In total the trip cost me $4,000 (£2,700). If it weren't for my mother selling all her gold I wouldn't be here today.
"There were two options for me. One was to stay in Gaza and die or the other, to take a chance and try to make it to Europe. I wanted a future. I wanted to help my family, especially my sister.
"My friend and I would like to go to Germany or Sweden and bring our families someday. I want to help my family, especially my sister who isn't going to school. I am really worried for my sister, I want to protect her. I feel responsible for my sister.
"I feel so scared. Every time I got a phone call I was worried that something had happened to her. When I arrived in Italy I tried to contact my family with the phone card they gave me here. But the line was bad and I couldn't get through.
"In Gaza you live by the bullet. Unlike other children we don't have a childhood. We don't have any toys and we could die at any time. And as Palestinians we don't have legal rights in any Arab countries but we think we will be able to have a future in Europe.
"What do I do here in the (refugee) centre? I sleep, eat, sleep and eat! I feel safe here. I don't hear the sound of shouting, of guns. I feel safe. But we are worried that we will have to stay here (in the reception centre) a long time. We want to continue to Germany to join our cousins.
"I want everyone to know my story, to tell the world so this doesn't happen again. I just want to be human."
Interview conducted by Sarah Tyler of Save the Children in Lampedusa, Italy, February 2015.
Register for free to continue reading
Registration is a free and easy way to support our truly independent journalism
By registering, you will also enjoy limited access to Premium articles, exclusive newsletters, commenting, and virtual events with our leading journalists
Already have an account? sign in
Register for free to continue reading
Registration is a free and easy way to support our truly independent journalism
By registering, you will also enjoy limited access to Premium articles, exclusive newsletters, commenting, and virtual events with our leading journalists
Already have an account? sign in
Join our new commenting forum
Join thought-provoking conversations, follow other Independent readers and see their replies