Iceland volcano: Bardarbunga threat level downgraded but lava activity continues
Lava headed to surface of glacier, but scientists unsure of when or how much disruption could follow
Andrew Griffin
Monday 25 August 2014 11:42 Comments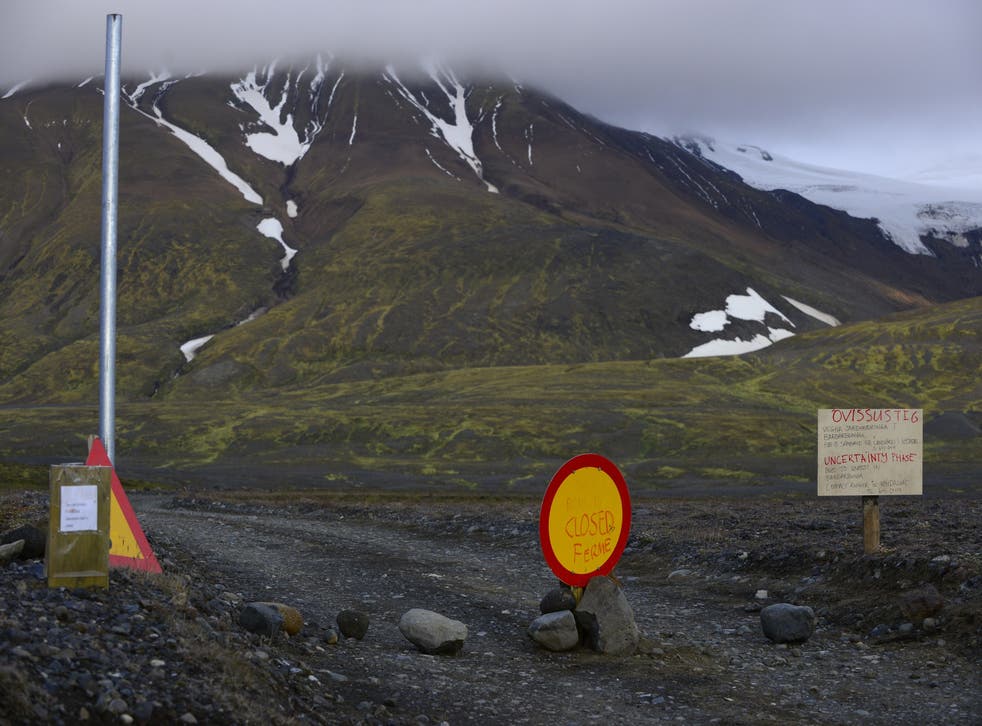 Seismic activity is continuing at the Bárðarbunga volcano and an eruption may still take place, scientists said on Sunday, but the threat level of volcano, which could wreak havoc with holiday plans in Europe and the UK, has been downgraded from red to orange.
"There are no indications that the activity is slowing down, and therefore an eruption can not be excluded," the Icelandic Met Office said.
Earthquakes were still taking place and had got stronger than previous days, and 700 earthquakes have been observed since midnight.
Scientists said on Sunday morning that lava in the Bárðarbunga volcano could have caused two large earthquakes overnight — the strongest measured since 1996, when they triggered another eruption.
The two earthquakes are the strongest seismic events measured since the crisis at the volcano began and since 1996, when an earthquake started an eruption. A magnitude 5.3 earthquake took place around midnight last night, and another magnitude 5 earthquake happened at around 5am on this morning.
The Icelandic Met Office said: "Probably, earthquakes near the Bárðarbunga caldera are a consequence of adjustment to changes in pressure because of the flow of magma from under the caldera into the dyke which stretches to Dyngjujökull, more than 25 km away."
There were no signs of eruptions overnight, scientists said.
The Icelandic Met Office warned at 5pm on Saturday night that "it could be 0-20 hours before lava reaches the surface of the ice".
Scientists are unable to predict exactly when the eruption could happen and when, because of a lack of clarity about the thickness of the ice at the point where the eruption would make contact with it, and the amount of lava that could be thrown out. The Icelandic Met Office and the University of Iceland's Institute of Earth Scientists are monitoring the situation after a small lava eruption and an earthquake were reported on Saturday afternoon.
Scientists, who are flying over the area regularly, expect there is 150-400 meters of ice above the volcano.
Local news has set up a live stream of the volcano — with commenters on YouTube betting on when the lava will break through the ice — though there is little activity, and the camera largely shows views of the Icelandic countryside.
Some airlines have started to divert flights away from the affected area. Many flights between the UK and the western part of North America fly over Iceland, and travellers' rights from insurers and airlines vary between providers.
The Icelandic Met Office changed the volcano's status to red on Saturday afternoon, after it began erupting. The code means that "eruption is imminent or in progress — significant emission of ash into atmosphere likely".
Airspace over the site is closed but all airports in the country remain open. Tourists have been helped to leave the area.
The volcano has seen increased activity since last weekend.
Register for free to continue reading
Registration is a free and easy way to support our truly independent journalism
By registering, you will also enjoy limited access to Premium articles, exclusive newsletters, commenting, and virtual events with our leading journalists
Already have an account? sign in
Join our new commenting forum
Join thought-provoking conversations, follow other Independent readers and see their replies