In Greece, losing a job often means losing a home
Redundancy and homelessness are grim legacies of austerity measures
Nathalie Savaricas
Saturday 01 June 2013 00:45 Comments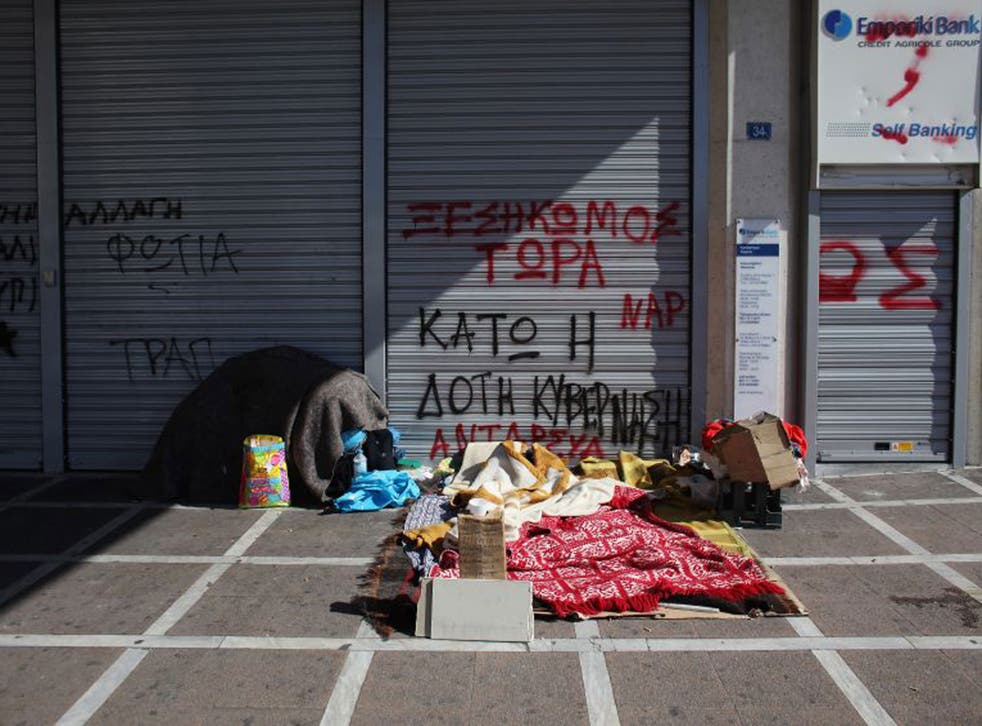 Twenty-seven-year-old Markos has been living on the streets of Athens after the bakery where he worked was forced to close down seven months ago, leaving him jobless.
"I couldn't find work, so soon I found myself unable to pay for my rent," he says.
Markos sits in the shade of a tree near a supermarket on Kanari Street, in the capital's affluent Kolonaki area. He holds a paper sign that reads "homeless" in Greek and an empty plastic cup with a few coins he has collected during the day. He says he survives by selling drawings, and on the charity of passers-by.
"There's no hope, everything looks black for me now," he says.
Markos is one of the scores of victims of Greece's financial crisis which began in 2009.
Amid austerity measures, joblessness has soared. Unemployment stands at a record high of 27 per cent, and youth unemployment (under 25) at 62.5 per cent. The EU's statistical authority said yesterday that Greece has the highest jobless rate across the 27-nation bloc. Analysts estimate that since the start of the crisis 700 to 1,000 Greeks have been losing their jobs daily. Meanwhile, unemployment benefits are only handed out for a year in Greece, so most jobless are left without any state help. Of an estimated 1.3 million unemployed Greeks, some 225,000 are receiving handouts. Unemployment has led to a worrying rise in homelessness. According to a study conducted by Klimaka, a non-governmental organisation, six out of 10 homeless lost their home in the past two years. Forty-seven per cent of those have children.
The stringent austerity measures that have been imposed by the country's international lenders in exchange for over €200bn (£170bn) in bailout loans have compounded the country's deep recession.
But it is the traditionally strong family ties which Greece prides itself on that keep many unemployed off the streets.
Unlike Markos, who lost his only relative a year ago, Stavros Papakostas, a 37-year-old unemployed doctor, was forced to give up his flat and move back in with his parents after he was unable to find a job when he completed his speciality training in radiology.
"Family is very important in Greece and relatives still help," he says. "It's what saves Greece at the moment – things could be far worse." Because of the crisis both state and private hospitals are no longer hiring, he explains. Dr Papakostas says the dire situation is forcing him to look for jobs abroad.
Recruitment companies are advising Greeks to eye Scandinavian countries for work. Vasso Polihronopoulou, 37, was fired from her job in human resources last week.
She says the American multinational that employed her considered her monthly €900 (£769) salary to be too expensive. They have outsourced her role to India, where wages are cheaper.
"I'm a victim of globalisation," she says. "What am I going to do? Where am I going to find work now?" She says the crisis is also deterring Greeks from having families. "I'd love to have a family but what will my kids be eating? Unless my parents look after them."
She says two of her friends were forced to ask their parents for help to care for their baby when they were both left jobless last year.
But Ms Polihronopoulou remains optimistic. "I'll find a job eventually; the ones with the serious problem are the country's graduates who have little experience," she says.
Register for free to continue reading
Registration is a free and easy way to support our truly independent journalism
By registering, you will also enjoy limited access to Premium articles, exclusive newsletters, commenting, and virtual events with our leading journalists
Already have an account? sign in
Join our new commenting forum
Join thought-provoking conversations, follow other Independent readers and see their replies